The Xiaomi Dreame V9 is an excellent cordless vacuum cleaner that looks minimally attractive, delivers powerful suction power with long-lasting battery. Tools are versatile enough for cleaning any part of most surfaces, while the total package is lightweight to manoeuvre. Did I mention it sounds incredible, whirring like a sports car with incredible torque? Best of all, it's considerably more affordable than alternatives for the kind of performance you'll find here. Cleaning doesn't have to be such a hassle anymore.
Unpacking the Toolkit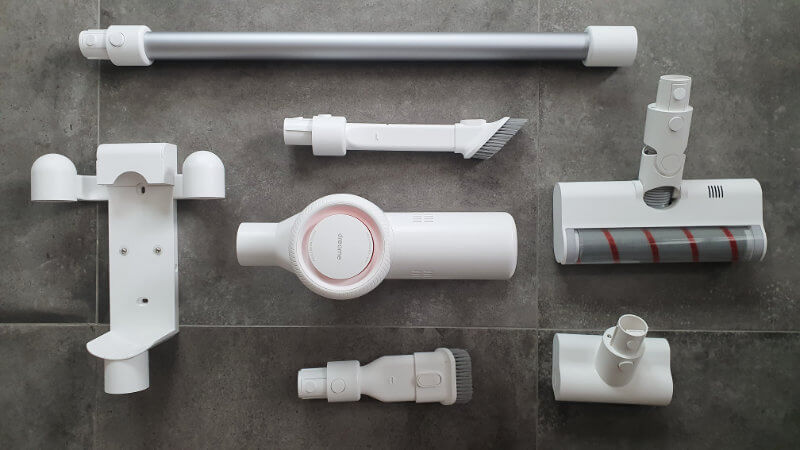 A range of add-on tools are inside the box: a long tube, two noses and two brush heads. An accessory hold clicks all of them together when not in use instead of being scattered around the house. That holder sits on the rear of the main vacuum unit, hanging while faced down. For power, you'll find a DC-pin style power charger. Xiaomi make it compatible for use outside of China, with a little premium to have a native power adaptor.
A nice touch to be able to slot it straight into my Korean power outlet and vice versa if you import it to the US or Europe though depends on where you buy it from. All the extra tools are made of plastic, light and of decent enough quality. I like the slider mechanism for the brushes, if you don't need to use it – push the button down and you can extend or retract the bristles. Keeps a shorter profile when stowed away too.
The main brush head however is really well built, a substantial heft to it with solid build. I'm happy with the quality and selection of extra tools to pair with the Xiaomi Dreame V9 cordless vacuum, retaining that small footprint.
Sucker Punch Ergonomic Design
The minimal design, while and silver colourway is attractive, keeping to the same design language Xiaomi uses with the rest of their hometech range. It's not just a looker but also a pretty powerful one too: 20,000 kPA of suction power makes it one of the most powerful portable vacuum cleaners to date, allowing you to pick up big or stubborn particles over multiple floor surface types. With up to 60 minutes of continued usage and just a 0.3 second power-up and start time, people will find the Xiaomi Dreame V9 a fitting name – a dream to clean your place without all the hassle, inconveniences and heft of conventional cleaners. Even cordless vacuums too.
It's also one of the lightest on the market, at 1.kg in its heaviest form (with the long tube and main head). 2500mah battery puts it in-line with other cordless cleaners for size, and takes a reasonable charge time of between 3-4 hours. With three suction levels to choose from – power-saving, normal and turbo mode – you can easily adjust the power with a quick slide on the rear of the power unit. Normal mode cuts that 60 minutes into less than 30 minutes, and turbo mode at max 20,000 kPa giving you just 8 minutes of use. A mode saved for the most dirtiest of spots or when you need raw power. In general, power-saving works just fine for daily maintenance, meaning you could charge this just once a week if that routine suits (and provided your place is average in size).
Very impressed with battery life and suction power, the XIaomi Dreame V9 is a very capable unit that doesn't make cleaning such a pain, if you ever thought it were. My only main gripe is that unless you plan on screwing the accessory holder to your wall [with provided screws], it won't stand on it's own. You'll need a cordless cleaner stand like the one I'm using to keep it upright. So beat in mind you'll need to factor that in. Looks great when you do have it setup however.
Pleasure to Use Power Unit
Let's move onto the power unit, the one that makes everything work. I like the design of the XIaomi Dreame V9 power unit. It's ergonomic to handle, clean design with not much going on, with the HEPA filtration system at the centre. In use, I feel a faint cool blow that isn't irritating to my nose, and is fairly quiet even in turbo mode, reaching 68 decibels for noise level. I must admit I love the whirring sound of this thing, sounding like a turbo engine with high torque, spinning from power-saving to turbo mode. So it not only handles and performs excellent, it sounds quite enticing too. Just don't get carried away with that or you'll drain the battery.
The chamber is a healthy 1.5L of space, more than enough that you won't find yourself having to empty it often, even after a heavy, dusty clean. Transparent, with a MAX line to know when it's filled to the brim and had enough, empty it at a press of the red button into the rubbish bin. Easy. Everything is straight-forward with the Xiaomi Dreame V9 and that's how it should be.
The only part that is somewhat fatiguing is if you're cleaning upwards like the ceiling corners, wind blinds etc. The unit will eventually make your arms tire so just bear that in mind.
Flexible, Potent and Reliable Brushing
The brush head is pretty great. I lik the fact the brush can pivot 90 degrees to reach as close down to the ground underneath tables. It also swings sideways around 60 degrees to go around table bases, sofa legs and just better ergonomics to move around and put less strain on your wrist. The tension is fairly low so you can push it against a wall and it will swing around it. The brush is very furry and spins pretty fast, capturing fine particles on the floor. When in that motion, it does pull you forward so you'll want to finish your stroke before lifting up and doing another area. You'll fight against some resistance if you try to drag it back afterwards, most notably on carpets.
That's a testament to the power, suction and fine bristles of the main head, excellent for use on carpet and glides on tiles or woodwork. The weight of the brush head also adds further balance between that and the power unit so it's not 'head' heavy.
Overall, if you can find a great deal, you can pick this up for around £150 / $180 / 200,000 KRW add shipping charge. It's an excellent all-round cordless vacuum with plenty of power, solid battery life and quality tools. It rivals far more expensive brands for pure, raw cleaning functionality and does it without irritating your nose thanks to the HEPA filtration system. You'll definitely need a stand to keep it upright, however you'll save some money and get plenty of value if a portable, compact and convenient cleaner is what you're after. The Xiaomi Dreame V9 cleans like a heavenly dream.
XIaomi Dreame V9 Cordless Cleaner
CONCLUSION
Excellent performing cordless vacuum cleaner with solid battery life, powerful suction and a lightweight frame with classy appeal. Best of all is it's priced considerably less than similar rivals.
HIGHLIGHTS
Quality, minimal design
Long-lasting battery
Quality hardware
High suction power
LOWLIGHTS
No lock position to stand upright, needs a stand
Turbo mode really drains battery
Nose tube is non telescopic