The XGIMI Halo is the best of both worlds – excellent native Full HD projection small enough to pack and travel with and movie night at home. It doubles up as a capable speaker with Harman Kardon sound, when watching shifts to listening. Add the fluid Android OS system and host of apps, connectivity, and features available, it represents the best value for money as a premium all-around projector.
Projectors have found a stronger place in the modern-day lifestyle, offering large projection sizes with better native quality and brightness. It makes them flexible and versatile to move between rooms, carry in our travels and watch outdoors without the electrical hassle of a TV. The XGIMI Halo despite it's size delivers mighty impressive Full HD resolution up to 200 inches, with a more than respectable brightness of 800 ANSI lumens. When you factor in the more than pleasant sound powered by Harman Kardon inside a projector shorter than a book and no thicker than 3 stacked next to each other, it outclasses many out there with little to no compromises at all.
TECH SPECS XGIMI HALO
HARDWARE PLASTIC, GLASS OPTIC
RESOLUTION 1920 X 1080 (NATIVE), HDR
BRIGHTNESS 800 ANSI LUMENS
TYPE DLP
DISPLAY UP TO 200 INCHES
SYSTEM ANDROID TV 9
SPEAKERS 2 X 5W HARMAN KARDON
RAM 2GB
STORAGE 16GB
BATTERY 59.454 WH
WEIGHT 1.6KG
DIMENSIONS 113.5 X 145 X 171.5 MM
Tech Specs
The XGIMI Halo is fairly weighty at 1.6kg, housed in solid powder-coated premium plastic, and glass optic lens. It measures 113.5mm long, 145mm wide and 171.5mm tall, in a cube, slightly rectangular design. The Halo is powered by Google's Android OS 9 out of the box, comes with an AC power adaptor with a 59Wh internal battery rated. Rear inputs of the Halo include the DC power port, 1 x 3.5mm jack, 1 x HDMI, 1 x USB port, and the power on button. The top feature volume and play/pause touch controls. There's a 1/4″ thread on the bottom to attach any stand or tripod to the Halo. A white remote is included for system navigation, voice control, and onscreen keyboard typing, powered using 2 x AAA batteries. The XGIMI Halo features extra functions such as auto keystone correction (vertical), 3D playback mode with active shutter glasses, picture profiles, custom image adjustments, and dynamic focus calibration, alongside WiFi 6, and Bluetooth connectivity.
I've extensively used the XGIMI Halo to project throughout different times of the day, playback through streaming apps like YouTube, Crunchyroll, files from my Hard Drive, external display from my laptop, and even gaming through the Nintendo Switch. It's more than fair to say the XGIMI Halo means serious business with hard-to-fault credentials. The system runs fluidly and the app experience through Android OS performs seamlessly.
The glaring exception is the lack of compatibility using Netflix from the App store, requiring a workaround to get it running due to Netflix licensing issue not exclusive to XGIMI. The XGIMI Halo, like most projectors operate best in dark rooms, so low to no daylight or night time exhibits the highest brightness and image quality at larger screen sizes which I tested up to 100 inches.
Projectors in a similar class and size to the XGIMI Halo falter as they compromise in any of lower image resolution (480p or 720p), ANSI lumens brightness, poor sound quality or all of these. But there's no such compromise with the XGIMI Halo: what it delivers, it delivers well, and what it packs, is nothing short of the complete package for it's class and price.
The Harman Kardon-powered speakers deliver great sound quality that doesn't make you instantly plug external speakers. There's no distortion at max volume, drives powerful sound to fill an average size room with a balanced EQ. The speaker grills run the left, front and right of the XGIMI Halo, with the back reserved for ventilation. It lacks the kind of depth much bigger hardware affords to pack or from dedicated speakers, but for what it is, the built-in sound is surprisingly really good. I could listen to music or watch movies and not complain about the sound.
Speaking of sound, this is a quiet projector too, with <30 dB of noise coming out of the Halo. It doesn't pump out lots of hot air or mechanical noise. Instead, it's rather faint and doesn't disrupt what I'm watching. The hardware never exceeds more than very warm temperatures, demonstrating great thermals to stay relatively cool during operation.
Keystone, Focus, and Setup
When it comes to setting up the XGIMI Halo, it's straightforward through Android TV. Auto keystone corrects projection to surface vertically, with finer keystone adjustments in manual mode to your liking. Dynamic focus is super useful and works every single time when turned on, as it can auto-focus at startup and anytime it's been moved. Auto keystone works as advertised with the Halo, which isn't always the case with other projectors which isn't true keystone or is too unreliable. The Halo identifies and corrects vertical keystone although I do make finer adjustments since it doesn't include the horizontal axis. Overall, everything is pretty autonomous besides the inputs to setup. To get the most out of any Android powered projector or TV, it requires you to log into or create a Google account so bear that in mind.
I've generally had a positive experience using Android TV OS and it's no different with the Halo. It comes shipped with Android OS 9 with all built-in apps functioning normally (including Netflix) with official support for Play Store app downloads. The dashboard is typical of Android TV, with favourite apps at the top and featured apps with highlighted videos below it. The Halo since has had security updates but no upgrades of Android TV to the lastest OS version which is 12 with 13 currently being developed that won't be seen in devices until the next couple of years.
The overall experience is fast, responsive, and fluid. General navigation around Android TV is excellent, with apps opening quickly and a clear apps quick setting if the system stutters a little to free up the RAM, but for the most part, I haven't found the 2GB size a limitation. Android OS 9 has a pleasant system experience, although the XGIMI Halo does miss out on the latest with Google TV, app accessibility, and Play Store integration in the menu, some of the omissions from the latest version.
Personally, I don't mind at all but it's worth noting if you were hoping for Google's latest and the extra goodies it comes with. Something I would like to see better is the battery indicator as it gives no % level for how long it will last. It only shows charging or discharging. This seems like an Android OS thing rather than the XGIMI Halo, but having better battery level visibility is more helpful due to the Halo's more portable design and likelihood of running on battery more than bigger projectors.
Portable Speaker mode
A neat touch to the XGIMI Halo is the speaker-only mode. You can turn off the display and have just the speaker in use for audio playback via Bluetooth. This may seem like a small feature, but in reality, it's a very useful one as it suddenly transforms this compact projector not just into a display, but into a portable speaker too. I went from streaming on Netflix at 85-inchs to sitting by the firepit on my front porch around sunset, chilling while music plays from the XGIMI Halo. The easy transition is a very tempting, yet simple feature which deserves high praise.
The 2 x 5W isn't as powerful as a dedicated speaker which doesn't have to pack the projector internals. But the speakers in this size is actually really nice to listen to. The soundstage is fairly impressive as it fills my living room and projects sufficient sound outdoors. The sound quality is balanced with defined mid-levels, pronounced trebles without the sharpness, and subtle, present bass. Will external speakers upgrade the immersion, soundstage and bassiness? Good ones certainly will over the XGIMI Halo internal ones. But as a 2-in-1 and compared to other projectors of this size, its damn pretty good alright.
Since it's fairly compact but not too small, it strikes a a sweetspot of being portable but big enough to house a decent-sized battery. On battery power, you can get away with a couple episodes of a series or 1 – 1.5 movie depending on the length and projection settings. This would equate to roughly 4 hours of movie playback or less. For audio playback as a speaker with display off, at max volume you can get between 2-4 hours, with anywhere between 4-8 hours at 50% and up to 12 hours at low volume. These aren't far away from dedicated speakers and I think these are impressive playback hours on a single battery charge of the XGIMI Halo. I probably don't need to remind you the Halo is a projector first and foremost.
Projection Image Quality
Full HD native resolution puts the XGIMI Halo in the premium bracket of portable projectors, offering more detail in this compact class. Native 1080p holds up far better at larger projection sizes since it has more resolution to work with. The 800 ANSI lumens packed inside the Halo are also above what you'd find on the market, faring better in difficult lighting conditions and arguably makes the biggest different to picture quality by luminance of the image: the higher the number the brighter the image, the more expensive the pricetag.
Finding a capable projector this size with that many lumens (or more) may be exclusive to the XGIMI Halo and I'm glad it exists. Clarity and brightness excel best in dark, night lighting and at smaller sizes – image quality and brightness are tack sharp up to 50 inches, with resolved sharpness and under adequate lighting watchable up to 120 inches.
Brightness from the XGIMI Halo falls off towards these sizes so anything above would require complete darkness to offer enough luminance to the eye. The image is softer when blow up large, but still holds up very well thanks to its native 1080p resolution. Performance is excellent for this compact size with the Halo faring far better for image quality retention than alternatives, proving the XGIMI Halo punches far above it's featherweight class in size.
Above shows the projection display of the Halo on a painted and concrete wall. At 32 inches the image is very bright and sharp that it can be used under quite strong natural lighting. The second is blown up to 100 inches on concrete with no light. The concrete darkens the image as it's projected against a dark backdrop, but the image is still bright enough to watch. Against a white wall it would appear brighter. I would feel comfortable watching a movie on the XGIMI Halo at 120 inches, which is the largest I can blow it up to on a free all of mine. Anything larger is still watchable, but light fall off is noticeable. I'd prefer to scale it down for a brighter image.. but you know, 120 let alone 100 inches is enough.
For a little more oomph, the XGMI Halo+ is just that. It cranks up the ANSI lumens brightness to 900 over the 800 of the Halo, a faster image processing engine X-VUE 2.0 for better response during gaming and fast motion experience. Fast boot cuts the 52-second cold startup of the Halo to just 6 seconds of the Halo+. Adventure and party games on the Nintendo Switch beamed from the Halo were pleasant and easily playable, but for any serious gaming like shooters and competitive online, the Halo+ may be more down your alley. Beaming my Nintendo Switch via HDMI at a 100-inch size is pretty epic. The Halo+ enhances the base experience, but having said that, you're getting plenty of bang for your buck with the Halo.
I like the customisable options available in the Halo as you can select picture profiles to suit media playback including low-power, office, movie, or gaming. It has an auto feature to detect and change this on the fly or you can create a custom image profile with image sliders for contrast, brightness, sharpness, and saturation. I found the default image quite pleasant although a little on the contrasty side, but the custom profile makes this easy to fit how I like. With HDR decoding, it offers extra detail in supported content with a higher dynamic range than images on non-HDR projectors.
Best in Class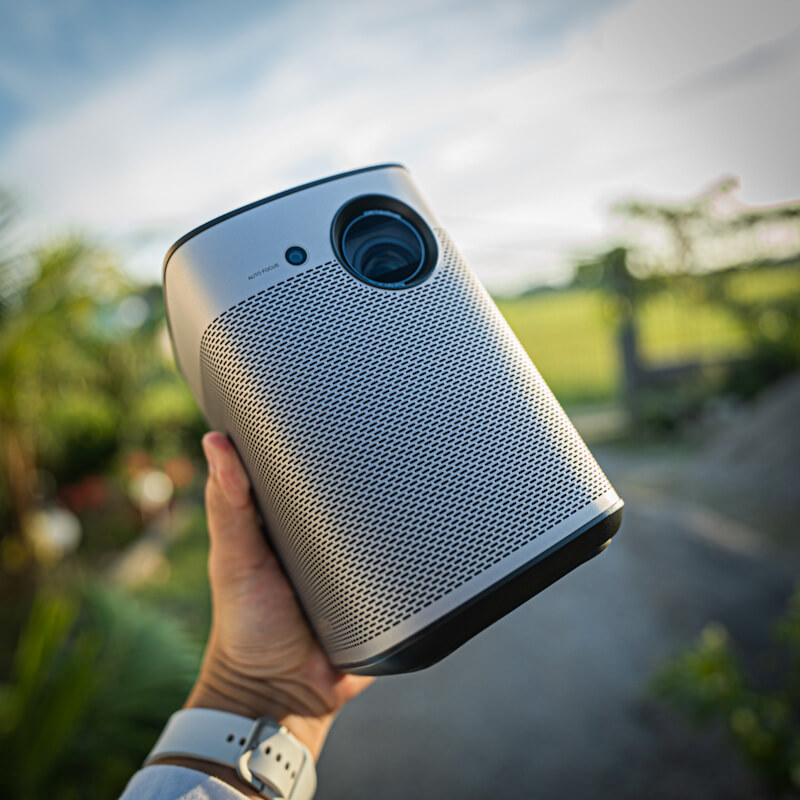 If I had to nitpick, I would love to see a USB-C port with PD delivery to charge and power the projector so you can ditch the adaptor and pair it with a powerbank for true off-wall entrainment. A removable battery would be even better so it can be stowed in check-in luggage too. A refresh to take advantage of Google's latest version of Android TV would the icing on the cake. All of these would add more punch to the portability of the XGIMI Halo. Otherwise, XGIMI has really nailed the power meets portability tagline of the Halo, fulfilling my desire to finally see a portable projector with qualities fit for home and travel.
The XGIMI Halo has got it all: premium design, quality hardware, excellent image, very good sound quality, with a very respectable battery in a compact size. Everything feels well executed and tight, with little to no wiggle room for issues. It represents the best of XGIMI's portable projectors, edged out by the Halo+ if the extra nuances are important to you but at a higher price. However, if you're looking for best-in-class Full HD projection such fits inside your carry on, the XGIMI Halo offers unrivaled value for money.
CONCLUSION
A best in class portable projector with native Full HD projection. Premium hardware with quality Harman Kardon powered sound and fluid Android TV makes this unrivalled in its category and price bracket.
HIGHLIGHTS
Excellent focus system
Fluid system navigation
Image quality and retention at large sizes
Harman Kardon sound clarity and volume
Premium hardware build and design
Bright 800 ANSI lumens for everyday use
LOWLIGHTS
Android TV 9 lags behind the latest version
Lacks USB-C PD for easier travel charging
Non-removable battery makes it cabin luggage only on flights