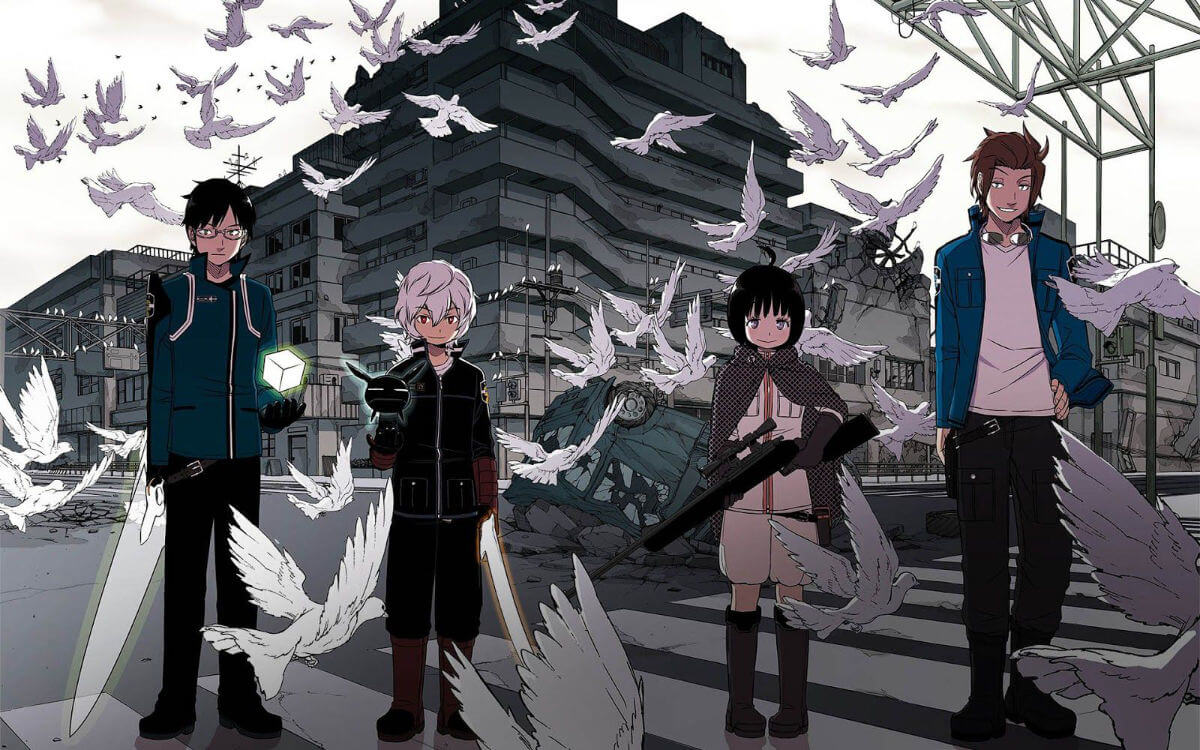 With World Trigger 2nd season officially arriving after a 5-year hiatus, I went back to watch the entire first season consisting of 73 episodes, primed and ready to continue the story. It was refreshing to breathe life in the world once again, following Osamu Mikumo, Yuma Kuga, and Chika Amatori along with the cool Border agent squads in their defence against otherworldly Neighbour invasions.
It's packed with great arc development, a variety of cool, funky, serious and laid-back personalities, with the rank wars, squad specialty, and border agents the shining examples of World Trigger's best. With Border, the military defence of Shizuka City, tasked with fending off invasions from humanoid and Tech- crawler entities – called Neighbours – Osamu, a humble, diligent school student who aspires of joining Border's new enlistees but lacks the innate abilities and talent, is put in a precarious situation when a Neighbour appeared through a portal gate.
Border, Neighbour and Triggers
Fate has him cross paths with Yuma, a friendly Neighbour he grows a stronger bond with and Chika, a young girl of Osamu's friend that disappeared suddenly, team-up to fight for their rightful place in Border's Elite.
There's a continuous struggle we relate to in Osamu, who tries to make up for his lack of power with smart thinking, strategies, and tactical intelligence, while Yuma is a skilled warrior who possesses a Black Trigger, and Chika with an insane amount of Trion energy. They each bring something to the table but Osamu's consistent thought of not being good enough or contribute has him constantly seeking how to get stronger.
I love the trigger concept, which is Neighbour technology given to Border agents to fight with: as an attacker, shooter, or sniper. Each trigger offers something different, in which the rank wars highlight squad combinations, strengths, and weaknesses. Their journey getting recognized in Border was a great one, with the large-scale Neighbour Invasion easily the first season's biggest climax and the epitome of the story. Black Triggers are reserved for the powerful and worthy Elites, which have enhanced abilities to draw from. Yuma Kuga is one of those four example.
I think many will like the under-rated, grossly-humane approach to Osamu and the massive difference he and the rest of Border agents are – he's a high school student that tries his best, is honest and innocent, and has big aspirations to protect others. He lacks plenty of strength both physically and in trion energy levels. But it doesn't stop him – his unwavering belief to do the right thing, no matter the consequence, pushback or adversity is always admirable.
But I love that he's not a hot-headed, naive, or arrogant protagonist, instead blessed with the self-reflection to be honest to himself too. His clear-sight of that means he's excellent in maximising the abilities of others around him, Yuma and Chika with his wit, strategic and tactical abilities. That continues to get tested over rank wars, invasions and turning points. His personal growth isn't straight-forward and seeing him perseverance through those struggles to barely make the cut is a refreshing change. The whole raft of characters in World Trigger are almost all likable, with exception for those that are intended for you to dislike, but that's also what makes those characters likeable.
Rank Wars, Forced Humour, Deserved Sequel
World Trigger has an interesting world that revolves around Border and Neighbour, seeing the lens of the city from a military point of view. It's easy to watch, well-paced series that either provides slow build-up to a massive display or consistent development that never strays too far off from the main arc. It's pretty vanilla, definitely PG-rated and family-friendly, accessible to watch, and maintains a light-hearted atmosphere through squad dialogue, and characters like Yotaro, Yuma, Jin. It balances Osamu's serious personality and Chika's straight-forward caring, kind nature.
While light-hearted, the comedic and humourous aspects are a little hit and miss, sometimes unnatural, awkward or random dramatic moments that feel out of context. Generally, though, you can not like or enjoy the world of World Trigger, because of its masterclass concept and immersive story.
Competition between squads and their ranks from A, B and C are well-known, each striving to be the best squad they can be. Add the Border 3 squad and solo wars, with neighbour invasions and you've got plenty of action on many levels to watch, appreciate and enjoy. Overall, World Trigger Season 1 represents the series strong, with plenty more to offer. It's crazy to think it has taken 5 years before Season 2 landed… it certainly deserved a continuation much earlier, with praise for the kind of anime it is. Should you watch World Trigger? Yes. Will you enjoy it? Yes. Watch it and then join me for World Trigger 2nd Season.
TRIGGER ON!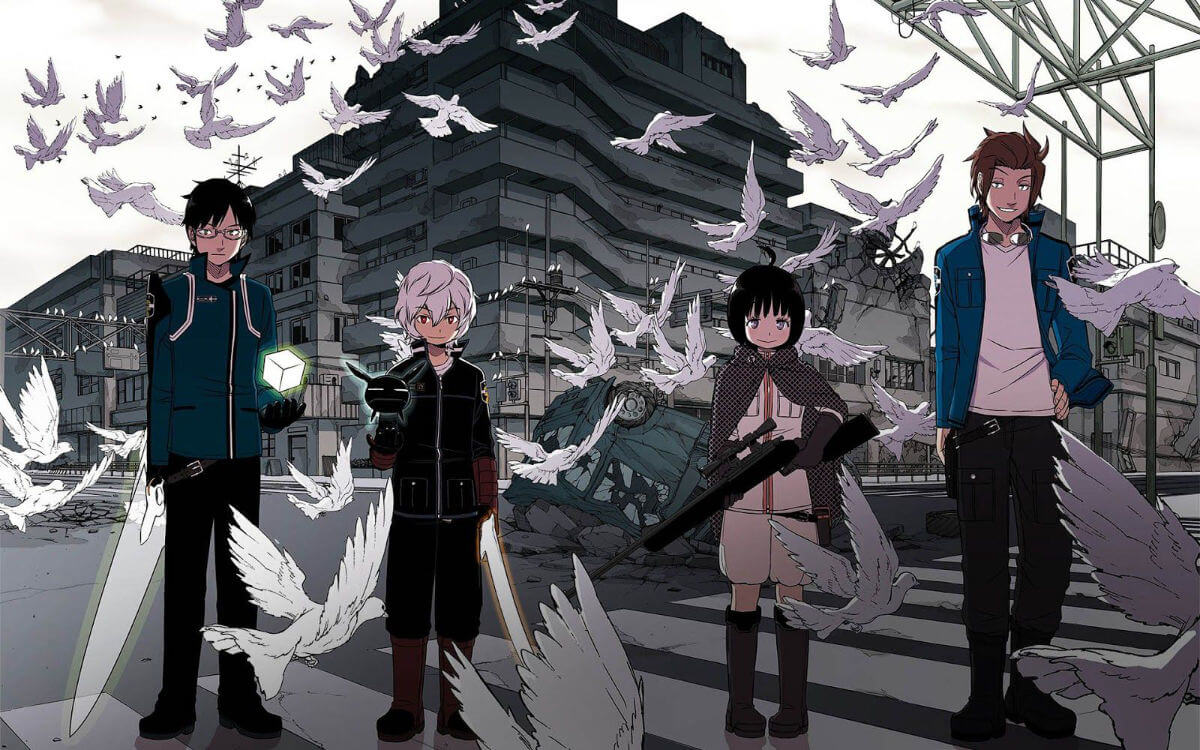 CONCLUSION
The accessible, relatable, awesome universe and great dynamics with characters. I found the pace and arcs very solid, and good progression that makes you hyped for season 2.
HIGHLIGHTS
Great time, universe and trigger concept
relatable struggles of protagonist and overcoming theme
good dynamic between character interactions
thoroughly enjoyable arcs and subplots
strong presence of Yuma, Osamu and Chika
LOWLIGHTS
humour/ comedic aspects are less convincy
seems like most people have a chip on their should
osamu's relationship with his mom is awkward