In another episode of the 'What's Inside My Bag' series, this time into the carry and tech setup I brought with me while shooting at three F1 races this 2022 season. They include the French, Dutch and Italian (Monza) Grand Prix, which all delivered a race weekend of excitement, atmosphere, and epic F1 car racing action. I've been on a path to updating my equipment inline with my shooting needs and progression over time and made big strides. Here's a deep dive into how I've pieced everything together and made it work for this type of shoot.
READ MORE
My approach to shooting at F1 has meant having a spacious enough backpack that's fairly low profile and not too heavy. Since I'm shooting in F1 Paddock Club and F1 Experience locations, having a quick access backpack was not on the cards, but instead an organisation to carry onto site each morning with me, set down in our section and grab what I need before roaming around the tracks throughout the day. I'm shot stills and opted for a two camera system around my shoulder for qualifying and race day or during events like the truck tour. Other events like pitlane walk or driver talks in Paddock Club a single camera setup was sufficient. I mostly flew from Brussels in Belgium to the races, although a few train and flights from London were also a part of my journey. I did carry a small carry on style luggage but that was kept where I stayed for extra clothing and space for equipment.
WaterField Designs Backpack
A professional, smart yet functional travel backpack that feels premium throughout, it's made for a great carry-on with plenty of packing potential. Made of signature ballistic nylon with golden interior lining and external leather trim, it looks the part of any travel or shooting environment.
The best part of why I enjoy using the 40L backpack from San Francisco-based WaterField Designs is just how comfortable the shoulder strap and bag are. You can imagine the heavy carry load once I put all of my various shooting equipment inside, but it accommodates many of the tech essentials and travel bits I need access to in an organized fashion.
The separate tech compartment is probably the best implementation I've seen in a bag that is easy to dip into separate from the main section. Add the front briefcase pockets and top catchall used for my passport and wallet as I travel, the malleable but durable shell creates an excellent travel and cube exterior to house everything in.
See WaterField Designs Travel Backpack
Peak Design Camera Cube
I took a gamble with the camera cube but I'm happy to report the Peak Design camera cube works very well with the WaterField Design 40L backpack. The boxy design and malleable shell mean it can close comfortably, though sacrifices the usability of one of the mesh pockets. All three sizes of the camera cube fit inside, but I found the medium cube best appropriate to hold most camera gear and leave enough space for travel clothing, toiletry bag, or tech pouch.
The durable nature of the camera cube means it's thicker and heavier than others, but considering how expensive my camera equipment is, it's worth the trade-off. These are versatile to use with grab handles to easily grab and go from your car, hotel, or around while shooting. And the various attachment loops mean adding an anchor link and PD strap can make this shoulder carry-friendly. The quick access side openings are the signature Peak Design from their backpacks. You'll struggle to find camera cubes that are more feature-packed than these.
Peak Design Tech Pouch
As you can imagine, plenty of equipment means quite a few cables, cards, hard drives, and small tech accessories I need to bring. I opted for the Peak Design Tech Pouch, not only because of the slick midnight blue aesthetic – but as an in-between as a competent packable tech pouch for everything I need in a fairly compact or adaptable carry.
The accordion design offers bright access to the many soft, elastic joey pouches that fit many sizes comfortably. Instead of having separate hard drive cases and stacked cables upon cables with my SD card cases and other small bits mixed in, they're organised against the walls with the zipped pocket down the centre. There's still plenty of space to add a multi-USB adaptor, power bank, and travel mouse if I need a full load. The smooth zip track and durable weatherproof material make this an ideal tech catchall with carry handles and shoulder strap loops for extra travel options. I've been happy with this when I'm travelling with the full suite of gear.
Sony A7 IV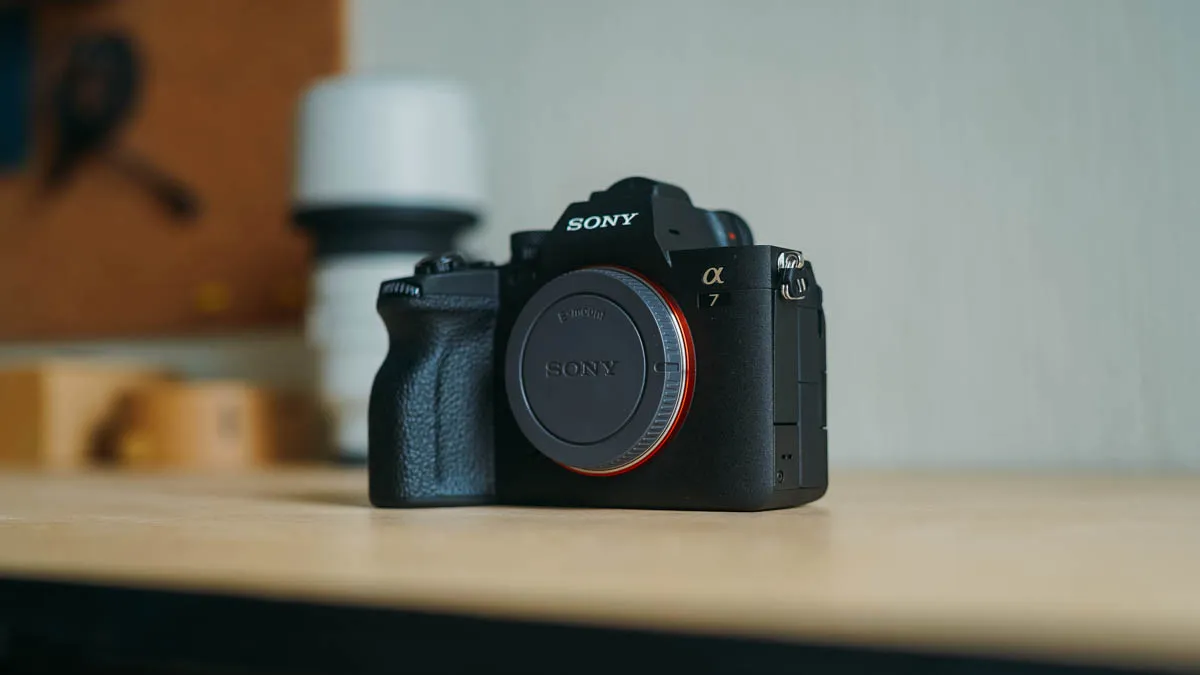 My current primary camera body, the Sony A7 IV is a substantial upgrade from my previous Sony A7 III. The articulating touch screen is far more flexible, with full touchscreen control, and a higher megapixel for extra detail capture, and image retainment in cropped mode. The biggest upgrade is real-time eye autofocus that's snappier and 10-bit 4K recordings.
This is their best hybrid model yet as the A7 series tends to be best defined and is versatile for shooting photos and videos to great performance. The overall build feels more refined, and substantial with a prominent hand grip and a better-organized input setup.
Sony 70-200mm f/2.8 GM II
My first telephoto zoom lens (and an expensive one at that!), but absolutely worth the investment. The 70-200mm is fast becoming an important staple in my setup, giving plenty of extra reach (especially paired with the super35 crop on the A7 IV) at a solid f/2.8 aperture. The second generation G Master is a huge upgrade over the first version saving an extra 500 grams in weight excellent autofocus IQ and complete sharpness through the entire zoom range. It's incredibly sharp at the widest f/2.8 and offers excellent compression at the far end of the zoom range.
I planned before diving into this zoom range to grab the x2 teleconverter which makes this into 400mm for those situations I need the extra range. no doubt a super dope lens if you are willing.
Sony 35mm f/1.4 Zeiss Distagon
I rocked this 35mm f/1.4 lens for many years and has been a great companion over the years as 35mm has been my go-to focal length. Not too punched in like the 50mm and enough environmental with a compositional eye, the bright 1.4 makes this a low light warrior.
The FlexFold dividers of the Peak Design make fitting in my various lens profiles a breeze, providing plenty of padding for the all-metal barrel construction. The 35mm body adds some weight that adds some balance when added to the camera body, with the longer barrel than alternatives easier to wield. I find the hardware itself very attractive with a Zeiss look which translates over to the image quality. It's tack sharp at the centre and offers pleasing bokeh balls when stopped down from f/1.4. Overall, I find it offers plenty of character with its strengths in stills over videography due to the weight. I've been happy rocking this all these years and find it great if you can find a good price for one.
Buy Sony 35mm f/1.4 Zeiss Lens
Sony 90mm f/2.8 G Macro OSS
The 90mm f/2.8 in some ways has become less relevant since I picked up the 70-200mm as it possesses the same f/2.8 aperture. But the 90mm macro has a cult following thanks to its stellar sharpness and versatility to double up as an excellent macro product and portrait lens. The slight telephoto compression offers a pleasant look and the long barrel and focus ring lends to fine-tune precision. The macro ability has pumped out amazingly sharp closeup shots, though the noisy focus system and focus hunting may put off using this for video. Since I try to keep a minimal profile with the setups, I'll move this lens on but I have no hesitation in recommending it for the standout strengths.
Buy Sony 90mm f/2.8 macro lens
Sony A7 III
Now I've added the IV to my lineup, the A7 III finally becomes a worthy backup and secondary camera body as I lay my original A7 to rest. It possesses excellent still photography capabilities with burst shooting and a very usable 24MP count. The 8-bit colour and LOG profile suited to the A7 III isn't as streamlined to use in tandem with the A7 IV for video but makes a great stills alternative to rock either my telephoto or wide lens for shoots.
I've enjoyed plenty of success with the A7 III as my primary before, and being able to quickly swap to it with a different focal length that's similar to the A7 IV in stills performance means it'll be hanging around for a while.
DJI RS3 Gimbal
The brains of the gimbal can sit inside the 40L travel backpack above the camera cube, or in a sling, but it can still be carried in this carry-on or inside small luggage. The battery grip is far more compact and slimmed down to my original Ronin-S so I can slot it inside the Peak Design camera cube along with the camera plate mount, quick-release plate, tripod feet, and Small Rig briefcase handle. It takes some playing around to fit these in the cube, but I found a system that works. The auto lock and unlock when powered on is a neat feature and the fact it's 20% stronger than the RSC2 in a similar footprint makes the extra stabilisation less of a hassle to bring along for shoots.
RODE Wireless GO II
I forgot to add this in the video, but in the wider carry setup, I take my Wireless GO II with me and use one of the several pockets and compartments in the WaterField Designs Travel Backpack. Having two wireless transmitters opens up greater audio recording that I'm dabbling into including interview-style recordings, having one act like a shotgun pointing forward and another facing backward on the camera for two-way speaking with holding the camera. The backup and onboard recording make these even more useful to record away from any device. A mighty upgrade from the first generation I also used, these are a staple for audio recording.
Samsung T7 Shield (1TB)
I use this as my active SSD to edit 4K footage and photos, leaving more onboard storage. The shield is more water-resistant and shockproof than the original T7 and offers up to 1GB of transfer speed provided your laptop has the latest USB tech to support it. I get up to 500MB/s with my current laptop which is fast. It's nice to know my future laptop upgrade will bring the fastest speed out of transfers and fast read/ write speeds down the line. It's reliable and balances the small compact size no bigger than a bank card stacked with a few of them, and avoids getting hot or worrying about overheating.
Since recording, I've added and revamped my camera lineup and equipment as I look to travel again for a long period of time so stay tuned for an update down the line into what tech and carry stuff I'm bringing. If you have any questions sound down below and feel free to click the links to each piece of equipment I've talked about above if you'd like to learn more or purchase, which helps support my channel and website!
For disclosure, this article or review features affiliated links which means I may receive a commission if you make a purchase through these links. They in no way influence or dictate my thoughts toward a brand, product or service but a professional assessment through my experience.