I know this is a question many people who are interested in the Microsoft Surface Go are wondering, because well, I was too. With all the talk about the processor being quite underpowered and the low reputation that Intel Pentium processors of old have, many people question not the Surface Go hardware itself – which by the way, is an excellent travel-sized Windows 10 computing device – but whether it's powerful enough to run the apps and software you need it to. I'm here to share the software I've loaded for my own workflow – what it runs well, reasonably enough, and what it doesn't, to give you a better idea of whether it's suitable for you.
For context, I'm basing these experiences using the Surface Go 128GB SSD, 8GB RAM model. The experience may be slightly different compared to the 64GB eMMC, 4GB RAM model, mostly when it comes to multi-tasking, batch photo editing and multiple tabs in the browser, but with that clarified here are my observations.
Ideal for Office Apps and Note-Taking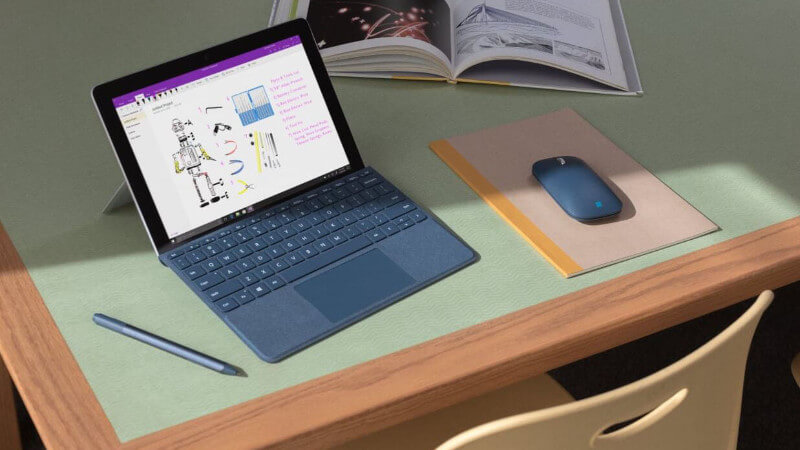 One of the biggest draws of the Surface Go is the appeal of offering a solid productivity experience on a large enough screen that's super portable to carry with you. I'm far more productive on the Surface Go than say my smartphone (naturally) and comparable to typing on my Surface Book. Touch feels more natural to use here thanks to portable hardware design.
Typical Office apps like Microsoft Word, OneNote, PowerPoint, and Excel run very smoothly on the Surface Go. Paired with the Type Cover keyboard, I've found I can focus writing on this nimble tablet PC, then say my Surface Book which is far larger and bulkier to carry with me. Office apps run great on the Surface Go with only real notable slowdowns if you're loading PowerPoint files with embedded files or many elements to load. But for 99% of the time, navigation is good, responsive, great with touch also and OneNote a solid digital notepad that syncs to the cloud, perfect for drafting on the move and between my Surface Book and Go. Students, mobile professionals, and creatives will enjoy the small footprint of the Surface Go while still enjoying a fluid Microsoft Office experience.
Solid Enough Photo Editing Power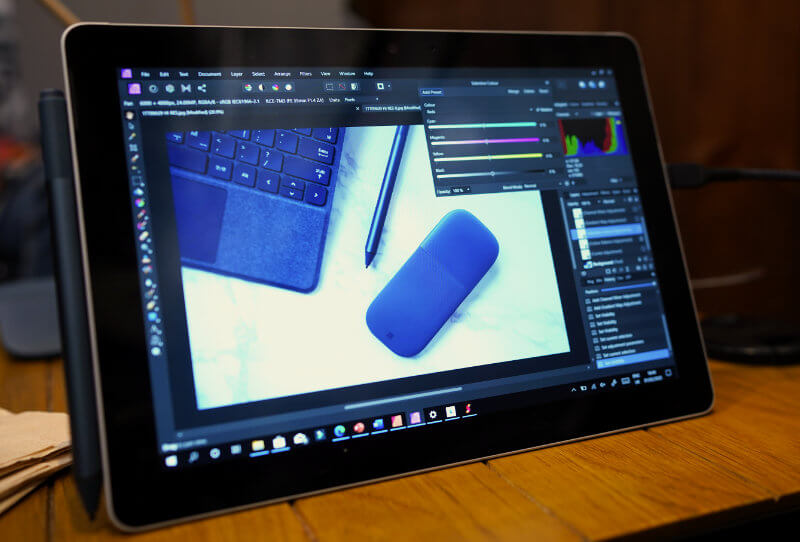 I've used Serif Affinity software for most of my editing work over the years, comparable to Adobe with a lifetime license and more than enough for the advanced power designers and editors out there. Quick note for any Affinity users out there, you can use the same license key for your main machine onto the Surface Go if it's your secondary device so you don't need to buy another license key. Affinity Photo runs great on the Surface Go and I feel is the least taxing on the machine compared to Affinity Designer and Affinity Publisher, which I'll cover below. General navigation, adjustment layers, and effects are responsive, suitable for mobile editing after a day's shoot.
Switching personas between develop or tone-mapping take a bit more time than my Surface Book, which is to be expected and not tediously long. There may be a short lag when moving the adjustment curves, blemish or clone tool, but again, perfectly reasonable for the power of the Surface Go. Where the limitations start to show are when you are using big brush sizes. You'll need to be on the best performance and even then, is slow to react and then action.
Zooming in on the area reduces the length of time but the performance hit is very noticeable. The 8GB RAM means you can have a lot of images open at the same time, but to get the best performance, I would have 4 or 5 open at a time just to keep the resource usage minimal. Overall, if you're intending to do photo editing, the Surface Go is very competent at doing that when using Affinity Photo. Pushing it, I have certainly edited several photos with multiple adjustment layers and it handled them very well, coping with over 15+ images open at any one time. The screen estate is much smaller so you'll be relying on the Type Cover trackpad and Surface Pen for precision, while touchscreen works well for zooming and moving around the zoomed image. I can happily use the Surface Go for an hour or two and find most will if they're willing to wait the very few extra seconds.
Far From Ideal For Video Editing
I really didn't expect or have much hope of doing any real video editing on the Surface Go. And that is the case. For the most part, the processor just isn't powerful at all to run full-fledged professional to a level you could do anything productive on it. That includes video software like Adobe Premiere, DaVinci Resolve, and Vegas Pro so, sorry guys you're out of luck with the Surface Go here. That being said, lighter and less intensive video editors can run and are usable to a degree if you're willing to compromise.
I installed Filmora 9 to see how it works on the Surface Go (you'll need to buy a new license if you currently use it on another device) and to my surprise, it was actually quite good. You'll want the Surface Go on the highest performance and reduce the preview area to a smaller scale so as to put less strain on the CPU. With all that being said, if you're doing simple edits and nothing too crazy with the number of effects, transitions, media files or above full HD resolution, you can create a video on it.
I would say the Surface Go is reasonable to create simple video edits, whether that's adding text transitions and adjusting the aspect ratio with basic cuts on camera footage or light action cam work. Definitely no 4K video. Soon enough when you playback in the preview window, the audio will start to fall out of sync quickly, meaning you'll have to stop/start frequently to edit without mistakes. It's okay but pretty hampered. Navigation around Filmora 9 is good and from my experience offers usable enough experience that you can do some video editing work, but I won't recommend long-sessions and any heavy-lifting is beyond its capabilities.
The screen estate is limited with a smaller timeline and number of tracks visible, but the larger icons and interface in Filmora 9 make editing less inconvenient. You'll definitely want to edit videos on a larger screen device with extra horsepower for a much better experience. But, if you have to or just want to know if you can video edit on the Surface Go, well you can and to a degree does a decent job of it with patience… but expect plenty of limitations and compromises.
Smooth Web Browsing
Web browsing on the Surface Go is really satisfying in both setups as a standalone tablet and with the Type Cover keyboard attached. I've tested both Google Chrome and the new Microsoft Edge based on Chromium web standard and can say that Microsoft Edge offers the slickest experience on the Surface Go. Google Chrome while a default for many people including myself, can be resource-intensive and a battery drainer with several tabs open. Touch-scrolling also isn't best optimised in Chrome.
I used Microsoft Edge before and generally found it much better for touch and the same is true with the new Chromium version that recently launched out of beta. Everything feels fast, light and I also find battery holds better (non-scientifically, just my observation). So for web-browsing, the Surface Go offers an excellent experience because it's very light to hold for a long period of time, touch response is satisfying and the aspect ratio presents more information than a widescreen 16:9 display.
One of the sad omissions in the new browser is the lack of integrated pen features which made screen capturing, drawing and note-taking in the browser a strong use-scenario for the Surface Go. I'm sad to say the options are no longer there and I hope they bring it back. Microsoft Edge is the browser of choice but when it comes to the search engine, Google is still by far the better engine for search results and presentation, so you can keep that as your default.
Design Software for Drafting Creations
For graphics work, you can get a very decent experience when it comes to design work, however, I recommend it for light-touch designing and early-stage drafting creations. Now when I talk about designing, this is more around software like Affinity Designer, manipulating shapes, text and even free-hand brushwork with the Surface Pen. Use with the Surface Pen is good, with responsiveness and sensitivity sufficient for precision work.
I don't get any jittering when doing slow strokes, most of the time not needing to use stabilisation in my brush strokes. Manipulating and drawing in small details and contexts can work well for the Surface Go and it can handle a good amount of layers like Affinity Photo. Performance really suffers as soon as you use large brushes, big manipulations or complicated actions so I wouldn't recommend doing that kind of work on the Surface Go and to use it on your main machine or avoid entirely unless patience is your forte.
Microsoft App Store Drawing Apps
For more leisure or casual drawings, the apps you'll find in the Microsoft Store are very few but offer a very good experience on the Surface Go. I've found Bamboo Paper to offer a really responsive and fluid drawing experience while Sketchable offers a greater variety of brushes and takes advantage of the Surface Pen's pressure sensitivity for light and darker strokes. Sketchable isn't the most fluid experience, with some slight delay on faster strokes and general app performance, but users will find these good apps to interact with the Surface Pen, whether that's for drawing or note-taking.
I Don't Game on the Surface Go
Gaming on the Surface Go never really crossed my mind because it's definitely not powerful enough for full-fledged Steam games and the selection of Microsoft Store games isn't the most appealing either. For testing, I did install the mobile game Snipers from Gameloft to see how instore-apps perform anyway. Light games like Crossy Roads are unsurprisingly easy for the Surface Go running, while Gameloft's Sniper Fury is also very playable with rare slowdowns during animated sequences.
But truthfully, there aren't any real draws or appeal to gaming on the Surface Go, at least for me. I won't comment too much on this but unless you want to play a small selection of mobile games available on your smartphone on a larger display, then sure the Surface Go will handle them fine. Those modern PC games on Steam or in the store, however? Out of the question.
Punching Above Surface Go Weight
I'll update my thoughts above should I get the chance to run other software on the Surface Go but in short, the Surface Go is very capable in running solid editing software with a good amount of performance to create and output some creations of yours. Keep actions relatively uncomplicated and you'll get a great response from the Surface Go, push it hard with demanding software or intensive actions and expect big performance slowdowns, loading times and delays before they register your input. The fact that my Surface Go can even run some of my main software for work and allow me to do some drafting and creative work on the move, leaving my heavy Surface Book behind is indeed impressive. Underestimated in what the Surface Go can achieve, it certainly punches above its weight with that Intel Pentium Gold 4415Y processor, and for that, the Surface Go has my respect.
For disclosure, I may receive a commission if you make a purchase through these links at no cost to you. They in no way influence my own opinions and review towards the product or service. As the sole individual creator, this helps support my work to keep producing quality imagery, videos, articles. If you find any of what you read, see or watch useful, please consider using these links. You can also support my work on Patreon here. Thanks and Keep Being Awesome!