The Waterfield Designs Tech Folio is a seriously capable tech organiser that pockets heavy duty storage within an impressive footprint. It excels in packing all kinds of big and small items together in a folio that is so satisfying to see. The build is classic, premium standards from WaterField and is a definitive organiser that works well on its own, or inside a carry.
Exterior Details
There are two versions of the organiser: the Tech Folio and Tech Folio Plus. The Tech Folio is the smaller of the two, though very capable and more compact. Offered in two textiles (ballistic nylon or waxed canvas), both look sleek and smart.
The ballistic nylon feels robust and durable for many years to come. It's a lighter than the waxed canvas at 430 grams and doesn't add much extra weight in real-terms. Full-grain leather trim on the front adds a premium accent to the WaterField Designs Tech Folio, though I wish they'd use more to accent either the side or rear carry handle for a stronger aesthetic and handling play.
Double zippers for the main compartment lets you keep your powerbank inside while you charge. The flat, bullet-shell-like handle on the zip pulls offer greater leverage to pull with ease, as the enclosing zippers leave a waterproof sealant behind.
Quick-Access Compartment
The rounded front zipper works very well as a quick-access pocket for your more frequent items (powerbank, stowing your phone, stylus, pens and such). The open mesh net is handy for earphones. I'd like to see a zipped pocket here because items are prone to falling out as I pull back.
The honeycomb pattern is delightful and when I brush my fingers along the surface, it feels premium and well-made.

Interior of the Tech Folio
It's fine if standing upright, but not so much when laid on a table. Best for small accessories, but this would add more utility to the pocket than it currently allows. Nonetheless, I love the gold inner lining as gear really lights up in my face, great under difficult lighting and general visibility.
Tech Folio Gear Load
With the vast range of tech I carry and the accessories that go with it, the WaterField Designs Tech Folio really shined – my laptop, drone, camera, note-taking, audio and productivity accessories all stowed in this svelte folio organiser secured, and organised. The various-sized mesh pockets, plush, open pockets and in-built sleeve makes this a superb, capable carry indeed.
Above is everything I could fit in this fair-sized compact organiser – from chunky powerbricks, cables, batteries, hard drives, tablet and the awkward UK plug, you'd think it'd be quite the challenge to put each away neatly. Not with the WaterField Design Tech Folio however… they line up nicely to pack beautifully.
[embed-vi-ad]
Slick Organiser Setup
On the left side are two large mesh pockets that span the width and height of the Tech Folio. The other side comprises of two quarter-sized sleeved pockets, two mesh pockets under one zipper and width-wide in-built sleeve pocket for tablets up to 10″.
The zippers are pretty solid if you pack heavy, while the sleeved pockets are spacious for bulky peripherals. If you pack the Tech Folio large, then expect it to eat a good amount of space in your backpack but not unreasonably. I'm a big fan their signature gold lining as the inner material, found in Waterfield's everyday carry collection and stays true here too.
Wires need to be coiled and can get real tight after the second cable in the smaller pockets, so four – five cables over the two. That should be more than enough, but there are unused space in the larger pockets you can slot them into otherwise. Simply put, the WaterField Designs Tech Folio performs excellent for my gear load.
Ergonomic Stash and Handle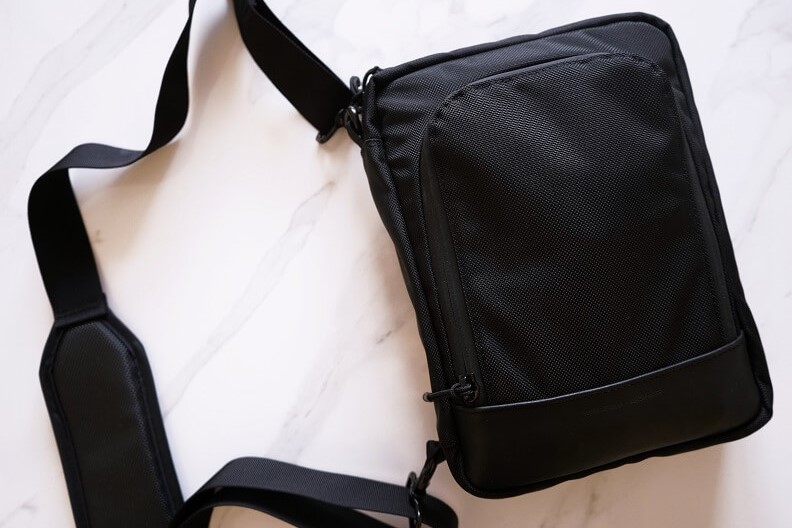 Two hook attachment points along the spine of the Tech Folio let you clip optional WaterField Design shoulder straps (they are universal) that turns it into a standalone minimal carry. I borrowed the suspension shoulder strap from the Atlas Executive Athletic Holdall I reviewed for the Tech Folio and it clips as expected. Moreover, the metal hardware and nylon webbing are robust, while the leather pad spreads the weight for a comfortable hold.
It's not like the Tech Folio is heavy, but it makes all-day carry on your shoulder much nicer than without; a setup that works great as an urban dweller, for those cafe, park and library stops. It serves more than just a tech organiser too – for your lifestyle accessories (sunglasses, wallet, watch, earphones,) or creative essentials like a sketchpad, pencils, markers, polaroids, adhesives and journal.
Rich in Pockets and Access
After putting the WaterField Designs Tech Folio inside different carries, I vouch for its secure, pocketable options and accessible form factor. It packs plenty of pocketable punch to be your definitive organiser.
The WaterField Designs Tech Folio supplements a backpack or holdall for your gear fantastically. It has good ergonomic handling to maneuver around easily. This is a well-thought organiser that handles everything with finesse. If you need something bigger for an iPad Pro, the Tech Folio Plus is the size you'll want instead. Overall, the Tech Folio solves those convoluted knots of accessories, efficiently storing them while pleasing to the eye.
WaterField Designs Collection
The Waterfield CitySlicker case is an attractive, premium carry for the Nintendo Switch. For gamers looking for a case they would be proud to put in their backpack, this is the one.
A balanced wallet made of high quality distressed leather, modernised card slots and premium all-round feel. Cash can be fiddly to remove or store. Overall, beautifully made by WaterField.
Waterfield Designs Tech Folio
CONCLUSION
The Tech Folio solves those convoluted knots of accessories, efficiently storing them while pleasing to the eye. It excels in packing all kinds of big or small items together in a folio that is so satisfying to see.
HIGHLIGHTS
Lovely gold inner lining for brighter access
Fantastic pocketing design
Robust, premium-quality build
LOWLIGHTS
Front netted pocket prone to item spilling
Needs more leather trim love in Nylon model