WaterField Designs have been cooking up some amazing smart travel carry options in their San Francisco workshop labs and I got my hands on a few to find out more. The 40L Air Travel Backpack brings smart, professional swag to carry-on travel, while the packable duffel and dynamic duo are their best-kept secrets, for quality-of-life upgrades at home or on the road. Altogether, they form a professional travel system ready for any journey ahead.
I recently used them on my work trips to France, Italy, Belgium and Netherlands, shooting at the F1 Grand Prix race weekends for F1 Paddock Club and F1 Experiences. I'll dive into that more in my follow-up reviews but in case you're not familiar, here's a breakdown of Waterfield Design's best-kept carry secrets.
READ MORE WATERFIELD DESIGNS
Air Travel Backpack
Business professionals who prefer a backpack or anyone looking for a smart-looking travel backpack without the heavy, overcomplicated features will find the Air Travel Backpack a breath of fresh air. The exterior shell is made of either ballistic nylon or waxed canvas – staples among WaterField Designs' range – accented with full-grain leather in several colours. The boxy design maximises internal capacity at 40L and features a luggage-style opening with compression straps to cinch down packing cubes and clothing. The Air Travel Backpack's strength is not only the organisation for travel, but also the dedicated tech compartment too.
Whether you're planning to travel for a day, several days or more than a week, the Air Travel Backpack can handle them all. It's packing cube friendly and spacious for creators who use camera cubes, need to cinch down a gimbal, or stow a sling bag and pouch which may hold a drone, controller, lenses and more. The compartment is deep enough that you have the flexibility and freedom to mix and match various clothing, shoes and gear in the way that suits you. Travel-friendly features like the top zipper pocket for passport access, and the hidden zipper pockets behind the full-grain leather front trim make a great spot for on-the-go charging.
The Air Travel Backpack is perfect for the most digital tech savvy too, as it comfortably holds a 16″ laptop and a large iPad Pro in well-padded, furry-lined pockets. A lateral mesh pocket sits above for tech accessories, with a further range of pockets for full tech coverage. The entire interior is lined with a water-resistant gold material, providing for bright internal visibility, making the whole packing journey a very pleasant experience.
No matter your method of travel, the Air Travel backpack can hand them all. Whether carried as a backpack, briefcase with top and side leather handles, using the pass-through to sit on top of a luggage, or attaching an optional strap for shoulder or crossbody carry. It's robust, premium-looking, intuitively organised and comfortable to carry all day long. You can pair this with the WaterField Designs Packable Duffel or Tote for complete smart carry travel, no matter if you're travelling for business, leisure or both.
packable duffel
Packable bags are excellent solutions when you need more carry options for any kind of travel. They size down to a small compact footprint so you can easily stow in your backpack or luggage. The downside however is the general lack of quality and features that downgrade the carry experience. The packable carry line by WaterField Designs changes all of that and sets the new benchmark for packable quality like no other.
No longer do packable bags have to be carried with creases decorated from all the folds, be made of a thin material which offers little protection, or compromise on the functionality of what a bag should have for quality of life convenience. The Packable Duffel, Sling, Tote, and Backpack are bags you can finally be proud to walk with like any other quality bag, indistinguishable from the rest of Waterfield Design's premium carry.
The Packable Duffel is a great accompaniment to the 40L Travel Backpack, which folds down to a fraction of its full size. What makes the Packable Duffel special is the custom-made stain and water-resistant shell to handle the beach, bad weather, café runs and all-around security for your valuables. The custom-made material is robust and sealed with smooth, padlock-friendly zippers. The inner ripstop nylon lining is a beautiful silver/ green geometric pattern, and it's super easy to dry just like the outside shell. If not yet already proven beyond a typical packable bag, there's a luggage passthrough webbing, an inside zipper pocket it folds into itself, and an outside lateral zipper pocket for quick-access convenience to polish it all off.
Despite the Packable Duffel's compact silhouette, it packs a generous 24L capacity. When the metal rings are unhooked on both sides, the volume expands to 30L. The best part? The Packable Duffel comfortably fits underneath an aeroplane seat as a small item, where you can reach your flight essentials or snacks, with the Air Travel Backpack in the overhead cabin. This is genuinely a game-changer for smart travel and packable bags.
dynamic duo
I'm a sunglasses person, so I like to bring more than one pair to switch up the style over my trip, but also as a backup measure. Unfortunately, losing sunglasses seems to be my kind of thing. What doesn't help is when I'm travelling frequently, there's a higher risk to leave something behind, so I don't like the several cases I need to account for. They also needlessly take up extra space in my bag.
The Dynamic Duo puts those hassles and worries behind, with an intuitive design that stores two sunglasses in one premium-designed leather case. Strong magnets close the openings to stow sunglasses from the top and bottom. The space is generous for big and small glasses – reading, driving and sunglasses – separated by a leather divider. The whole setup is uncomplicated and simple – I no longer have to decide which pair of sunglasses to bring, because I can finally carry both in one system. Or…you can share the space and store a pair of sunglasses for you and your partner. Just a thought.
Signature to WaterField Design, the Dynamic Duo is made of premium full-grain leather and comes in four colours. The blue leather easily steals the show for me with the sharp colour aesthetic. This everyday carry is the best-kept secret you didn't know about, and now that you do, is worth it for the quality of life upgrade you'll be thanking yourself for later, and WaterField Designs for creating (thanks WaterField).
Smart Travel Carry for Professionals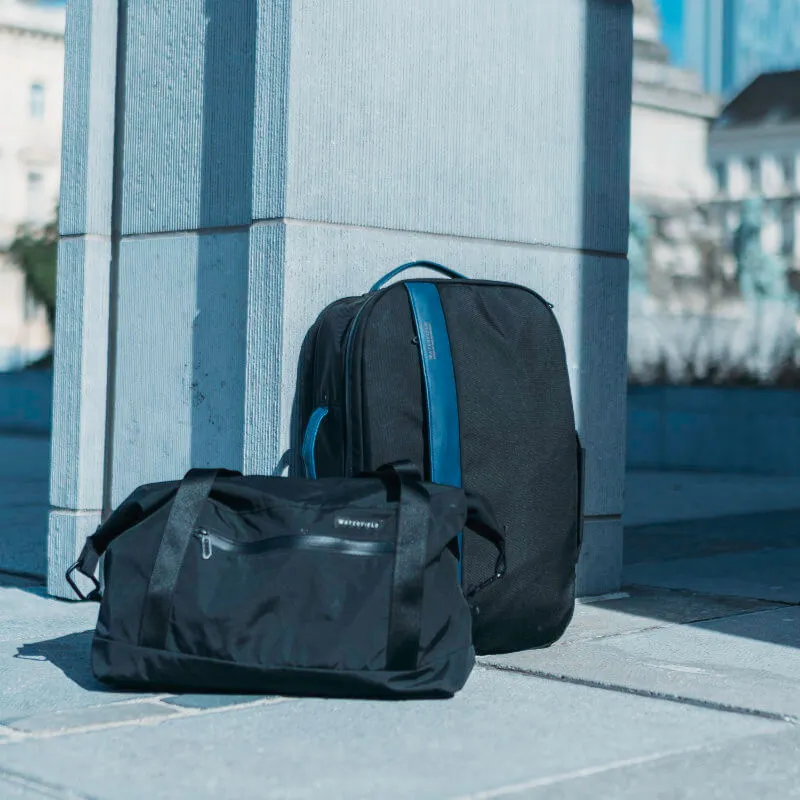 Is the WaterField Designs Air Travel Backpack the best-kept travel carry secret? Possibly. The spacious compartments for both travel and productivity strikes a near perfect balance, while the minimal, stylistic design will be appealing to business professionals, and travellers looking for a less complicated design. The versatile carry options only further add to the argument. The Packable Duffel is among the best packable line I've come across from any brand that brings premium and quality back to the 'packable' tag. And the Dynamic Duo is the everyday carry you didn't know you need until now. It genuinely makes the whole process of juggling more than one pair of glasses effortless with an executive touch. Everything matches down to the ballistic nylon, black colourway and blue leather accent… and that wasn't down to coincidence by the way, it was down to intentional pairing and WaterField Designs' consideration to make each carry work in harmony with each other.
So if you're looking for a complete travel solution that doesn't weigh you down or compromise on your organisational needs, The Air Travel Backpack, Packable Duffel and Dynamic Duo are right up there with the best, if not, the best, depending on your needs. WaterField Designs has delivered another amazing set of smart carry bags and accessories that should not be slept on now that their best kept secrets are out of the bag. Stay tuned for my follow-up reviews and for more gear discoveries.