I've stopped delaying my review of the Vivobarefoot Magna Trail, finally putting pen to paper on how these have fared after usage over the one and a half years I've since had these. The second generation has changed quite a bit which I'll dive into but the core concept of the barefoot DNA and Magna Trail model is alive and well as the first generation.
These are an impressive pair of versatile shoes, great for hiking trails but also every day in the city. They're aesthetically on point, durable and breathable while built to withstand every season condition. The second generation have plenty to live up to.
Please consider supporting my work by contributing any amount as low as $1. This helps to maintain my website costs, development, creation efforts and putting food on the table. Your support is very much appreciated. Keep being awesome! Donate to support my platforms
vivobarefoot magna trail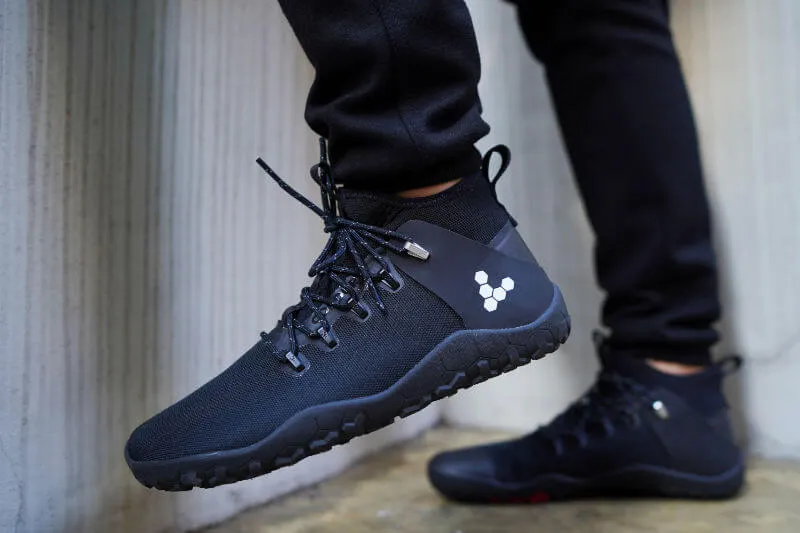 I've thoroughly enjoyed the design of the Vivobarefoot Magna Trail, a mid-height shoe with a distinctly contemporary aesthetic. It redefines what trail shoes should look like and has the performance to back it up. The Corduroy exterior is rugged, water-tight and durable against the elements, while the neoprene inner liner is breathable whether you're wearing socks or not.
The sealed outsole and body make these water-resistant rated. Besides the rugged, serious look, the Magna Trail are lightweight with a moldable, flex design that's friendly towards your carry on or luggage allowance. Two loops on the tongue and heel are necessary to slide feet inside. It's more difficult to put on than others, but the snug, secure fit is worth the initial hindrance.
The second generation Magna Trail retains the same design and swaps out the Corduroy branded nylon and neoprene liner with a similar textile for the body and knitted sock upper. It retains the water-resistant property but is said to be made from more recycled materials. There's also a Magna II made of wild hide leather and merino wool liner, while the Magna Trail Forest ESC has a Michelin outsole if you're leaning towards more outdoor exploration. The first and second-generation Magna Trail for the most part are very similar for the most part.
From city to the wild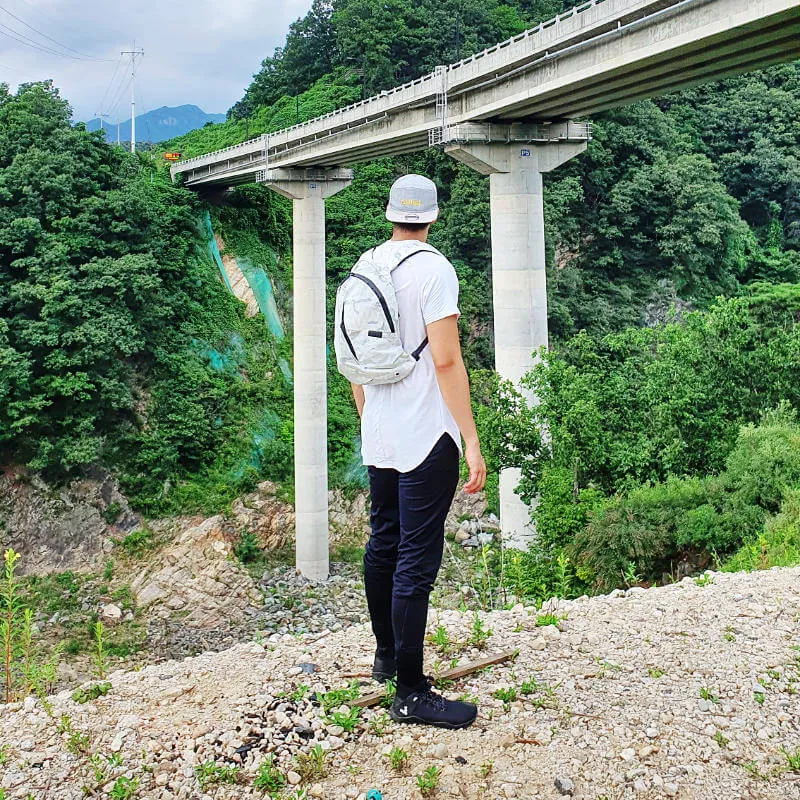 The all-black makes these great to outfit with your everyday, active or outdoor clothes, fit for any occasion with the barefoot and tread performance. I tend to wear cuffed pants either sportswear or leisure and crew socks, or ankle socks and shorts for the hot summer.
I've worn these on my near 2,000m hike to the peak of Hallsan in South Korea, day outings on gravel, grass, mud and city surfaces, and I've always found these comfortable on my feet no matter what. The barefoot design means Vivobarefoot shoes are wider around the toe box, to allow them to sprawl and grip the terrain with better feet engagement.
The mid-height is great for ankle support on unstable terrain, while also preventing shrubs like sting nettles from nibbling at your feet. There are a few wears and tear details over the length of time I've had these, such as slight fraying of the Corduroy around the toe box and slight separation between the outsole and main body which slightly compromises the water-resistant properties.
These are created from the malleable body that flexes as you step on surfaces at an incline or decline. A little super glue can fix the minor parts and I would say it's withstood better than what may have been with normal shoes. Perhaps.
all season trekking
As I like to live and travel as minimal as possible, having versatile shoes to handle many weather conditions is important. Besides the Vivobarefoot Tracker which is more heavy-duty, thicker, and heavier than the Magna Trail, these are great travel companions that aren't cumbersome to travel and wear, unless the most extreme conditions demand it. The Magna Trail is one of very few in Vivobarefoot's range to be water-resistant, which was very appealing to me. Flash rain with sizeable standing water in Seoul, Korea and heavy rain is the perfect time to put the Magna Trail to action.
I can say these hold true to the status as being water-resistant.
The dense Corduroy material means I can walk through high puddles of water and get these soaked under heavy rain with no sweat… or soggy feet. These are as water-resistant up to the neoprene tongue and liner which is roughly 5cm or so but unless you're splashing in streams, it'll handle your everyday and tougher outdoor days just fine.
When it's colder as the temperature drops with snow every step of the way, the thermal insole helps retain warmth within the Vivobarefoot Magna Trail longer than normal shoes. The Outlast thermal insole is rated to provide 4x more warmth, with cold said to creep 15 minutes, and take up to 1 hour to feel the same effect.
Worn with my Western Rise merino wool socks, it helps retain warmth in the coldest of conditions better. For extremely cold weather, the Vivobarefoot Tracker is better suited, however, these can handle a wide spectrum of weather impressively nonetheless.
In short, whether you're adventuring in hot or cold weather, traversing in the city or mountains, the Magna Trail is a reliable companion you can depend on.
magna trail verdict
If you enjoy exploring the outdoors no matter the weather condition, the Vivobarefoot Magna Trail is an incredibly versatile shoe to rise up to the occasion. A pair of Magna Trails can go very far for minimalists or travellers who want plenty of value in the few items you may only pack. These earn extra points for their rugged Corduroy build and waterproof features, making flash rains and wet weather easy to walk without concern.
The outlast thermal insole does an admirable job to prolong the warmth of your feet when submerged or trekking in the winter and snow. As for the outsole grip, they've handled degradation well, with treads still offering plenty of traction up to this time. I've enjoyed the ankle protection and breathable neoprene liner. Despite the rugged exterior, the Manga Trail is malleable to flex and mould feet sensors to the terrain, maintaining healthy feet mobility and movement.
The second generation offers more specialised options depending on which way you shift from urban to nature exploration, but the Magna Trail is a staple that hits the sweet spot nicely and is well worth the premium for bare feet health, design and construction. Plus, the all-black colour is exclusive to these models which can outfit with anything. Very much worth the consideration for frequent hikers, trail walks and everyday urbanites.
CONCLUSION
Excellent versatile trail shoes. The Magna Trail is durable, handles all-season weather well and is travel-friendly with it's light, yet rugged exterior.
HIGHLIGHTS
Excellent design
light, durable and flexible
barefoot design builds stronger feet
water resistant for all-season use
LOWLIGHTS
needs some force to slide feet inside
slight separation of Corduroy and outsole compromises water-resistant
Still quick cold on feet even with thermal insole and warm socks