If you're looking for a daypack that is slim, unobtrusive walking through the city streets, commuting on the trains or exploring on your travels without unnecessary weight, the Victorinox Altmont Original Flapover Backpack is an excellent choice. With a unique pocketing system that offers a range of secure and quick-access options, that's lightweight and comfortable on the back and shoulders, minimal travellers, working professionals and students will find this affordable, yet stylish daypack perfect to conquer the days.
Meet the Victorinox Altmont
One of the biggest reasons I really enjoyed the Victorinox Altmont Original Flapover is because it's very slim. At 43cm tall, 29cm wide and only 13cm deep, the compact footprint lets me swap a much heftier, bulkier and excessive bag for something far lighter, minimal and accessible. The Almont Flapover Original weighs just 0.4kg and flat packs into a luggage very well. It's not packable by nature, however you won't miss much considering it's significantly better build-quality, rigidity and overall enjoyment to those that fit in a pocket. You can find it in three colours including navy (which I have), in addition to the Swiss Army iconic red and black.
There's a subtle cube-outlined pattern on the front exterior, built with a grippier black top-lid and bottom. Two buckles either side lock the lid in place, with a well-padded handle to alternatively pick up the Victorinox Altmont Original Flapover. Adding to the technicals, it's made primarily out of polyester with different textures and is not water-resistant, so only suited for better weather outdoors. But if you're making short journies or not caught out in the elements, then this would work well.
Slim Daypack for Travelling
A great example to test the Victorinox Altmont Flapover Original Laptop Backpack is over the course o f my travels in Southeast Asia, where the temperatures regularly top near 40 degrees celsius and humidity is the norm. Thailand and Vietnam weren't much different climate wish, with rare flashes of rain that dropped buckets. I regularly found this to be my daypack of choice among others I took with me, primarily because it's so agile, light and surprisingly versatile.
I never found security or safety to be a problem, thanks to the top-flap that closes off the laptop and main compartments. I like to centre the main compartment dual-zippers to ensure it can't be opened from the sides. With my heavy 13.5″ Surface Book easily sliding into the rear open laptop section, it definitely adds more heft, which is where I'd loosen the straps for more leverage to support the weight from my back. Lightweight ultrabooks or tablets won't have any weight support problems and for a daypack like this, works best for those essential days to the cafe to type something up.
Inside the Interior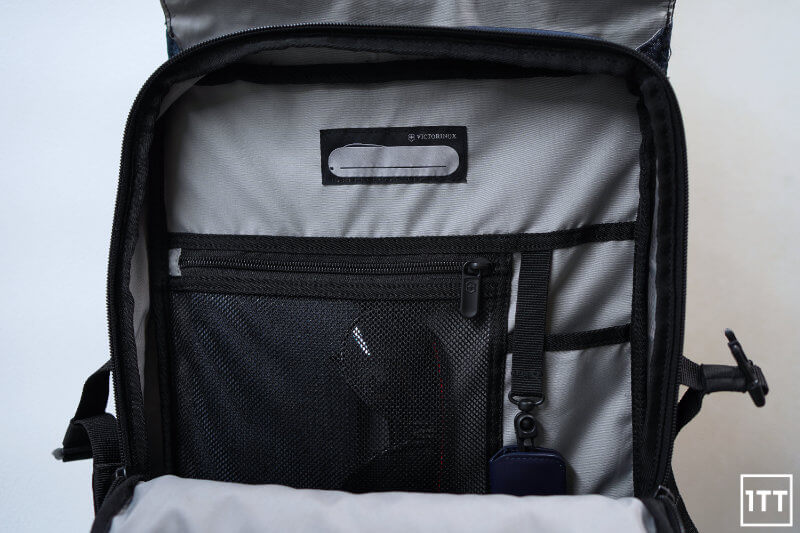 The inside is quite simple when it comes to pockets. There's a wide, zipper mesh pocket that goes quite deep which I tend to store my travel wallet, wireless earbud case or sunglasses if I'm packing light. The mesh makes it easy to see what's inside while keeping those small bits in place. A tether where you can clip any key fob, car keys or Tile Tracker (quite a good idea while travelling actually), which can be slotted in the pocket just below it. I've found it also works well for storing my camera quick release plate, memory cards or loose change I don't need access to too. The rest of the compartment is the open body that isn't too deep, but quite flexible to pack, stack and fill up.
I really enjoy the fact that there are two zippers that track halfway down the Victorinox Altmont Original Flapover, because it makes the main body so much more accessible. Easy to pack laying flat or sitting upright, the dual-zippers make it easy to close-up without any issues. I would have liked to see a pocket on the front that folds over for extra storage options as I felt this was the only extra piece lacking inside, but overall, a solid interior arrangement fit for a slim daypack.
Switching the cafes and commute to explore the outdoors, the Victorinox Altmont Original Flapover also does a great job of handling that too. From Marble Mountain in Da Nang, to Doi Suthep in Chiang Mai and hiking in gyeonggi-do in Korea, the Victorinox Altmont Flapover flexed it's comfort and nimble abilities to navigate the rocky terrains. The slim cavity holds a water bottle and packed lunch without noticeable movement, while the open-side pockets are great to stow any snacks, bars powerbank and cables. If you're looking to take a daypack that seamlessly moves from the city to the forest with more than workable storage to bring essentials, the versatility of the Victorinox Altmont Original shines.
Pockets for Access and Secure Organisation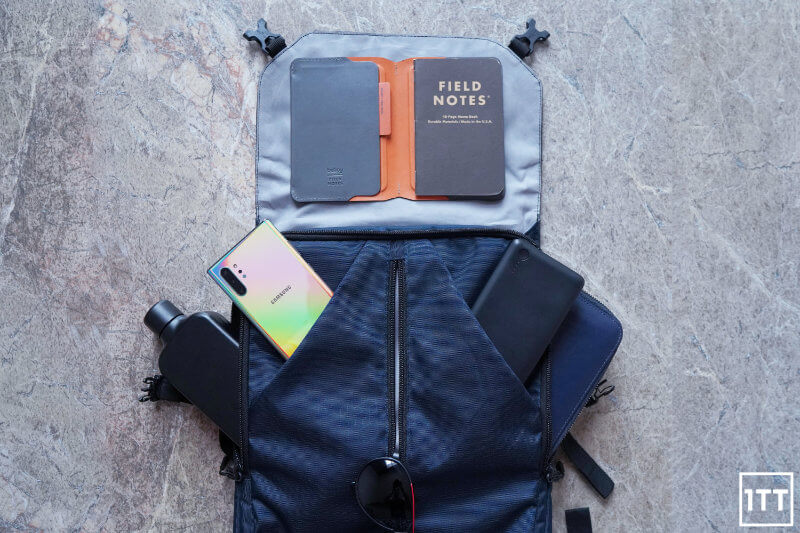 Zooming closer to the storage arrangements, I found the design to be very refreshing and offer good utility all-round. The side open slots are tall and narrow, both half of the width on the front shell. The central zipper divides the pockets from each other, while providing another pocket that opens the front shell up. It zips from top to bottom with extra space to stow the regular, small items by swinging the bag front of my body, turned sideways.
I tend to store my flat-sided water bottle (larger ones like my hydroflask or cylindrical bottles should go in the main) in one slot and my powerbank in the other, while the centre zip tends to hold my wireless earphones, earbud case, field pocket notes or sunglasses. Granted, these pockets all don't have much flex so you don't want to overload them, otherwise they start to eat into the main space. Still you'll find these quite usable and much more accessible without needing to unzip the main compartment.
Shoulder Straps and Rear Panel
A look at the back, there's sufficient padding throughout the rear panel, with extra padding near the spine and certain back areas. The padding is split left and right, with a centre trim like the zipper design on the front. Very comfortable to wear all-day though not as breathable with a smaller mesh ventilation design than I've used. You can adjust the straps to offset this but you'll notice sweat-build if pressed against your back too much. On the grand scheme of things, it's comfortable and reasonably breathable for everyday walks and commutes.
A feature on the left shoulder strap is a soft-padded sleeve that can hold a travel Swiss Army Knife too. The open is firm to keep it in place while still able to slide out at any given moment in case if you're travelling outdoors and need the toolset in reach. It's too tight and small to fit a transport card and such, but if you need a quick place to store say a memory card, coin change or wireless earbuds without the need to dock, this isn't a bad place to keep them temporarily.
Camera Equipment and Final Thoughts
If you're a creator of sorts, you may be wondering if this can work for you too. It takes some creativity but I've managed to make it work for me too. Close one or two tripod legs (depending on your load) and slide it inside right at the corner. The zippers go halfway down the sides so it makes this easy. fold the third tripod leg in to secure and tighten the tripod with the zips back up for a good fit. You can wrap extra camera bodies or lenses in the main space, with any audio equipment, powerpack, cabling and filters in the mesh interior or exterior pockets. It's not a bad setup in a small package and worked pretty well in my hike to Marble Mountains, Vietnam.
I was worried about deciding on a slim daypack throughout my travels, thinking that it would limit and restrict what I want to carry with me. But even with it's slim dimensions and less than conventional design, it proved to be far more capable than I had expected. It maintains a compact footprint while stick taking all the essentials, it's secure by design thanks to that flappable lid that buckles either side and looks every bit as professional and stylish to compliment a travelling, professional or leisure outfit. This works great as a minimal essentials daypack and isn't too bad at accommodating camera equipment with some creativity. I came to really enjoy my time with the Victorinox Altmont Flapover Original backpack and think anyone looking for a slim, flat-packable daypack to carry with or slide into your luggage, this is an excellent, premium yet affordable choice.
Victorinox Collection
A superb daypack that is sile, agile and light. It packs well despite it's small capacity and is comfortable for all-day wear. You wouldn't want to be caught out in the rain however.
Premium exterior design combined with efficient ergonomics and intuitive organisation makes this slim agile carry on perfect for frequent flyers, professionals and regular commuters.
Victorinox Altmont Original Flapover Backpack
CONCLUSION
A superb daypack that is sile, agile and light. It packs well despite it's small capacity and is comfortable for all-day wear. You wouldn't want to be caught out in the rain however.
HIGHLIGHTS
Unique pocketing arrangements
Surprisingly packable
Lightweight and versatile
LOWLIGHTS
Not water-resistant
Front pockets are limited
Rear panel isn't as breathable