I'm in the midst of my Keep Being Awesome 2.0 Tour, having already spent a month in Chiang Mai, Thailand and currently in Da Nang, Vietnam. My love for seeing the world and living a lifestyle that is fulfilling, capturing my adventures and stories, definitely would not be where it is without having smart, versatile everyday travel carry (EDC) to lug them all around in. Always up to the challenge of adapting my workflow to new and exciting EDC, from the backpacks, the luggage to the wallets and organisers, here's an inside look into how I'm moving from place to place.
Be sure to check back as I review them over my travels, really putting them to their paces in various aspects of travel and living. As I slowly bring a close to Vietnam and say hello to South Korea, I've got a robust view and extensive hands on working each to their potential, and the results have been very interesting. So keep an eye out for my upcoming reviews, which I will add down below for each gear and why not subscribe to my YouTube Channel to see the videos first. But don't worry, those will be added below too. And if you're curious, you'll find other gear collections around my Keep Being Awesome 2.0 Tour that you may like to read, including travel clothes, tech and more.
Travel Collection Series
My Phone was Stolen in Vietnam, Here's What I Learned
Upgrading My Camera Equipment Setup
My Everyday Carry for Travel Setup
Compact and Stylish Carry On Roller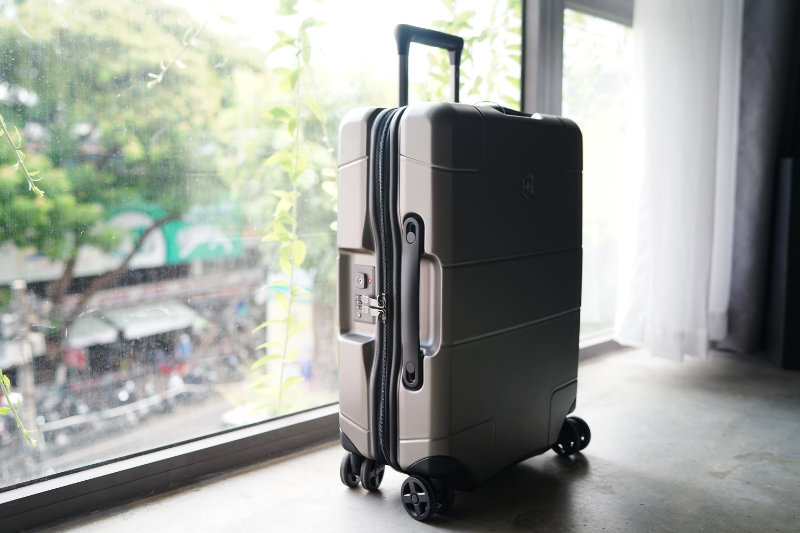 One of my favourite everyday travel carry along the tour, the Victorinox Lexicon Global carry on is such an exciting and refreshing take on carry on luggage. It surprised me how slim the waistline is, enabling me to be more mobile, more agile and more compact. It doesn't sacrifice on space however, as the recessed wheels create extra usable space that I've definitely put to use. Overall, that means it has a lower height profile and just glides between aircraft aisles, security turnstiles, and fits in with the kind of agile traveller I like to be.
The telescopic handles are solid and the wheels are as silent as you want them to be in the airport. When it came to the roads, the wheels never buckled and is really robust to deal with uneven, rocky, disjointed terrain. And I'm a big fan of the interior organisation system. The mesh pockets down the handle dock that is usually wasted space, is now official. The dedicated swiss army slot, removable interior pockets, fully-zipped right side compartment and translucent zipper for separating your smarter clothes or flat items, the Victorinox Lexicon Global Carry On brings back the love for travelling that is ultra-sleek, smart and efficient. I can't wait to share my review because it's just such a beautiful luggage that delivers in all areas of travelling, whether business, family, carry on only, short and long stays.
Spacious Trustee for the Long Road
To match with my Global Carry On luggage, I've paired it with the large checked-in Victorinox Lexicon Hardside. It shares the same design language from top to bottom, side to side, but in a larger frame. I'm residing in South Korea for a while and wanted something that is able to natively fit a lot of things standard, since it has no expandable zipper and instead a clean exterior shell.
The Lexicon hardside has been an excellent travel companion as a carry on for short trips and my recent flights from Chiang Mai to Da nang and to Seoul city. It wheels very silent, handles and controls well with the robust telescopic handle and I have huge capacity to pack thick and many. The fully zipped compartment and compression strap system are honestly among the very best I've had the pleasure of packing with.
It pains me to see it take a beating as luggage handlers sadly throw our luggage onboard and offload without much care. The hardside shell instils confidence as it retains that smart and stylish aesthetic while accumulating admirable battle scars from the journey. A true travel carry built to last.
Urban Agile Sling for the Nimble
When I'm taking a break from shooting and keeping my travels light, the Waterfield Designs Sutter Tech Sling has been a refreshing carry. The full-grain brown leather is a vintage contrast to my outfits, thanks to the waxed canvas and leather panel. It's very comfortable as a sling with the D-ring axis that lets the strap rotate freely, keeping my Sutter Sling in position.
I love the signature gold lining that is well-padded, complete with a tablet/ small laptop sleeve, key tether, inner pocket and stylus slot inside the main compartment. Fortunately, that's not all as a dual side-zipper front pocket makes those frequent items within reach, made easier with the one-handed cam buckle to tighten or loosen the sling against my body. I prefer the tighter fit, contouring my back and better maneuverability when walking, hiking or jogging but that's down to preference.
Over the time I've used it to carry light in Chiang Mai and Da Nang, it's been comfortable the whole day as the shoulder pad spreads your gear weight. Surprised and glad to feel no shoulder aches or sores. Carrying a tablet, pair of headphones, Nintendo Switch, pocket camera, sunglasses and small water bottle, stay agile without compromising on what you need for the day. The full size will hold an iPad Pro, Microsoft Surface Pro 6 or 13″ ultrabook, but if you want to do without, the smaller standard size is a great catch-all for the day.
Camera Backpack for the Dedicated Days
I've had the Peak Design Everyday Backpack for years and has served me well over the 9 months in Hong Kong, Japan and Korea in my first Keep Being Awesome Tour. Used as my dedicated camera backpack, the flexible origami dividers and unique packing system makes this still one of the best dedicated camera bags around and a juggernaut travel carry for me. Though it's relatively heavy and not the most comfortable I've tried, the fast-access on the sides, top-loading and expansion system as well as the gusseted side pockets more than makes up for it.
I've found a great setup with the Victorinox Almont daypack (which I'll cover later), but when I'm solely focused on capturing and need to take a host of equipment that is secured in position, the Peak Design Everyday Backpack is the one. Built-in sternum strap help to tighten the bag to my body when jogging, running and hiking. Couple with my Peak Design Capture Clip, and you've got one fast, agile and accommodating setup.
Adaptable Slimline Daypack for Roaming
The Victorinox Original Flapover Almont Daypack has been the most surprising carry for me during my Asia Tour, and that's definitely in a good way. I didn't think I would like it so versatile and capable as my camera bag, daypack and heavy-weight carry for most of my trips away. The slim, compact waistline means you can stay agile and keep a small footprint, but the amount of gear it can pack is mighty impressive.
That's helped with the flexible front and top-loading design with a closing flap that clips at the sides and loosens when I'm storing plenty. The main compartment has a mesh pocket for my Bellroy Travel Wallet and Fields Notebook, it has a key tether (super important while on the road) and a small slot that has served excellently for storing my camera quick-release plate, medicine, memory card and more securely.
But beyond this, there's a separate laptop compartment just behind that fits a 15″ laptop (and my Microsoft Surface Book effortlessly), a further two front-side open pockets perfect for holding a tripod, sunglasses or powerbank with cables to keep my tech all juiced up on the move. Finally, a zip down the front reveals an easy access area instead of diving into the main compartment that has served me well with the smaller bits I didn't want stuffed into my pocket. I honestly like how much I've been able to pack and will make a separate article on how to transform a bag into something more. But for now, the Victorinox Almont Original Flapover daypack steals the show in my travel day-to-day lifestyle. It's sleek, it's sexy and it's very capable as a travel carry. What more can you ask for in a 11L daypack?
Quality Keepstake for Essentials
There's no feeling like travelling in style, and that extends to our travel gear essentials too. When it comes to check-in, boarding and immigration, having a sleek and inexcessive carry companion to stow your passport, cards and currency can pay dividends in making the small details effortless. I've found the Bellroy Travel Wallet Designer Edition a pleasure to slide my passport out of, hold the variety of currency in it's fresh, printed form and keep hold of receipts for expense tracking over the trips.
The built-in Bellroy micro-pen along the spine makes filling out those landing cards and customs forms immediate, reinserting back into the spine so it's always there. And then we have the premium nature of the travel wallet – the designer edition. If you can appreciate craftsmanship, texture and feel, the designer edition is one you will certainly enjoy. Soft nubuck leather exterior feels beautiful to the touch, metallic accents shine under the light with a grey design that is striking, artistic and elegant.
In addition to storing a passport, you can store 4 – 6 cards over 4 pockets, two in front and two behind the currency open sleeve. The environmentally certified leather stitched with a refined polyester lining results in the stunningly crafted Bellroy Travel Wallet Designer Edition, perfect for the traveller looking for that premium travel carry accessory to breeze through airports with.
Quickdraw Minimal Wallet
And when it came to carrying my cards, I chose the Ekster Senate as my minimal wallet of choice. After previously reviewing it during my time in Malta, the sleight of hand draw to my cards was fast, organised and offered a clean, smooth experience. The footprint was very small but also looks great too. When you add the tracker and elastic strap for cash, it offers enough utility when not handling with cards.
And how has it been in Chiang Mai and Da Nang? Well, less to the wallets strengths but showed those same moments of brilliances. You see, Thailand and Vietnam are still predominantly cash based, meaning using my card was few and far between in my day-to-day. That was a shame as cash handling isn't a strong point of the Ekster Senate. But since I've been in Seoul, it's been plain-sailing and I've enjoyedgoing back to card and sliding my essentials with ease. The Bellroy Hide and Seek Wallet is a great alternative for your cash-based travels and lifestyle or DUN Wallet if you need a balance. A small travel carry that makes an everyday impact.
Cable Organiser to Stay in Check
If you need to carry plenty of accessories or items in an organiser that is functionally built to last and easy to carry on its own, my Bagsmart Rosemead 3-layer organiser is such a great carry to take with you. I spent some time deciding which is best suited for the kind of travel I was embarking on, choosing either: SidebySide Power Packer, Waterfield Designs Tech Folio or the Bagsmart Rosemead. I found the latter to fit my travels – the carry handle and rectangular design makes it easy to carry around, easy to pack inside my backpack and carry on luggage, flatpacks all of my cables, cards and most importantly, bulky power adaptors, plugs and powerbanks.
It's also the cheapest out of the bunch too and while it may not have the polish, the finish and upgraded materials that satisfy a better experience, when it comes to packing plenty, the simple nature of it all and strapping array makes this a no-brainer as an all-rounder for your travels.
Pocket Note-Taking in the Field
When I've moved to a new place, one of the first things I like to do is just simply walk around. It's the best way to get familiar with the area, know your way around and discover smaller paths, alleyways and angles you may not have known otherwise. The Bellroy Field Notes Notebook Cover Mini is a perfect companion to do that. I like the mini because it's pocketable in the back pocket, in say a Bellroy Sling or any bag of your choice. The leather wrap-around is gloriously smooth to the touch and wraps dedicated field notes for added strength and durability. Doubling up as a passport holder (or 2), 2 cards, it also serves as a great pocket notes with travelling essentials.
Why do I like it? The magnetic closure, makes opening and closing the notes a breeze, especially as I take it out all the time at any point. You don't want to fiddle with a lock, key, button or zip. Just something that is effortless and stays closed. Magnets are strong and results in a flush, refined design that is iconic bellroy. They offer it with a Bellroy pen made for the perfect height, otherwise clip any pen to the spine and you've got one heck of a companion for location shooting recon, ideas mapping to stay inspired or an artistic miniature book of your travels. Coming in four colours: navy, black caramel and graphite, the slim and refillable 5.5 x 3.3cm leather cover mini is a great creative companion with plenty of application to the everyday and traveller, all while seeing the leather age gracefully over your adventurous time.
---
So that is my everyday travel carry of 2019 and of the tour, a collection of luggages, bags, sling and wallets that I've chosen to accompany me over the rest of the year and into the next. Keep an eye out for my full written and video reviews of each and if you think these could be the perfect match for you, consider buying through my affiliate links to help support creating informative, insightful and visual content like everything you see on this site. I'll be back with more of my setups to help you travel smart, gear smart! Keep Being Awesome, One Tech Traveller
For disclosure, I may receive a commission if you make a purchase through these links at no cost to you. They in no way influence my own opinions and review towards the product or service. As the sole individual creator, this helps support my work to keep producing quality imagery, videos, articles.