We've been there before – overnights at the airport, plane drafts 30,000 feet in the air and tedious bus rides. They can be uncomfortable, cold (or stuffy in the summer) making it difficult to position yourself for good sleep. Adventurers will know that all too well and blanket choices these days are either lacking in quality, or too bulky to travel with. The newly announced Gravel Travel Blanket called 'The Layover' is a revolutionary packable companion all travellers should get excited about.
This is Gravel's 3rd kickstarter after the successful Explorer Slim and Explorer Plus toiletry bags that raised over $1m and is carried by over 37,000 travellers worldwide. The Gravel Travel Blanket is expected to ship first to backers later in November. After my review of the impressive Explorer Plus, Gravel are back to redefine another forgetting packing essential: travel blanket. It will make even the most tedious aspects of travelling enjoyable again, so let's dive into Gravel's latest creation.
Packable by Nature, Perfect for Minimalists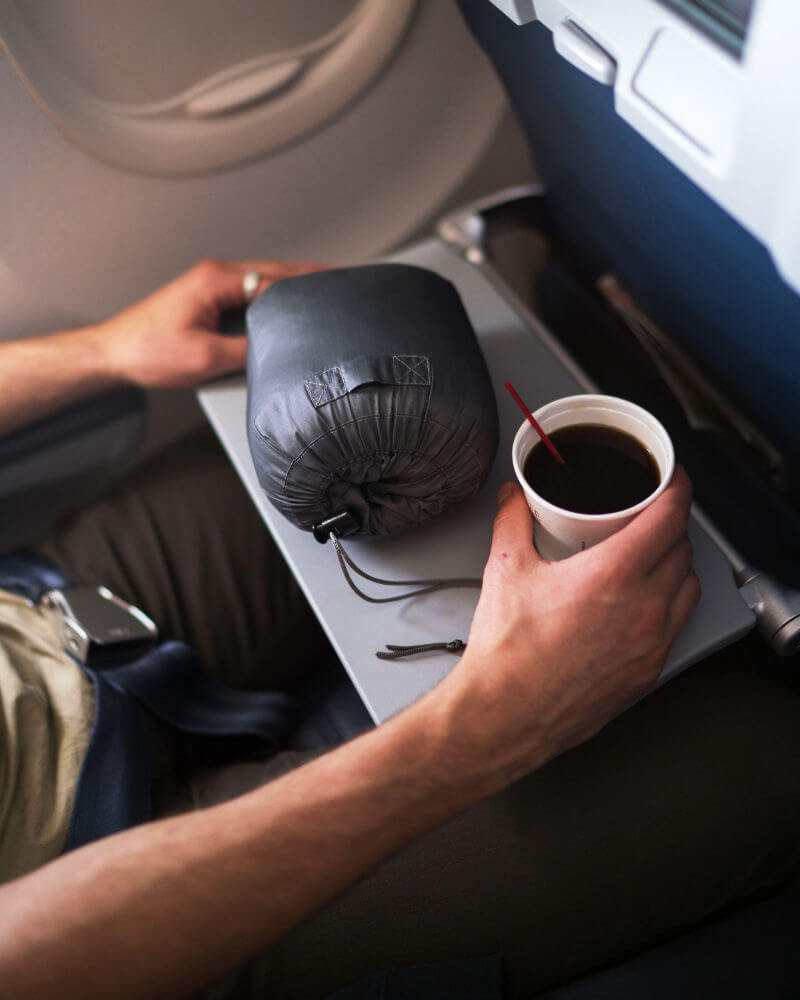 If you want to travel as light, hassle-free and minimal like me, then the Gravel Travel Blanket should be hot on your packing list. The layover is packable by nature, squeezing down 90% of its size into the drawstring waterproof pouch to cinch and attach outside of your bag or inside.
Travel blankets may be warm but thick, large but super bulky to carry around and good for general wrapping but falls short trying to sleep in awkward positions we find ourselves trying to sleep on the move.
That's why The Layover is a small gem that proves wonders the next time you find yourself on the move. It weighs a featherlight 323g, a far cry from the thicker, unpackable travel blankets that are double in weight or more. . Hold on, as we're only just getting started with the Gravel Travel Blanket.
Purposely Designed for Travel Comfort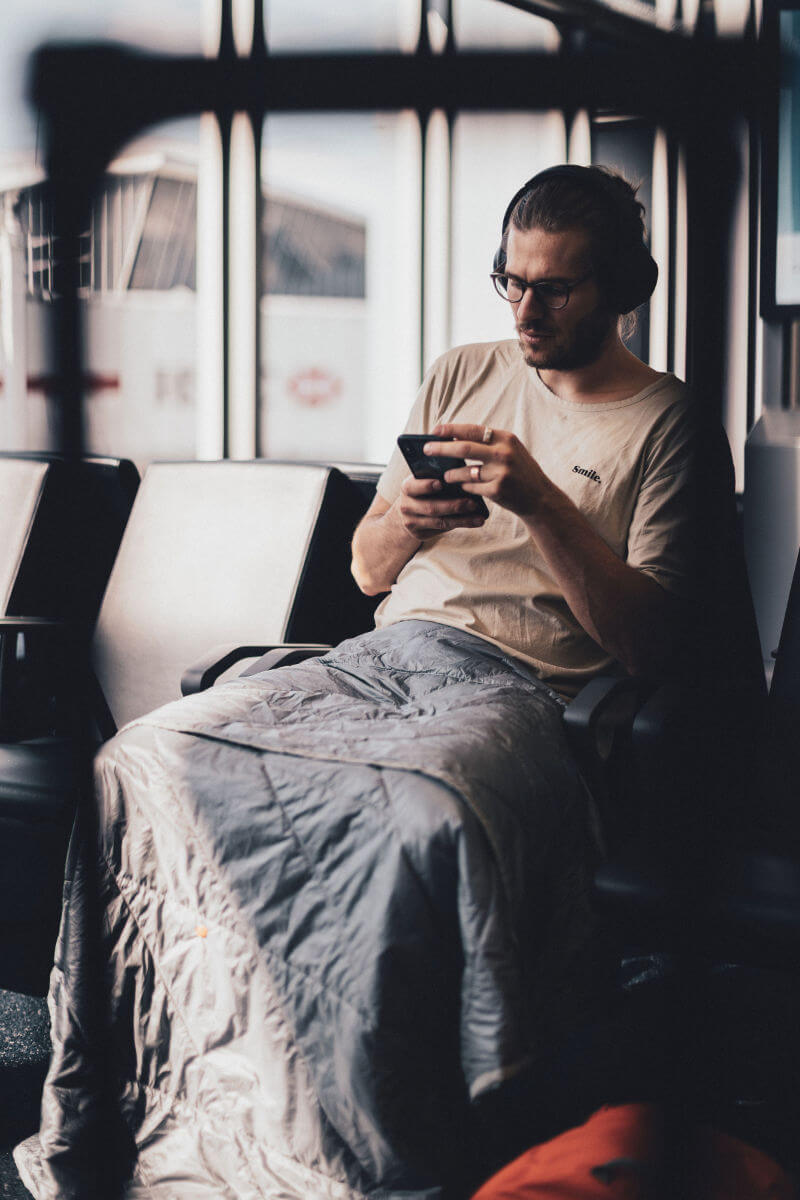 The Nylon 20D material is waterproof and spillproof so unlike other materials, any spillages or raindrops can just bead off. Breathable insulation at 40g per sq.m will keep your feet, legs and body warm at high altitudes in the plane and especially during the winter season transits. Fancy a sunrise or sunset morning high up in the mountains? This can work as a great additional layer to pull out within seconds.
From time to time, I feel my feet get cold inside my shoes or out due to the cold air thousands of feet in the air. It's important for blood circulation and blood flow which is why they advise to walk up and walk around. What I like about the Gravel Travel Blanket, The Layover, is the dedicated leg pockets that act as an insulated foot pouch. Don't worry about touching the cold ground as they're now a thing of the past.
Never Worry About Falling Blankets Again
I took the Yaasa Studios Elements Travel Blanket with me to Norway and absolutely love the material blend, coverage and retained warmth. The only issue was trying to sleep sitting up and such, as the blanket would slide down over time, causing me to fiddle around to grab it higher. The built-in snaps on the corners are made to clip over behind your neck and have it wrap over your shoulders so you can truly relax and sleep without any worries.
Granted it won't be the warmest travel blanket as it finds a balance between being packable, light and thin, but a blanket tailored to those travel scenarios will push all those little niggles away for better restful, long-lasting sleep. And that's what you're getting with The Layover – a packable blanket that takes little space in your bag, perfect for long-term backpackers or slumming it out at an airport overnight.
Kangaroo Pocket Transforms into a Pillow
It doesn't just function as travel blanket as the same kangaroo pocket that you stuff your small bits and pieces in can be reversed. Pack The Layover blanket inside and it doubles up as a portable pillow to rest your head or upper back against any surface. If you need extra support you can place it behind your lower back for better seated comforts too. The inside lining is plush and soft, perfect for resting your head, I'd like to think not far off from my pillows back home.
Snap Together to Share with Friends
There's more to the kangaroo pocket that holds your stowables and inverts as a pillow. There's a passthrough – or an envelope pocket – for your hands to tuck them inside. This comes alive when you want to share with another – connect 2 or more Gravel Travel Blankets and you can snap them all together to create one 'infinite' blanket for all. Travel with a group of friends or a partner and no longer do you need to fuss and fight over a blanket… unless you like to hog them all that is.
This purposely tailored travel blanket will retail for RRP $130 / £100 in November, but you can grab a healthy discount if you're quick enough on their Kickstarter. Backers can grab one from a starting price of $84 / £67 (35%) with more savings if you want 2 or more Gravel Travel Blankets. It ends July 27, 2019 so get in first for the early bird tier and receive it first later this year. I could definitely use this for my upcoming trips and will update with my review travelling with one if I manage to get a hold of one.
Gravel Collection
Toiletries aren't always handled well and end up exploding in your bag, leaking into the material or loosely moving around in a jumble. The Gravel Explorer Plus passes with flying colours as it excels as a toiletry bag for the great outdoors.
For disclosure, this article features affiliated links which means I may receive a commission if you make a purchase through these links. They in no way influence or dictate my thoughts towards a brand, product or service. As the sole creator of One Tech Traveller, this helps support my work and platforms.