With incredible active noise cancellation, responsive gesture controls and all-day battery life, the Sony WH-H900N h.ear on 2 is an outstanding performer for over-ear wireless headphones. Sound separation and staging is rich, audio clarity across the range is crystal clear, while effortless controls and ambient mode make this a sure winner. If the flagship Sony 1000XM3 is a little too much for your pockets, there's not too much you'll miss at a more compelling price.
Sony Hear on 2 Unboxing
You get a large box for the Sony WH-H900N h.ear on 2 with a sleeve over a thick card that opens like a book. The first thing you see are the pair of folded headphones, holding a few accessories underneath. Since I have the moonlit blue colour, there's a 3.5mm wired cable in the same colour, microUSB cable, a drawstring pouch and instructions. I like the consistency in the colours (well besides the microUSB) and since it's part of the h.ear on 2 range, there are other vibrant colours: twilight red, pale gold, horizon green and grayish black.
WH-H900N h.ear on 2 Features
So what do Sony's $249 / £230 pair of headphones offer? Sitting behind the flagship 1000XM3 that is $100 / £100 more expensive, you'll find most of what makes the 1000XM3 inside the WH-H900N with a few key differences.
Battery life is up to 34 hours, up to 200 hours standby with noise cancellation off and 6 hours to fully charge through microUSB. That becomes 28 hours and 48 hours with noise cancellation off. You'll find NFC for quick bluetooth pairing, responsive gesture control and ambient mode control. The Sony WH-H900N is aesthetically attractive, angular edges graced with gradual curves that radiate under light. They create a mesmerising kind of halo effect.
Earpads offer supple comfort at 2cm thick, powered by a closed, 40mm driver. All the buttons are house on the left – the microusb port, NC/ ambient, power buttons and 3.5mm input for wired use. The right side deals with all the gesture controls for track selection, volume, play/pause and quick attention motion.
Responsive Touch and Gesture Control
It can get fiddly trying to press either of the two buttons, so I'm glad that Sony's added intuitive gesture controls for track and volume. Swipes up and down control volume, while forward and backwards control next and previous song. Double tap for pause and play. The motion is very natural and responsive every single time, recognising a stroke that's neither too short nor too long. It's weighted perfectly and judges strokes to the right commands, even if they aren't swiped distinctively.
You can swipe through quite quick and it'll pick it up, more than what you would naturally do. And then there's quick attention mode by simply cupping your palm over the right earpiece. Instead of needing to take them off, you can talk to someone for however long you want, as it allows surrounding noise in to hear anyone nearby. You don't know how many times I've used it and it's saved me the hassle of repeatedly taking off and putting back on. It feels natural and effortless, dispelling the inconvenience of over-ear headphones as it makes working, commuting and travelling more enjoyable.
Over-Ear Endurance
With all-day battery to listen to your tunes, there's no point if the headphones themselves aren't comfortable to wear. Fortunately the Sony WH-H900N doesn't fall in that bracket as these really are all-day comfort. The leatherette earpads are soft and enclosing, while the headband extends to a large degree for heads of all sizes. I have a small head and though I find the shortest length still a bit short for optimum hold, it's still comfortable nonetheless. That should also reduce any pressure on the sides and the earpads to your ears.
The earpads can twist to a slight degree and the headband is very flexible – you can stretch it very wide so poses little risk of accidentally breaking. A heart-stopping moment if you've tried that on headphones that simply don't, but rest assured your heart won't be palpitating with these.
At 290g, it's 45g heavier than the Sony 1000XM3, but you won't really feel the difference. The wider band distributes the weight further and wears light on my head. I didn't get any earache or neck pain over prolonged use.
It's also common over a long period of time for heat and sweat to build up inside and around the ears. There's no exception here. I'll confess I easily sweat more than the average, and find taking off the Sony WH-H900N leaves around my ears warm (not hot) and a build-up of sweat. More evident in humid, hotter conditions. In the cold there are no problems.
Flagship Wireless and Wired Performance
As one of Sony's premium headphones, you'd expect great sound coming through these. Wireless tend to be the default here with wired more of a backup option when the battery runs down. And while audio purists will no doubt opt for the wire, the convenience of wireless will no doubt be the mainstream choice.
Sound quality either way is an audio treat – you get great reproduction out of the box and sound staging as a result of the ear enclosure and powerful drivers. The sense of space and distance is evident, really giving you depth and dimension to the sound. The dynamic range is very good, achieving crispy trebles for those rich vocals, the mids nicely fleshed out, providing a 'fuller' sound and reproduced bass that is encapsulating, but not overly dominant.
Audio Reproduction in Reality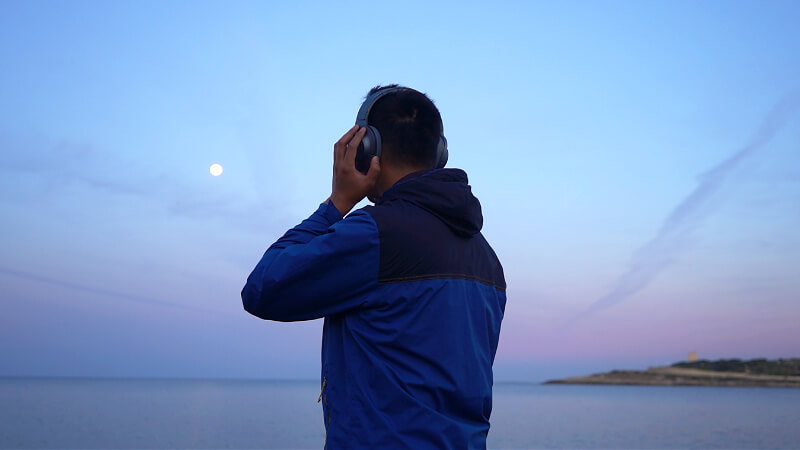 Now I'm not going all technical (there's plenty online for that), but instead referencing my own opinion on the quality across a few tracks I honed in on. For vocal and instrumental rich songs, I played 'The Essential Michael Jackson' Hi-Res FLAC album on the Sony NW-A45. The vocals in 'Man in the Mirror' are clean and really captures the sharp, streaky pitch he frequently hits that are simply delightful. When I move to 'Smooth Criminal', I could appreciate the individual hits on the cymbals and drums, as well as his piercing, gritty vocals in this song. The distinction is superb and really enjoyable. You can feel the graft in this voice and then it livens up to the electric guitar solo. You don't just hear the pluck of the strings, you feel it.
It's so immersive in wireless mode and slightly more refined in wired; nonetheless, negligible to the average person. The heartbeats in the beginning? Amazing. The soundstaging for the deeper bass is incredible and feels like the headphones are physically moving to create that beating movement, when it isn't. Crazy.
Moving on to bassier tracks, I switched to Bruno Mars 24K Magic album and defaulted to 'That's What I Like'. Bass lovers will really enjoy the Sony WH-H900N. Though it isn't labelled under the Extra Bass line from Sony, these do a tremendous job – punchy, subtly reverberation hitting the low line. It demonstrates the bass range nicely and knows how to take a step back from the frontlines. That was evident in the energetic song from Ne-Yo 'Push Back' with the raw bass and then dialing back in 'Pour Me Up'.
Standing Side by Side
With the Sony WH-H900N, you're getting an excellent pair of headphones that delivers superb audio dynamic range, sound reproduction and clarity with all-day battery life. Touch controls are natural and intuitive while ambient mode is the best integration of the feature I've seen along with the 1000XM3.
Though it misses out on a few exclusive features of the 1000XM3 such as: atmospheric and personalised noise cancellation, longer battery life, faster USB C charging and superior noise cancellation, you may not be willing to spend over $349 / £330 for the luxury. So considering the lower price tag and performance that holds well against it and the Bose Quiet Comfort 35, these stylish headphones offer excellent noise cancellation and sound for the money.
For the price, I would have still liked to see a hardshell case and USB C charging with the Sony WH-H900N and not left exclusive to the flagship when it's a modern-day standard. And… where the earpads can twist and lay flat on the surface for practicality. The 1000XM3 offers a lot for the premium but if that's just out of reach, the Sony WH-H900N h.ear on 2 hits that best value sweet spot for many.
Sony Collection
Sony have outdone themselves again with the best in class hybrid Walkman wireless earphones. Superior comfort, premium sleek design and balanced sound reproduction, these active-conscious earphones can be the only pair you'll ever need.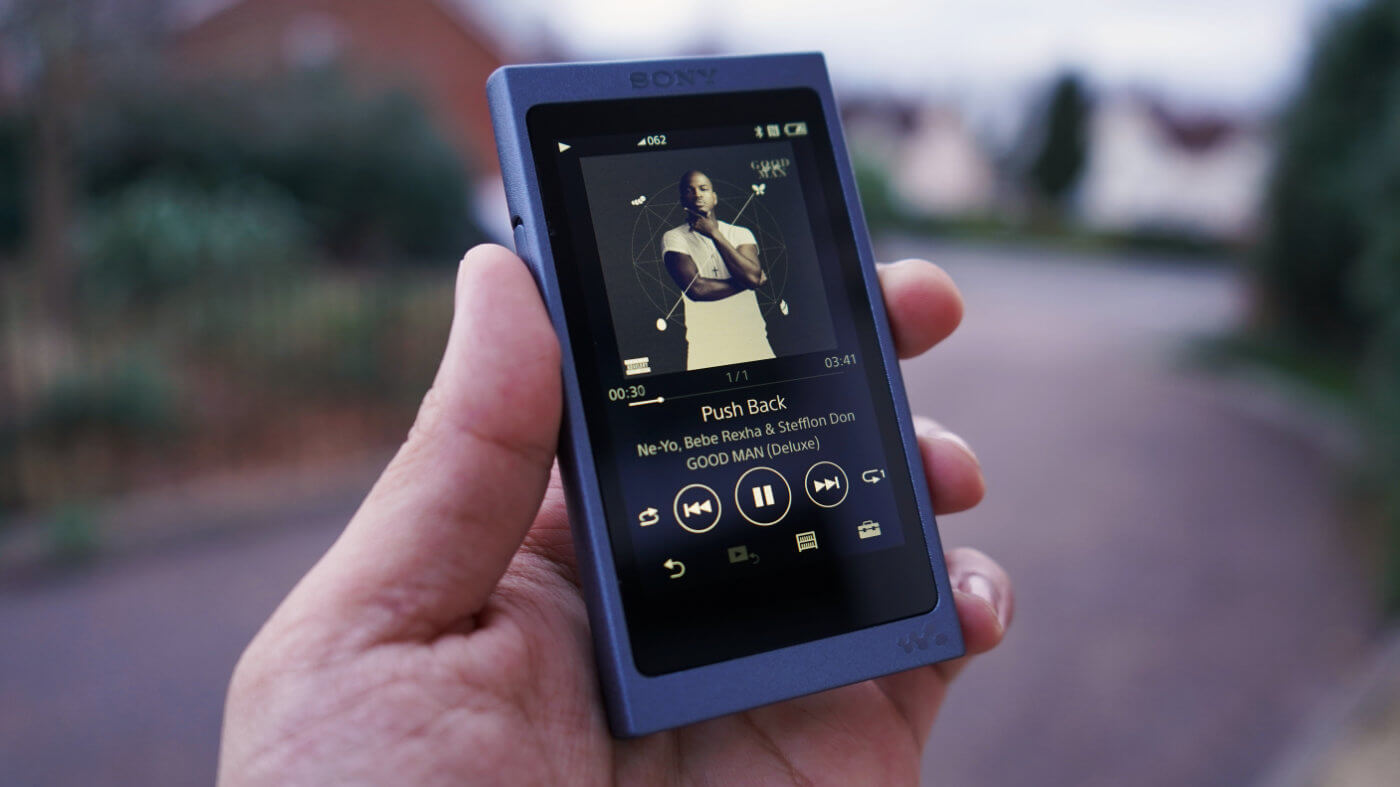 NW-A45 continues Sony's solid line of WALKMAN music players that makes Hi-Res Audio accessible to the audio enthusiasts and focussed masses. All day battery life and the ability to bring rich music on the move in a compact body will appeal to those wanting a bit more quality, separated from their daily driver. All the more at a reachable price point.
CONCLUSION
With the Sony WH-H900N, you're getting an excellent pair of headphones that delivers superb audio dynamic range, sound reproduction and clarity with all-day battery life.
HIGHLIGHTS
Attractive design
Responsive touch gesture controls
Rich over-ear sound experience
Intuitive ambient mode at will
Active Noise Cancellation is one of the best
LOWLIGHTS
Generates heat and sweat around the earpads
Cannot lay flat like the 1000XM3
Only connected to 1 device at any one time
indistinctive buttons can be confusing to press while on