Sony's reinvigorated take on wireless earphones with a built-in MP3 player breathes new life to the category. With the Sony NW-WS623 Walkman, it's packed with tech goodness that's perfect for exercise, on-the-fly switching between bluetooth pairing or songs of its own, all in a comfortable, stylish design. Music is a joy to listen, offering a balanced experience with enough bass to get the adrenaline pumping. Add ambient mode for greater awareness and respectable battery life, this is Sony's best hybrid yet.
Inside the Sony WS623 Box
Inside the package you'll see the Sony NW-WS623 in full view. It's a little awkward to unbox, with several see-through plastic pieces fitting like a puzzle. You'll find the standard set of instructions and 1 year manufacturer's warranty towards the back. Lift up the flap near the top and that's where you'll get the accessories.
A short USB A to microUSB cable, a USB dock connector for the earphones to connect the cable and a generous set of normal and swimming earbuds. It comes with three earbud sizes, each quite different from each other. Sadly, no kind of case or soft pouch can be found to stow the earphones and earbuds and carry around.
Active-Lifestyle Conscious
There are few choices to choose from when it comes to hybrid MP3 earphones. Sony is largely on the forefront of active-oriented MP3 earphones, yet it was only its predecessor, the NW-WS610 that they created these bluetooth MP3 hybrids. Whereas those designs harken back to the NWZ-W273, Sony really went all-out with these.
The Sony NW-WS623 offers 4GB or 16GB of built-in storage, weigh 5g lighter at 32g than its predecessor, an extra 5 hours too, offering up to 12 hours of playback, fully charging in 1.5hrs flat. You'll find bluetooth and NFC connectivity, ambient mode and rich controls present on each earpiece. IP68 rating certifies it as dustproof and splashproof, allowing you to use it under saltwater (seawater) 2m deep up to 30 mins. A built-in microphone for taking calls wraps up the finishing touches. Similar to the h.ear range, the Sony NW-WS623 come in four vibrant colours: blue, grayish white, lime green and black.
Liberating Controls
As a wireless Walkman hybrid, you'll find all the controls you need right on the Sony NW-WS623: track rocker, play/pause, power, volume rocker, mode and a glossy blue button for ambient settings. The button layout is the same on both earpieces, it just takes a little getting used to it. Things get a little more confusing as holding certain buttons create another action. For example, holding ambient mode turns bluetooth on or off while play/pause shuffles song files; holding track seeks earlier or further into a song. A little learning curve that throws me off now and then, but not too bad otherwise. Past that, it's feature rich with controls that you don't really need to reach for your phone.
Controls are very responsive and reliable, while the buttons themselves are tactile, raised and distinct. They're satisfying to use without looking. You won't find any voice assistant whatsoever here, the only instance I would want music wise, is if you could voice search the library. Your bluetooth and Walkman library however likely means it wouldn't go amiss.
Streamlined Neckband and Ear Design
In terms of wear, I found the Sony NW-WS623 super comfortable. The neckband is streamlined, holding shape and wrap closely to the back of my head. It wraps over my ear and into the canal weightlessly. No ear-ache over or inside. The big earpieces may look like a worry, but they are very light with an aesthetically polished design that's sleek to wear.
The neckband is robust and thick, reinforced as it passes over-ear for extra stability and strength under flex. The neckband is built with active use in mind – less obtrusive, aerodynamic, firm under intense runs, interval training and weight training. The design shines while swimming underwater, as no cable dangles which cause drag and resistance.
I found the earbuds hardly taxing inside the ears, a contrast to Sony's older but similar Sony MDR-XB50BS I previously reviewed. Those were uncomfortable for long periods and caused ear-ache, falling out under heavy workouts too. The Sony NW-WS623 however outshine them substantially, thanks to the wide base that distributes the weight. That, and the acutely angled earpiece towards the inside relieve a lot of ear stress, resulting in superior comfort in every way.
You can stretch, straighten, curl or bend them. They won't fray, break or warp. In fact, they return to their base shape. I'm loving the soft-matte finish of the Sony NW-WS623 too – being made of plastic keeps it lightweight, but the soft-touch matte and continuous flow of curves and edges are a sight to behold. It feels premium, looks contemporary and inspires confidence when worn.
Cable Charging & Connection
Charging is done via microUSB, inserting into a dock terminal for the Sony NW-WS623 to slot into. You get up to 12 hours playback on a single charge, which takes 1.5 hrs from 0 to 100%. Again, the active-minded design shows itself, with 60 mins of playback after 3 mins of charge, a situation we find ourselves spontaneously going out for a run time and time again I attest that it holds true, saving my derriere when the thought of exercising without music faced me point-blank.
Playback of music from the built-in storage gets me roughly to 12 hours, though I noticed music using bluetooth is slightly lower around 10 hours at 50% volume. It's no big deal, but with NFC and bluetooth streaming music, it's a little more taxing on the battery. Still, I'll largely get through most/ all of the day with battery still intact as I use it as my everyday engine.
While the charging connector is relatively compact, they haven't improved on the design from the Sony NW-WS413. It leaves the left earbud dangling loose, much to my dismay. It'd be great if they can build the microUSB port directly in the body like the MDR-XB50BS, though I'm sure the sleek design would be compromised. I wouldn't mind so much if there was a pouch included, but there isn't. A small detail but something they can and should improve on.
Ambient Mode Executed to Perfection
Let's move on and talk about ambient mode. It's a superb addition to the already high-spec hybrid of the Sony NW-WS623. Activated at a press of the glossy button mentioned earlier, it makes you much more aware of your surroundings, heightening your spatial awareness. This means you can enjoy listening to music while picking up background details like cars passing by, footsteps, even your voice. Ambient mode has been extremely helpful both exercising, or walking out in busy streets and general safety. That's all without needing to plug out one of the earpieces from my ear. very slick.
It's also handy if you pass by a friend or someone grabbing your attention – turn it on and have an audible conversation with those near you. It achieves this using the built-in microphones on each earpiece to pick up ambient sound. It works exceptionally well and the difference between normal and ambient mode is a significant margin.
When ambient mode is not in use, I find the Sony NW-WS623 does a fantastic job in sealing music inside, closing off noise around well to fully appreciate the audio. Earbuds create a solid enclosure with no sound leakage. So what about the sound quality?
Best in Class with Superior Sound
Even when you bear in mind these are active-conscious wireless earphones, they sound really great. Out of the box it's well-balanced; good depth across the board of trebles, mids and bass. Trebles are clean and crisp, vocals highlighted with clarity. Mids offer very good soundstaging for that added three-dimensional personality in the instruments, and no signs of distortion at high to max volume (not that you'll need to).
If you're playing adrenaline-pumping music, you'll feel the bass and has some depth, but nothing exaggerated or overreaching. I wanted more bass to come through and with a little dialling of the EQ (equaliser), I got a much better response. It's good enough out of the box and won't leave you disappointed at all, but it won't hit those raw levels bass-lovers may be craving for. The potential is there and with a little tweak these become fun, energetic and lively sports earphones that excel against the competition by some gap.
The Sony NW-WS623 is excellent in every way, the best that they have come out with so far. It's a feature-rich set of sports wireless earphones that I use everyday too. They're so comfortable, lightweight, easy to use and the battery lasts nearly all-day. Sound is very impressive for an active-conscious design and the Walkman, built-in MP3 fusion puts this in a league of its own. It's premium price is noticeably justified from the sleek all-inclusive bluetooth and MP3 player, making the Sony NW-WS623 an exceptional standout that offers best value for money.
Sony Collection
Sony have outdone themselves again with the best in class hybrid Walkman wireless earphones. Superior comfort, premium sleek design and balanced sound reproduction, these active-conscious earphones can be the only pair you'll ever need.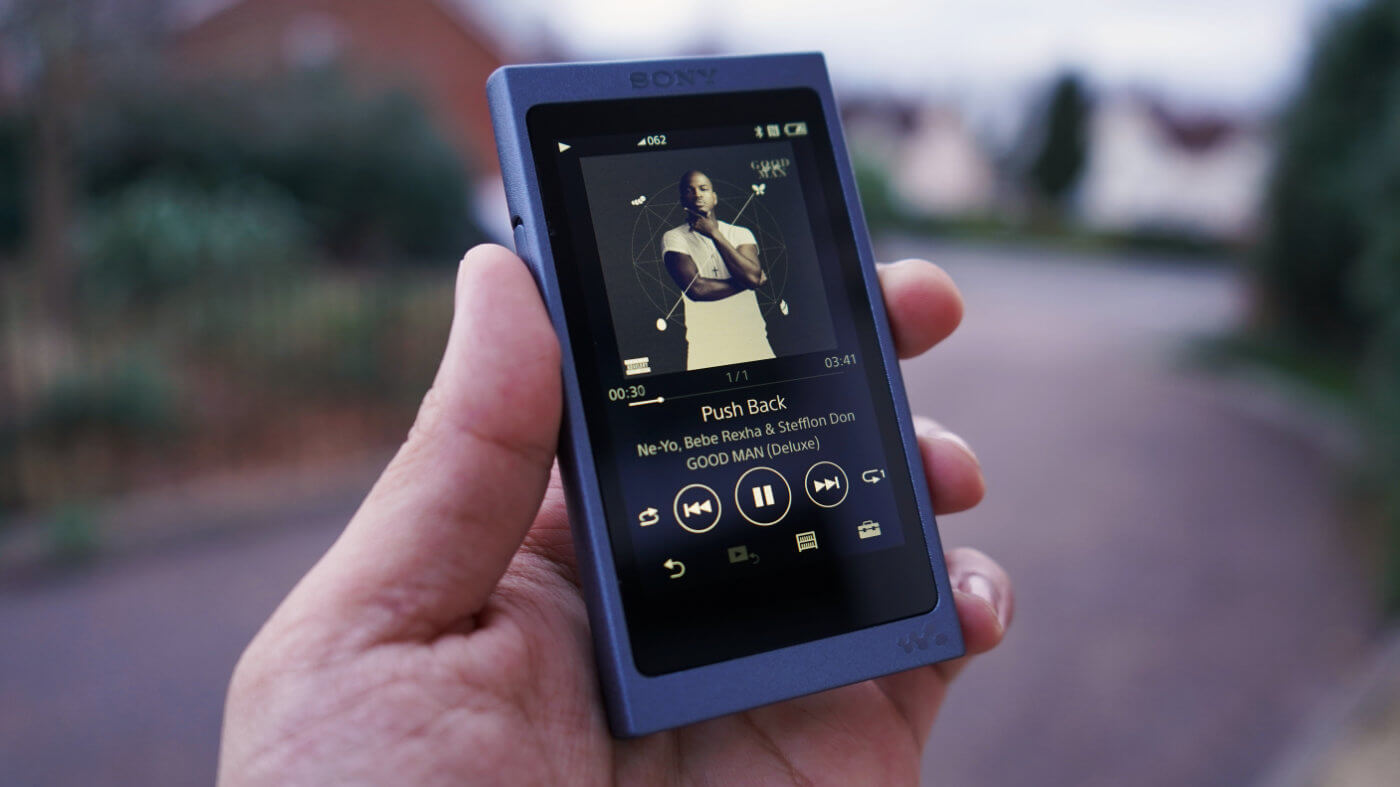 NW-A45 continues Sony's solid line of WALKMAN music players that makes Hi-Res Audio accessible to the audio enthusiasts and focussed masses. All day battery life and the ability to bring rich music on the move in a compact body will appeal to those wanting a bit more quality, separated from their daily driver. All the more at a reachable price point.
Sony NW-WS623 Walkman Wireless Earphones
CONCLUSION
Sony have outdone themselves again with the best in class hybrid Walkman wireless earphones. Superior comfort, premium sleek design and balanced sound reproduction, these active-conscious earphones can be the only pair you'll ever need.
HIGHLIGHTS
Beautiful vibrant colours
Rich controls to use on it's own
Great ambient mode to hear surroundings
Responsive hardware buttons
Solid audio clarity and no distortion
LOWLIGHTS
USB cradle design is awkward
Bluetooth drains battery life faster
No sleeve to store them
Controls take some getting used to
Bass is good but not deep