In my search to improve camera audio quality, I stumbled across Sennheiser's range: the MKE 600 and MKE 200. On one end, we have a hyper-directional shotgun professional-grade mic, with the convenience of an XLR-to-mic connector. On the other end, we have a stubby, travel-friendly shotgun mic with a slick tubular design fit for vlogging and off-camera ease of use.
Both sit on opposite ends of the spectrum creators may find a combination to nail those professional audio project requirements and an easily packable mic that's not in your face for documenting on the go. Continuing the trend, they sit in very different price brackets, with the MKE 200 coming in at £85, while the MKE 600 is the entry-level professional-grade lineup that is available for around £250 give or take in today's market.
The in-between option is the Sennheiser MKE 400 which sits somewhere between the 200 and 600. Are the Sennheiser MKE 200 and 600 different enough from each other to have one for certain occasions or will the MKE 400 be a convenient hybrid of the two? Let's find out.
MORE CAMERA AUDIO
INSIDE MY CAMERA CUBE FOR F1 RACES (2022)
DJI RS3 GIMBAL IMPRESSIONS
13 WAYS TO PREVENT SONY A7 IV OVERHEATING
RODE WIRELESS GO REVIEW
Inside the Box
The Sennheiser MKE 600 comes with all the essential accessories you need: a shaped windshield, cold shoe shock mount attachment, XLR to mic jack input, and a padded soft travel case. The case is a nice touch for safe transport and separation, although the lack of an inner pocket to keep the XLR cable from the MKE 600 is sorely missed. Sliding the cable inside the windshield does the trick, however.
It's fairly light at 128g, 256mm long, and 20mm wide. The supercardioid form factor is rated to deliver a maximum of 132dB when using 48V phantom power, while it tops out slightly lower at 126 dB when powered by 1 x AA battery power for on-camera use. A single battery charge is said to provide up to 150 hours or just over 6 days of continuous use. Note, there's no auto-power down feature. Power and low-cut filter switch are the only buttons on the MKE 600 itself.
The MKE 200 comes with a furry windshield, two cables and a soft drawstring pouch. The MKE 200 has a cold shoe mount built-in. It's 69mm long, 60 mm wide (including mount), and 39 mm high, weighing just over a third of the MKE 600 at 48g. The super-cardioid condenser shotgun mic has a maximum 120 dB sound level. It operates passively through the camera with no additional battery or phantom power required.
Sennheiser MKE 600
The MKE 600 from my early hands-on time delivers practical, lightweight, professional audio for different audio scenarios. The battery and phantom power options put it in a unique category, satisfying the needs of creators and professional field shooters for high-fidelity audio that can still be used in run-and-gun situations.
Depending on your audio needs, the MKE 600 offers pleasant vocal characteristics. It separates direct speech towards the MKE 600 mic, isolating off-axis sound well. There's a certain clarity right off the mic for vocals, with a low-cut filter to temper the lower, boomy frequencies. Naturally, the characteristics sound best when I'm speaking directly into the mic – rounded, full-bodied type of sound perfect for vocals and instruments. Off-axis sound such as when speaking from behind the camera or from the side, the pickup is noticeably less audible. Not unusual for these types of mics, but the MKE 600 does a great job to ensure direct sound is prominent and pronounced.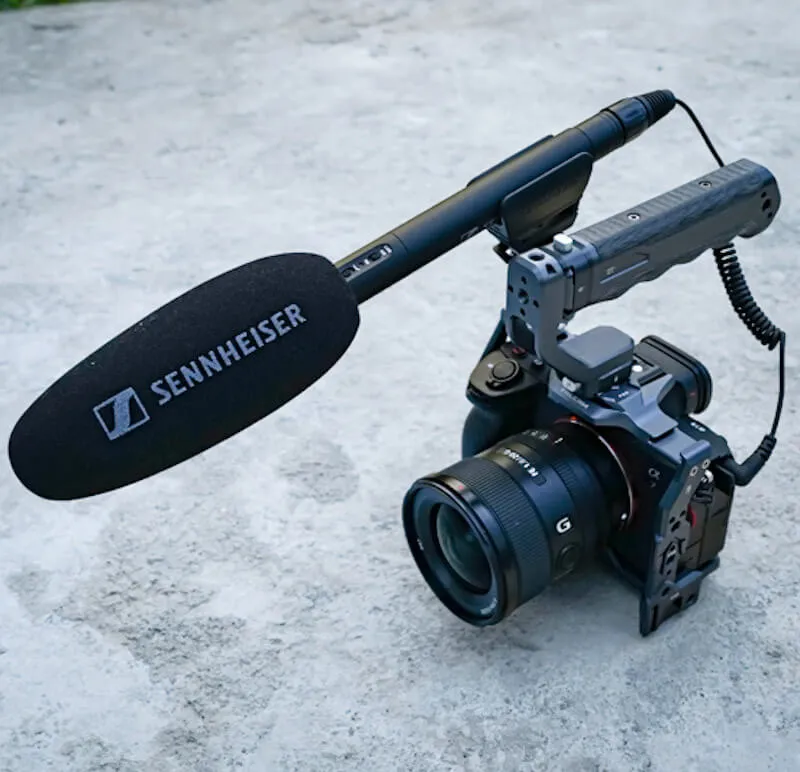 Running the MKE 600 on a 1 x AA battery compared to 48V phantom power results in a lower output level but retains the characteristics that become more pronounced, the closer to the MKE 600 you are. It certainly handles further distances much better than the smaller MKE 200, with even 2m away still sounding pretty good with low to minimal noise once you've cranked up the gain.
While the MKE 600 and 200 cater to different needs and it would be unfair to directly compare them to one another, it serves as a reference to the Sennheiser MKE 600's ability to handle more complex environments with less dramatic falloff the further away you are from the mic.
Many will find the MKE 600's versatility as an on-camera and fixed sound setup an attractive proposition compared to larger and more expensive audio mic alternatives.
Sennheiser MKE 200
The MKE 200 enlarges the tube design and cuts the length to a fraction of the MKE 600. It's much lighter at 48g – which is not surprising – with perforated holes along premium plastic housing. The cold shoe on the bottom is permanently attached for no-fuss camera mounting. The MKE 200 strays away from conventional design as the mic port is on the front rather than the back. I thought this would complicate the cabling to the port of my Sony A7 IV, but this way, the cable is less bothersome looking at the camera display.
The directional mic picks up sound in front of the MKE 200 much like the more expensive MKE 600, but with a shorter pick-up distance. In an untreated room with no post-processing, audio quality stayed consistent from 0.5m right up to the lens, with safety padding to avoid clipping if sound levels suddenly peaked at any given moment to an extent. Audio sounds best within 0.5m as the proximity effect results in a full-body sound.
The plug-and-play nature is super convenient to connect, while further testing is needed to judge the built-in wind and shock protection. In vlog mode, no camera handling vibrations were picked up in my recordings. No battery or live power connection is needed so you can throw the MKE 200 on without dabbling into settings or pre-testing before you go live. I like how the required cables to connect not only to my camera but to mobile phones and tablets are included, although a USB-C adaptor is needed for the latter two since mic jacks on devices are becoming obsolete like the one I use.
I like the Sennheiser MKE 200 audio characteristics and hardware. Granted, it's bulkier than other shotgun mics and sits on the higher end of the price range, but it certainly looks professional, stable, and capable. The built-in wind protection inside the capsule design means it's more forgiving when used without the furry windshield, which I tend to do all the time so that also comes in handy.
Professional Shotgun Mics
More testing and recordings are needed before I finalise my thoughts on the MKE 600 and 200, but my early impressions of the two are positive. The MKE 600 has a professional swag with a few important features for modern-day creators and videographers, while its versatility to switch between shooting environments and the way it handles itself is very attractive. Noise is kept to a minimum which offers wiggle room for post-processing.
The MKE 200 is in-line with entry-level budget onboard mic options, benefitting from the Sennheiser professional lineup in design and sound. It lets through low-end frequencies and comes to life in a vlog or close proximity setup. It's compact, lightweight, and pleasant to look at, which makes the Sennheiser MKE 200 a great all-around choice. The limitations are noticeable from its less acquired sound performance as you move further away from the camera but that's to be expected in this type of shotgun mic and price bracket. Overall, the MKE 200 improves camera's built-in mic quality significantly and complements the MKE 600, which offers real professional audio quality and the flexibility to go run and gun. Stay tuned for my follow-up review once I've gathered more mileage with the mics.
For disclosure, this article or review features affiliated links which means I may receive a commission if you make a purchase through these links. They in no way influence or dictate my thoughts toward a brand, product or service but a professional assessment through my experience.