Samsung's biggest design leap has pioneered the birth of ultrawide smartphones with the Galaxy S8 Plus. It's the most attractive Galaxy device they've released in years, together with top of the range specs that hold up well. The capable camera is still one of the best in the industry, even with dual-camera setups on the rise for 2018.
Samsung toned down the Android layer this time for a cleaner experience, though the integration of AI assistant 'Bixby' is rough around the edges. There's lot to love here that still makes it a worthy consideration, but does it do enough against the tidal waves of Apple, Google, Huawei and even Samsung's alternative? Yes. Yes it does.
Display: 6.2″ QHD+ AMOLED 'Infinity'
Aspect Ratio: 18.5:9 ; HDR 10 compliant
Processor: Qualcomm 835 (US & China)
Processor: Exynos 8895 Octa (EMEA)
Storage: 64GB / 128GB storage; 4GB RAM
Rear Camera: 12MP f/1.7 aperture
Dimensions: 159.5 x 73.4 x 8.1 mm
Weight: 173 g (6.10 oz)
Features: Bixby AI; MicroSD card
Security: Rear fingerprint; iris; face
The Galaxy S8 Plus has been out for over 8 months and in that time, many flagship devices have released since: Apple iPhone X, Google Pixel XL 2, Huawei Mate 10 Pro and even the older brother Galaxy Note 8.
The latest generation of Galaxy devices really switched it up from the S7 series that has resulted in a strong uptake, even with all the fiery setbacks of the Note 7. So how does it hold up into the start of 2018?
Flagship Credentials
The flagship (shared status with the Note 8) retains many hardware features that are a dying breed in today's flagship phones – primarily the headphone port and a growing disappearane of the microSD card slot (in favour of cloud or in-built storage). It's proofed against water, dust, utilises USB Type-C with Qualcomm Quick Charge 3.0 for fast charging and the first of a rear-planted fingerprint scanner in Samsung's flagship line.
This opened up real-estate to enlarge the Galaxy S8 Plus to 6.2″ from the 5.7″ display of the S7 Edge (5.8″ for the Galaxy S8). That, together with the wide 18.5:9 aspect ratio gives it a completely different aesthetic and feel from predecessors. What does this all mean? It means the phone is taller but narrower, a double-edged sword, but overwhelmingly positive as a result of the change.
I find the design elegant, thanks to the near bezel-less front display with clean curved corners matching the frame curvature too. The all glass construction gives it a glossy – fingerprint magnet – but premium experience which you'd expect for a flagship and the price you're paying.
The sides of the display curve for a better hold in the hand, friendlier to handle with the narrower dimension. Sometimes I forget it's a 6.2″ screen because it doesn't feel that way at all. I definitely think it makes operable for those with smaller hands to grip around. Those wanting a larger display, but not able to cope with the traditional dimensions of a 16:9 display smartphone.
After all this time and extensive use as a daily-driver in real life, the Samsung Galaxy S8 Plus has largely been great with a few caveats to point out. Firstly, the screen. The Infinity display is gorgeous. The AMOLED display that Samsung has used over the years looks stunning in a 18.5:9 aspect ratio. Clarity, deep blacks, high nit-brightness that's usable under the sunlight and colours that are pleasantly wide and well-represented.
Gorgeous Infinity Display
The display tends to go for the vibrancy and saturated look instead of the realistic less 'popping' visuals, though you can adapt the screen to your preference in the settings to tone it down. The taller display means more information is presented on the screen when using apps, browsing the web or general viewing coverage. The downside is black bars appear on the sides when watching videos.
To be honest, it's never hindered my media experience and I found 'crop to fit' to be largely satisfactory as a compromise. Support for the aspect ratio has been little since it launched, though Samsung has refined the OS with subsequent Android updates (Android Oreo in bound January onwards) for core Samsung Apps and system pushed optimisations for third party apps.
The curvature on the sides have largely been neutral from a viewing standpoint outside of handling the phone. I found sometimes it curves off app controls that makes it difficult to see or action. Other than that, I'd say it's largely for aesthetics and handling then benefits of curving the sides. A nice touch anyway.
Sound is good enough for calls and reasonable enough when viewing media, though I've found it to be a continued let down on Samsung phones. Stereo speakers or balanced output around the phone would really bring the media experience to life, much like the Razer Phone with front-facing Dolby Atmos speakers that are fantastic. In-ear quality is excellent however with little noise or crosstalk listening to music and high volume for calls.
Mixed Scanner and Battery Reactions
Then we get to the fingerprint scanner. A major change for Samsung devices, I prefer the scanner on the back as it's a natural resting place when holding your phone. However, Samsung went for aesthetics and placed it next to the camera module, rather than mid-body like all other smartphones. Initially, I had reservations as a low border profile meant I mistook the camera as the scanner and end up smudging the lens.
But, it meant with little conscious effort, I would actively use the scanner when I wanted to and felt natural after a few tries. It's fairly fast and reliable, though find I'm prompted to retry all too often. It's not the fastest and the fact you can't wake up and unlock the Galaxy S8 Plus when the screen is off is a real-downer too.
Iris. Face. Fingerprint. Choose the scanner of your choice to your liking.
I setup the iris scanner which recognised well but wasn't as reliable in picking up my face and quite slow. I ended up settling for the face scanner which is much fast by comparison though less secure. The balance and trade-off to your preferences I would say.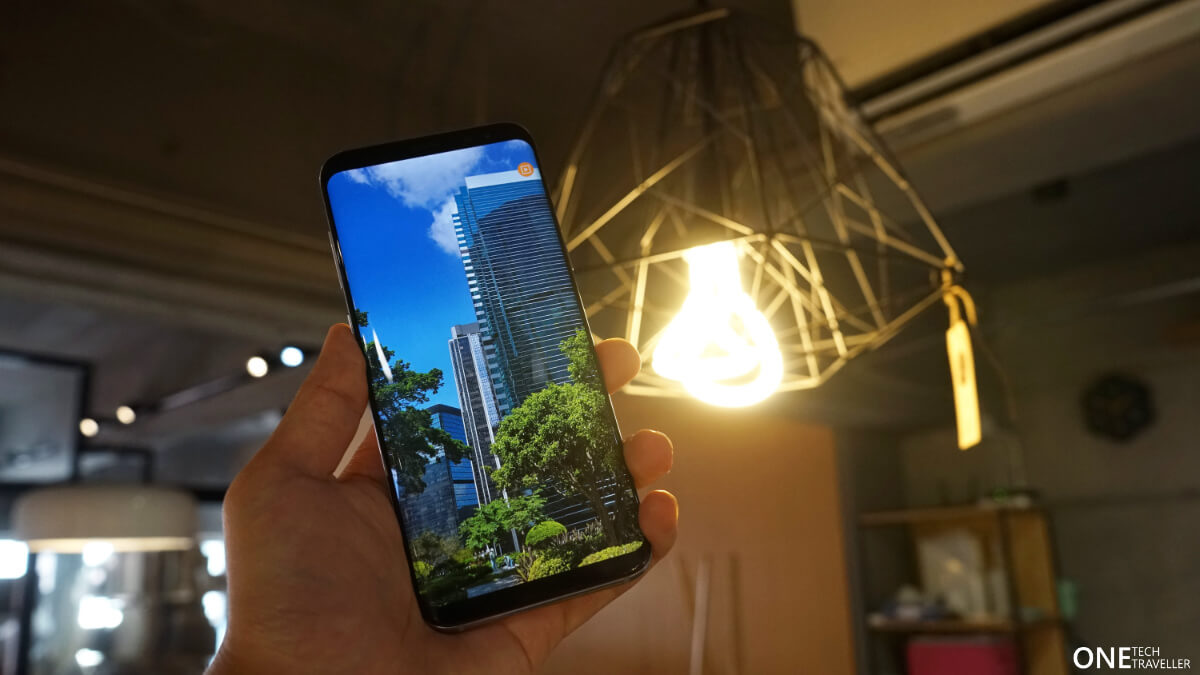 Battery life for me has not been great. GPS, data and screen-on time really sucks out all the juice that I need to either 1) go battery-saving mode and lessen the usage and brightness 2) charge more than twice a day. It charges fast thanks to Qualcomm quick charge 3.0 but battery drains like running water. This, after taking battery saving measures on brightness, background usage and screen resolution (I default to FHD as battery vs clarity isn't discernible enough to justify).
For the average user, it should last you the day but for me, a couple of hours and the battery is finished. As for performance? This is definitely the lightest OS Samsung has overlaid on Android, taking a dialed down approach with Android. It's meant the experience feels cleaner, lighter and optimised with speed a beneficiary of it. Performance has held up well though not as snappy as it used to be.
I've loaded lots of apps which play a little part in it but find Samsung still has some way to go with performance management. It's still very much a good experience just to be clear, but just not as snappy.
A Capable Camera Worth Carrying
And how about that camera? As a photography enthusiast, the camera is very capable for a smartphone. The bright f/1.7 aperture gives it better lowlight performance in Pro mode, while the dual-pixel focus system means focusing is still one of the best in the business.
Noise is kept to a minimal though becomes noticeable into the night and if left on auto mode. HDR mode is where it shines and is the mode I happily keep it on for most of the time. The wider colour reproduction and detail that are picked up provide stunning results. White balance can be slightly off in the white snow that came out with a blue tint but overall, it performs well especially in well-lit conditions (as you'd expect).
Many phones these days come out with dual-camera setups… like the Galaxy Note 8. It misses out on portrait mode for that after-touch bokeh effect. Video is very good, recording up to [email protected] and OIS for stabilised footage. Stabilisation is okay though something to note you'll find sensitive movements shown on screen but doesn't appear in the final footage so don't panic.
Impressive camera controls and HDR mode. Most of the time it captures what I frame as intended.
It smoothens out a lot of the shake with enough human movement so it doesn't feel too robotic but that's my preference. This is achieved via cropping so you lose some of the detail but footage outputs pretty well.
Something I did notice on mine however are the light flares and misty captures, evident in low-light with street lighting. It occurs in darker scenes which is where I switch to Pro mode to alleviate the issue. It may just be my phone but something I wanted to point out. Overall, I've been happy to snap pictures with it on my travels out when I don't always want to take out my mirrorless camera for those snaps in-between.
Baby Bixby Blues
Samsung pushed their AI assistant Bixby this time, resulting in a confusing, hot-mess in all honesty. I pressed the Bixby button accidentally all too many times, voice recognition was slow to pick up and it would activate itself for me to see my rambling conversation become a command.
Bixby commands have improved and played a great hand in setting up alarms, reminders and placing deeper interactions with the phone. You also have the option to turn off the Bixby button (but leave nothing in its place). I actually like Bixby, it just needs to be executed better.
But it's still lagging behind Google Now which is baked into the OS, runs faster, contextually smarter and just a better experience. But Bixby is still in the early stages. We'll see how it matures and more importantly, how Samsung approach Bixby with the next generation.
The Samsung Galaxy S8 Plus
8 months down the road and the Samsung Galaxy S8 Plus is still a desirable choice to have. It packs all the bells and whistles in hardware and software, with an alluring design and gorgeous display. It's still one of the best experiences Samsung has put to market and the camera is still top-notch. It lacks the dual-camera setup that we'll see more of in 2018 and the battery could be much better.
With all said and done, if you're looking for the best all-rounder at the flagship level, the Samsung Galaxy S8 Plus won't disappoint. The Galaxy S8 is a straight alternative if the phone dimensions are still too big to handle, or if you want that dual-camera and S-Pen goodness, the Galaxy Note 8 is the one to pick at a higher price. What will the Galaxy S9 and S9+ bring to the table? We'll see in a few months time. But until then, the Galaxy S8 Plus is doing just awesome.
Samsung Mobile Collection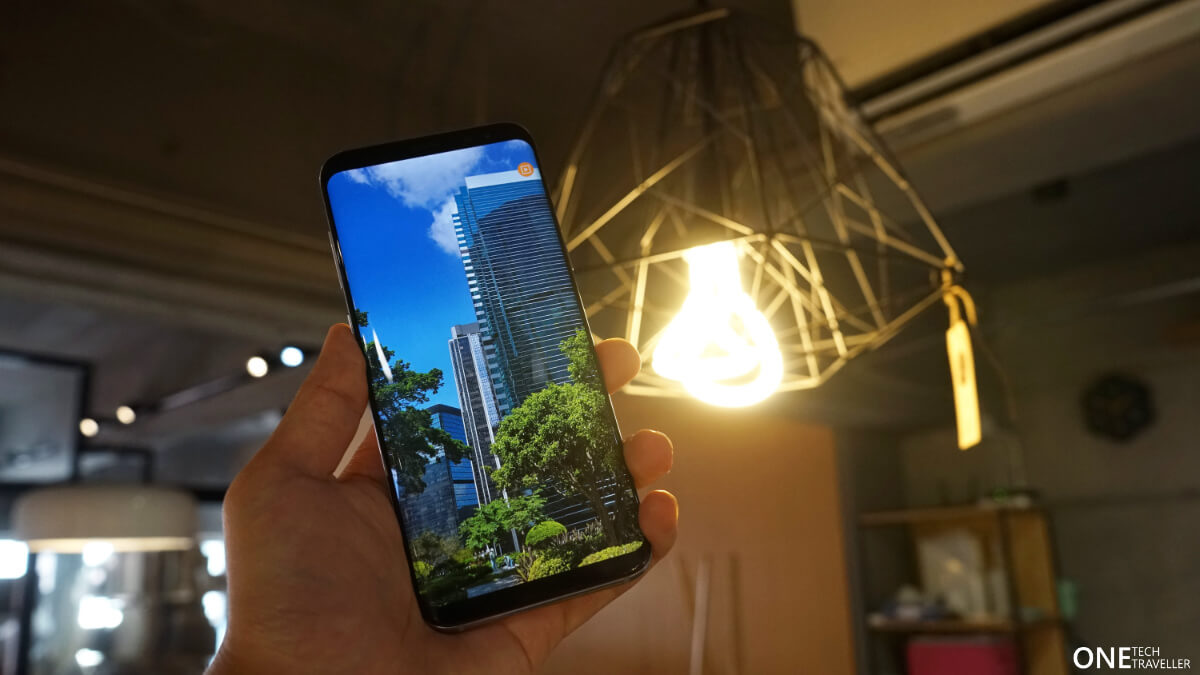 The Galaxy S8 Plus. It's the most attractive Galaxy device they've released in years, together with top of the range specs that hold up well.
CONCLUSION
The Galaxy S8 Plus. It's the most attractive Galaxy device they've released in years, together with top of the range specs that hold up well.
HIGHLIGHTS
Most feature packed flagship
Premium materials and sophisticated design
Camera Quality still one of the best
LOWLIGHTS
Needs stereo speakers
Inconsistent fingerprint scanner
Bixby execution falls short