I've had a couple of weeks with the Galaxy Note 10+ 5G since it launched worldwide and in Seoul (where I picked one up). In isolation, the stylus-packed Autumn flagship from Samsung for the rest of 2019 is a premium, high-specced smartphone that we've come to know and expect. It's not as well-rounded, foregoing the 3.5mm headphone jack and missing out on a faster refresh display that's been the innovation this year…but offsets that with a triple-camera array, upgraded battery life and charge rate, together with the new Infinity-O dynamic AMOLED.
Galaxy Note 9 users may be wondering if it's even worth a glance to upgrade – and whether you're ready to drop serious dollar / pounds/ korean won for that matter, the Galaxy Note 10+ is more of a step up than you think. My hands on with it next to the Note 9 let me appreciate how much of a change the Note 10+ is, with respect to how excellent the Note 9 is. Here's my Galaxy Note 10+ comparison with the Note 9.
Ultra-Wide Camera
One of the biggest differences I felt and noticed in everyday use is the new 12mm ultra-wide camera, joining the 27mm wide and 52mm telephoto lens of the Note 9. New sensors, wider apertures and improved detail retention day and night upgrade the camera experience. But the ultra wide adds that extra dimension yo capturing photos that is absent in the Note 9 and wholly felt in the Galaxy Note 10+ 5G. Whether you're feeling lazy, want that POV distortion effect or simply need to fit far more into the frame than what is physically allowed with the 27mm wide on the same spot. Skyscrapers, landscape and such can be captured with greater depth and distance, letting you get more creative and add more tools to your box. I'm currently testing the cameras of the Galaxy Note 10+, but I can say the addition is a big improvement in the camera department over the Note 9.
Reverse Wireless and Faster Charging
A feature I don't often find myself using, but funnily enough something I needed today. Went out for lunch at a nearby cafe in Gangnam and after ordering my blueberry yogurt smoothie, avocado and prosciutto sandwich (important for context), proved to sit down in a booth. As I connected to wifi and started to type some articles, I realised I forgot to charge it this morning after not charging it overnight to test standby.
The Galaxy Note 10+ can reverse wireless charge if battery is over 30% and I asked my friend if they can spare a few percent of their 97% battery on the Note 9. I searched in three notification bar but to no avail – there's no such feature on it. You need the USB C dongle to wire charge, which we didn't have on us (no one really does). Eventually, my battery ran down which forced me to have good quality conversations (oh no), but the bottom line is 9W of wireless charging on the Note 10+ 5G is a handy feature in emergencies or surprises like this one. If you have the Galaxy Earbuds, Qi wireless charging devices or the Galaxy Watch, then charging from the 4300Mah battery is might useful.
With regards to wired charging, the Note 10+ 5G gets a big improvement over the Note 9 – 25W of power that charges from 0 – 100% in 1 hour 15 minutes compared to the 0 – 100% in 1 hour 40 on the Note 9. That's 0 flat to 100%. Base charge is faster too with over 70% charge in 30 minutes. If you fancy an even faster rate, the 40W adaptor will get you topped up in 45 minutes. So for fast-paced lifestyles or those needing more juice for the day in a short space of time, the Note 10+ will need less time wired. No longer do I need to charge overnight, with standby drain only 1-3%. The Note 9 had great battery but lagged behind on 15W of charge. The Note 10+ fixes that for the average / power-user.
Air Actions and Stylus
The stylus is what separates the Galaxy Note from the Galaxy S, and pretty much rest of the smartphones for the past couple of years. The Note line is your definitive note-taking experience with the stylus and Samsung has spent years perfecting on the winning ingredient. So where do they take the stylus experience after what was a refined, polished take with the Note 9? Well, their answer was something called 'Air Actions' and little physical changes to the hardware.
With the hardware changes, it's very incremental – the stylus is slightly shorter than the Note 9, the button placement is closer towards the tip and the clickable button at the top Air Actions are a set of gestures you can do in the air to control some Galaxy Note 10+ features like music play control, switching camera modes and zooming in. Think wand wizardry. Except most of the time it just felt gimmicky. Gestures worked reasonably well but the application felt unnecessary. It's much faster to swipe these on the display than to wave the stylus, especially since unless you have the stylus out, it's just not efficient.
Granted, taking selfies, recording video or taking pictures are the best use for it outside of note-taking and interacting with the screen, but that's the same on the Note 9. So not much upgrade here, still has the same excellent 4096 pressure levels, comes with extra stylus tips and better handling. Just note (pun intended), you won't be able to stow away the Note 9 stylus due to the size and the same vice versa.
Larger Immersive display
The new Infinity-O Dynamic Amoled is gorgeous, helped by the fact a 6.8″ QHD+ display fits in nearly the same dimensions of its predecessor. The 91% screen to body ratio and wider 19:9 aspect ratio over the 18.5:9 of the Note 9 is more immersive and enjoyable when watching movies. I felt the contentious camera is more accepting and less intrusive of the overall experience, nearly lined in the centre of the notification bat and away from direct eyesight while scrolling and watching. People know I've been hesitant and unfavorable towards the notch, preferring an uninterrupted display and leaving the cameras in the bezels. However, holding the Note 10+ in my hand, swiping through One UI, taking pictures and watching movies back, I was surprised at how much I didn't find it bothersome. I actually liked it.
I compared watching Netflix, Stranger Things Season 3 on the Galaxy Note 10+ and Note 9 (you have to watch, it's awesome by the way): the dynamic AMOLED panel on the Note 10+ delivered better high dynamic range in colors and brightness. Image was noticeably brighter in darker areas of the scene (Stranger Things has plenty of them), bringing out more details. The Note 10+ is HDR10+ certified and Netflix is capable of delivering it, so if you like to Netflix and Chill, you'll enjoy it just a bit better.
---
There are few but significant upgrades from the Note 9 and Galaxy Note 10+ comparison. While not necessarily innovating and some may say a 'catch-up' from the Galaxy S10+ 5G that launched earlier this year with the camera array, slight changes even from that with – in my opinion – a better implemented Infinity-O display and camera punch that is far less distracting and subtle. I'm working on my in depth camera test of the Galaxy Note 10+ before revealing my final review so be sure to stay subscribed on my YouTube channel to see it first and stay tuned for my upcoming articles. Keep Being Awesome World, 1TT.
Samsung Mobile Collection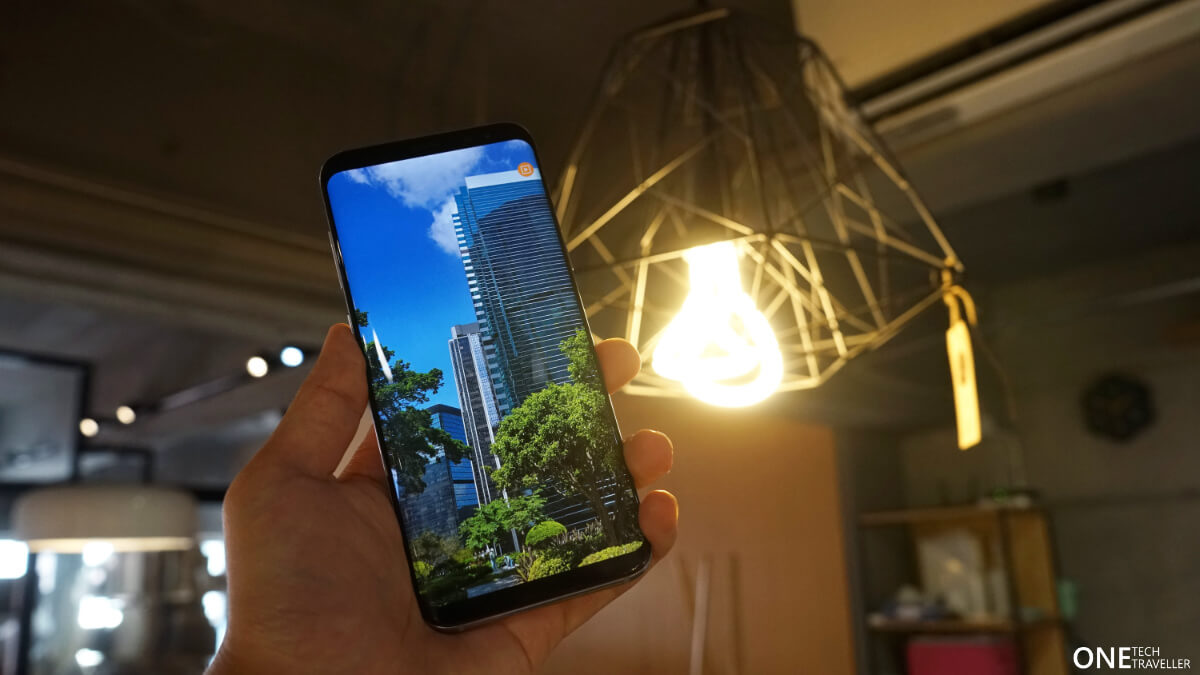 The Galaxy S8 Plus. It's the most attractive Galaxy device they've released in years, together with top of the range specs that hold up well.
For disclosure, this article features affiliated links which means I may receive a commission if you make a purchase through these links. They in no way influence or dictate my thoughts towards a brand, product or service. As the sole creator of One Tech Traveller, this helps support my work and platforms.