If you read my recent story of how my phone was stolen while in Vietnam, it was primarily the motivation after 2.5 years of owning my Samsung Galaxy S8+. I managed over one week without a phone, with the view of upgrading my daily driver in Seoul, South Korea. It seemed as if the stars could not be more aligned as the Samsung Galaxy Note 10+ 5G launched around the same time, pre-ordering and picking one up in Seoul. Samsung's biggest flagship of the year represented a change in direction and with upgrades of various magnitudes, it was a no-brainer to review the Note 10+ 5G in Samsung's home territory.
My impartiality as a professional reviewer still remains as I take you through the unboxing of the Galaxy Note 10+ 5G model, some nuances to the buying the South Korean model, and most importantly, sharing my thoughts after one week of use. There's a lot of excitement with the Note 10+ for people overdue an upgrade and even those that demand the latest and greatest. Let's dive right in and get into the details.
Inside the Box
Inside the box are not only the main essentials, but some extra goodies and a dash of quality. You'll find the 25W power mains adaptor, USB-C to USB-C cable to charge around 1 hour for the 4300MaH battery, USB dongle to aid data transfer, S-pen tips, a removable tool and a pair of USB-C AKG headphones. It's great to see Samsung preinstall a screen protector on the Galaxy Note 10+ 5G (Note 10, and non 5G variant too), while the Note 10+ benefits from an included silicone case to get you protected right off the bat… especially for a $1000+/ £1000+ premium flagship.
A sim tray removal tool is also included and a quick-start guide to get you setup. Sadly, no 3.5mm headphone jack adaptor, which is a glaring omission in Samsung's first flagship to move away from the port. More on that later. Well-packaged, generously provided and neatly presented, bar a few absentees, you're getting a nice unboxing experience.
Highest Spec Galaxy Note 10+ 5G for Review
The box is dominated by the 6.8″ Infinity-O Dynamic AMOLED display, 91% screen to body ratio and 19:9 aspect ratio. Simply, an all-screen front that's slightly wider and taller than the Note 9. There's also that front camera hole which we'll touch on later. It's a remarkably beautiful phone and looks all sorts of modern and futuristic that even other premium phones look a little left behind aesthetically. Despite the larger screen, 300MaH extra battery over the Note 9 to top out at 4300MaH, it still manages to be barely lighter at 198g and 11% thinner at 7.9mm which is impressive.
This all seems fantastic, except Samsung decided it was finally time to leave the headphone jack behind, signalling the end of the legacy port in pretty much all premium flagship devices. Samsung finally found the tipping point between wireless earphone uptake to take it away – despite having physical space to include it – but most likely to reduce incremental cost at the same time. Besides that and a few other technologies like higher display refresh on the Razer Phone 2 and OnePlus 7 Pro, the 2019 Autumn flagship packs everything you could want into a smartphone.
This is the creme de la creme of Samsung's autumn flagship – the 512GB, 12GB RAM and 5G top-end model of the Note 10 series. This is the definitive experience Samsung offer, to part ways with for $1,199 / £1,199 / ₩ 1.2 million. Since I got myself one in Seoul, you're looking at the SM-N976N network unlocked model compatible with SK Telecom, KT and LG U+ 5G networks, and 5G GSM networks worldwide as they roll-out. They'll work with most networks but double-check the 5G bands in your home country for good measure. For example, this will work in the UK on Three's 5G coverage who I'm currently with back there.
Immersive Infinity-O Display
Let's address the biggest change seen in the Galaxy Note 10+ 5G: the screen. The taller 19:9 aspect ratio results in a QHD+ resolution of 3040 x1440 (498 ppi). Gone are the larger bezels and with that the iris scanner on the front and top-firing speakers and instead, an ultrasonic under-display fingerprint scanner and under-display vibrating speaker. A single camera hole sits right in the middle, a topical discussion made smaller by sacrificing the dual selfie setup of the S10+ and bright f/1.7 aperture of the note 9, replacing it with an f/2.2 aperture one.
There's no deny this is a beautiful design, coupled with a new Dynamic AMOLED screen that is HDR10+ certified to render every video frame dynamically for the best visual output. The screen feels more immersive because it's just all screen and minimal bezels. The screen is tack sharp, bright for excellent sunlight legibility and still represents the best in the business. That extra estate folds over to web browsing, capturing photo at the full ratio and so forth. The curves less exaggerated this time around, together with the polished aluminium metal that blends near seamlessly for a refined feel.
Mirroring the Galaxy S10 Plus Cameras
If you've been following the latest in Samsung's lineup, you'll know the Note 10+ 5G features the same triple camera setup of the S10 Plus. An ultra-wide 16MP f/2.2 12mm (123° FoV), main 12MP dual aperture f/1.5 – f/2.4 (77° FoV) and telephoto f/2.1 52mm (45° FoV) lens with 2x optical zoom. The latter two both optically stabilised (OIS) across photo and video, with the ultra-wide featuring Samsung's [digital] Super Steady Video tech.
It's also a good time to talk about the Aura Glow model which has attracted widespread attention thanks to it's light-refracting rainbow shine. Under day-today-use and lighting, you'll mostly see a silver body which looks great, even more so under intense light for that multi-coloured glow. It's a lot more subdued in real-life, but attractive nonetheless. The glass body while beautiful is still very much a fingerprint, smudge magnet and found to regularly wipe it until I put the case on.
The camera placement has changed this time, sporting an industry-trend vertical setup in the top left corner. The LED flash and ToF sensor for depth-of-field and AR sit next to it, exclusive to the Note 10+ model. Video recording is up to 4K [email protected], stabilised [email protected] with HDR10+ certified recording.
What does it all mean? individuals get the same flexibility to take pictures, with the benefit of better stable video and slightly better image detail. The dual aperture is still present to flex those low-light muscles and reduce extra noise. Paired with the new Night mode it's Samsung's best offering to date, which satisfies the average shooter, but slightly lacking for enthusiasts and above. Still, dynamic range, contrast and general software IQ are excellent in early testing. I'll share an in-depth look of the Galaxy Note 10+ 5G cameras, but for now, these are top of the range cameras that finally benefit with a triple camera threat like the S10+.
Observing the Note 10+ and Note 9
I'm writing a fully-detailed breakdown and comparison between the yesteryear flagship that is the Note 9 to the fresh Note 10+. While natural upgrades to performance like the processor, RAM, storage all add to a blazing-fast experience as expected, there are notable differences I've truly felt between the flagships that possibly warrant even enough justification to upgrade, depending what is important to you. Firstly, the screen. The extra 0.5″ screen display, thinner bezels in largely the same size can be seen and felt starkly. I love the Note 10+ screen as it feels much more immersive and futuristic.
Sure, handling is slightly affected, but visually looking at it everyday, I really enjoy the design and upgrade of the Note 10+ that Note 9 users may like too. The camera hole will be the talking point and as someone who didn't want a hole interrupting the screen, I can understand that. However, I was honestly surprised how much I actually didn't care for it, simply because it just doesn't feel like it's in the way, which is strange. But I like it, and much more than other implementations in phones like the OnePlus 7 Pro, Huawei P20, Mate series and Google Pixel.
Another is the triple camera setup. As a photographer and creator, that ultra-wide has been a breath of fresh-area to capture in ways that you just can't with the dual camera of the Note 9 (especially my Galaxy S8+). Add even better stabilisation and little software details, people who love their phones for their cameras will find this such an upgrade, mainly because just having more tools to play with. I'll save the rest for the main comparison breakdown, but these are early observations I noticed handling both the Note 9 and Note 10+ 5G.
Notetaking with the S-Pen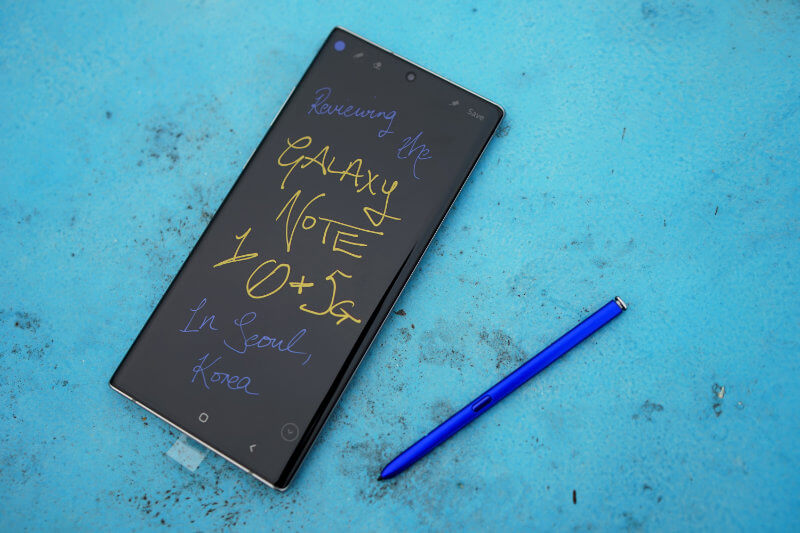 What separates the Galaxy Note 10+ 5G from the Galaxy S10+ is the S-Pen. Roughly the same height, sharing mostly the same camera setup and featuring a lot of 2019's performance goodness, the S-Pen is the differential factor between Samsung's premium smartphones. The S-Pen features 4,096 pressure levels with three different pen tips to satisfy the note-takers, professionals and creatives. A little shorter physically, gone is the chrome trim towards the bottom with the button placed a little higher for better ergonomics.
The rear is still clickable and as for colourway, the Aura Glow comes with a bold blue S-Pen to pair. This is where the larger 6.8″ screen compared to the Note 10's 6.3″ screen shines as there is more screen estate to write on. The experience is as solid as ever on the Note series, pressure sensitive and reflecting different strokes depending no the angle I write with.
It's still relatively early days, but the newly added Air Actions that allow you to gesture in the air unfortunately are gimmicky and not practical on a day to day. It's slower, inefficient and just feels clunky to change camera modes and zoom in. Gestures for music track controls feel somewhat better, but unless you already have the stylus in hand, I tend to just do it on-screen. Besides that, the S-Pen is largely the same as last year… and that's not necessarily a bad thing as it works fantastic and is the best stylus experience of any smartphone to date (and has for the past few years).
It all just feels added for the sake of adding but non of real-life value that will stick. But like I mentioned, this is the best S-Pen experience to date by far. I hope Samsung can push the writing experience like the Surface Pen and the Surface Book, Laptop and Pro lineup, as it still on lacks that gritty, visceral feeling of a real notepad.
Reviews, Comparisons and Breakdowns
There's so much more to cover and talk about so I'll cover them in future articles like the sound quality, Note 9 comparison, camera shootout and, One UI and general user experience so keep an eye out as I continue to use the Galaxy Note 10+ 5G as my daily driver. If you have any comments or questions, let me hear you in the comments down below and Subscribe to my YouTube channel to stay updated with my latest videos. Check in with you world in the next one, otherwise that's me in Seoul, South Korea. Catch you in the next one!
Samsung Mobile Collection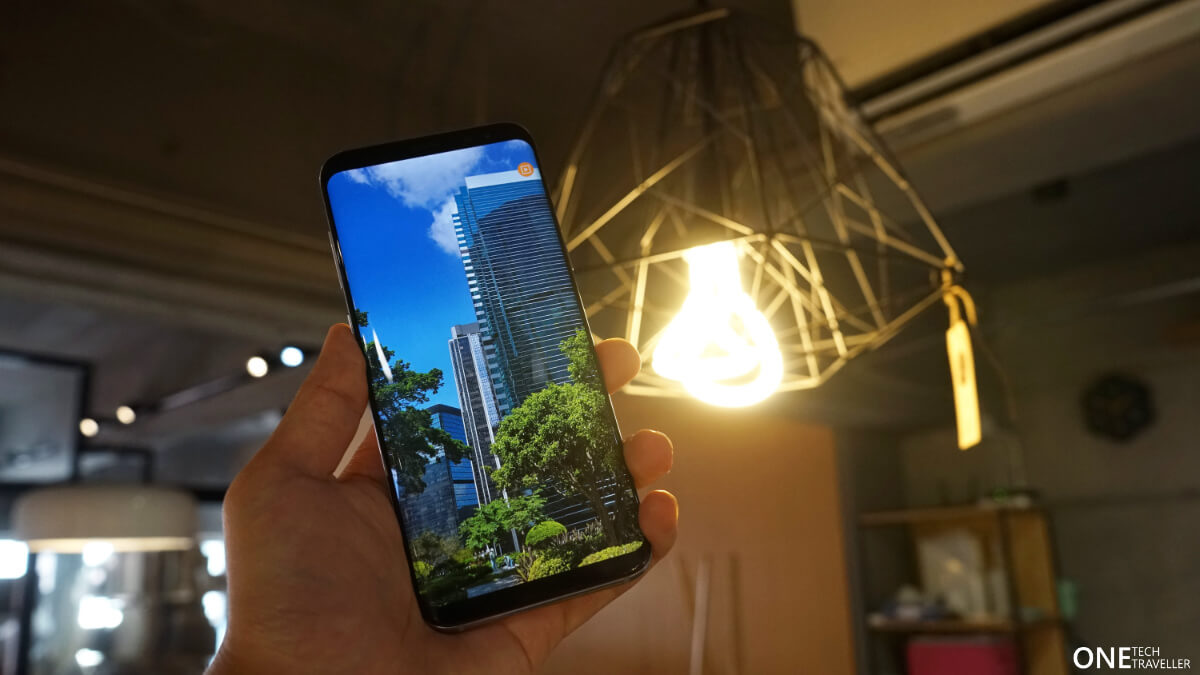 The Galaxy S8 Plus. It's the most attractive Galaxy device they've released in years, together with top of the range specs that hold up well.
For disclosure, this article features affiliated links which means I may receive a commission if you make a purchase through these links. They in no way influence or dictate my thoughts towards a brand, product or service. As the sole creator of One Tech Traveller, this helps support my work and platforms.