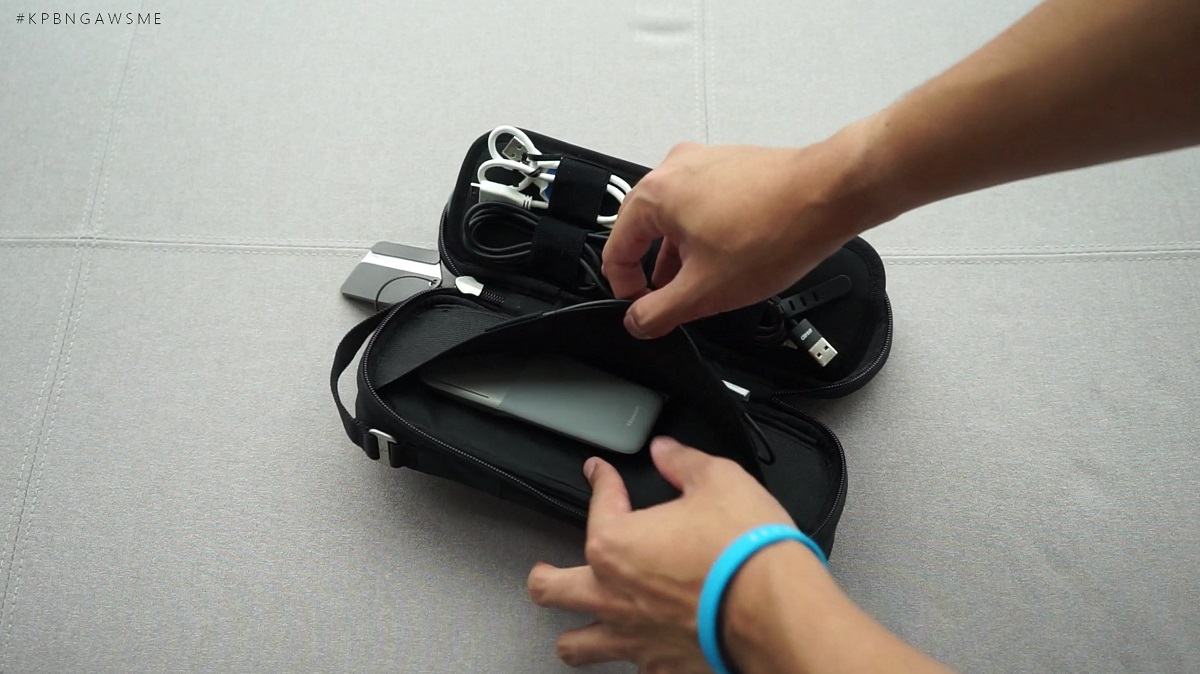 The Power Packer from SidebySide Gear is a must travel accessory organiser for travellers, gadget enthusiasts and minimalist-conscious individuals. It's functional, practical and relatively compact enough to ease all of your accessory worries when trying to find that cable or memory card you placed somewhere in your bag.
The Power Packer has been a significant travel companion for me in the first 2 months of travel that you never realise how you coped organising all your small details until you've found something that just works.
The Power Packer Gear Load
It's a tedious conundrum sometimes when you have to find space around your backpack or luggage to fit your small accessories – memory cards, batteries, chargers of all kinds, hard drives… you get the picture.
You find space for each of them, but they're dotted in different pockets and you have to remind yourself where it is. Or sometimes you just dump them in one pocket only to find them tangled and scratched. The Power Packer then seems like a great premise as a travel accessory organiser. It's super functional as an organiser to keep your small details in check, especially if you have a lot of gadgets or tech then you'll really like The Power Packer.
Rugged and Functional
The Power Packer from SidebySide gear is mainly of 300D polyester with nylon elastane for the flexed strip in the middle. This gives it a rugged and durable exterior with enough flex to fit your bulky items – it is as bulky or as compact as you want it to be.
The minimum dimensions of The Power Packer is 26cm long, 9cm wide and 4cm deep; enough to accommodate your many items and fit them in your luggage, holdall or backpack in one piece. And if you know you're 'packing' a lot of accessories, The Power Packer becomes even better when you see just how convenient and organised you become.
With heavy-duty machined zippers and a reversed YKK zipper, it holds great strength to enclose everything and not feel like it'll burst or breakdown. The reversed ziptrain gives it a cleaner look too which is a plus.
You'll find two compartments and a divider (essentially three compartments) – one big compartment that opens up 60% and a main zipped compartment with dividers that opens flat like a luggage. Full, bright access makes it easy to see everything and pick out what you need.
The divider is thick with substantial padding so it doesn't feel flimsy. The Power Packer uses flexed elasticated straps to secure items in place. A zipped net can keep your memory cards and smaller accessories together, while the elasticated straps can hold your cables, camera batteries, USB drives and memory cards with ease.
You'll find the straps are versatile so you can personalise how you approach organising your gear. That is the beauty of The Power Packer… there's not just one way.
Versatile Packer for More Than Just Tech
On the other side of the divider, you'll find a zipper net, four straps with two that have a stitched bottom. They can fit a USB drive, thin camera batteries, memory cards with no problems and have good strength to secure them in place.
Beyond that are three loose straps on the lid of the compartment – these are better suited to bulkier accessories. I put my portable speaker speakers which had a big power brick and my UK 3-pin plug. This side of The Power Packer works great thanks to the nylon elastane; the bulk is relatively contained but of course the more you pack with bulky items, the bulkier it gets.
The Power Packer comes alive when you pack it to the max and see how much organised you can be. For half loads it's still a good pack, but if it's just one or two big items then sometimes I'll go without it. But for 90% of the time, The Power Packer has been solid when I want to be productive and moving between the office, cafe, workspace, freespace.
The Smart Travel Organiser
SidebySide's Power Packer has a built-in handle of sorts attached at the top of one side with a thick machined metal. Strong with thick material, you can carry it or easily put it in your backpack with ease in less time. The handle could benefit from a hook system to attached and detach the loop so you can have it hang from something or attach to your backpack for added security. A slightly longer loop and it'll be much more comfortable to hold on its own. Otherwise, it performs admirably.
You may not have thought about organising your small accessories for your gear but The Power Packer is seriously a great travel organiser. It's functional, durable and protective of your little accessories so you can focus more on being productive instead of time taking out and packing in individual items. I've used it for coming up to 3 months now on my #KPBNGAWSME travel tour and it has been a significant boost in the way I travel and how efficient I have become. You won't want to look back.
Side by Side Collection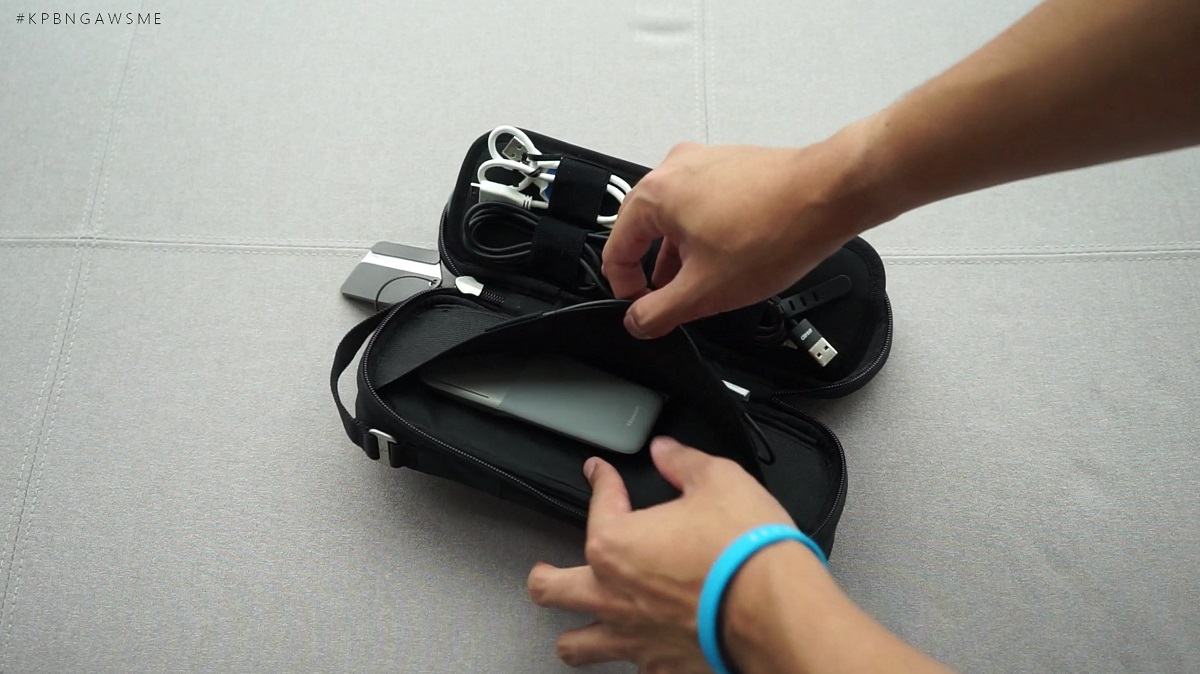 A top travel accessory to pack all your small accessories for a clean, efficient and functional transition taking out items when you need and securing with confidence when done.
A premium toiletry bag that offers neat organisation, storage for the small, large, thin and sensitive, with a modular system that offers packing suited to your length of travel. It's slim and compact to slide into a carry on backpack, duffel or luggage with more purpose for your lifestyle accessories beyond the bathroom.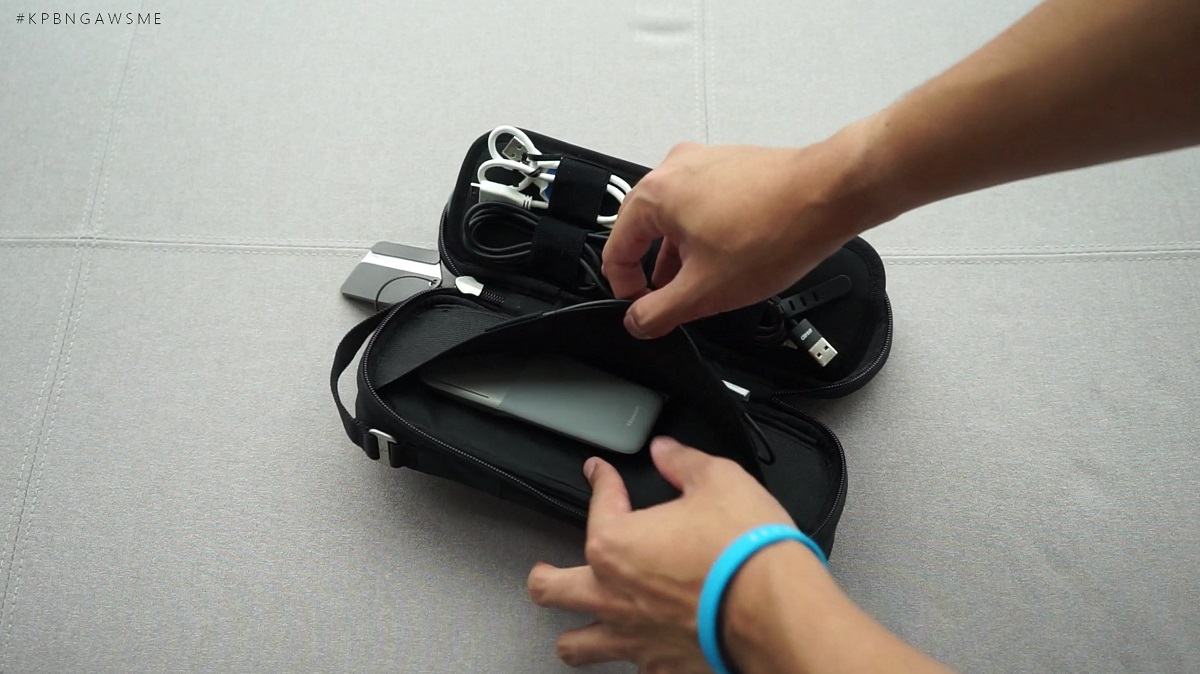 Conclusion
A top travel accessory to pack all your small accessories for a clean, efficient and functional transition taking out items when you need and securing with confidence when done.
HIGHLIGHTS
Versatile to house all your cabled and small accessories
Expands when you store bigger items
Multiple compartments to customise how you store
LOWLIGHTS
Can get bulky if you store big items
Would benefit from hook carry system to attach