No stranger to photography and creating innovative everyday carry, Peak Design are bringing sexy back to a photographer essential. Meet the Peak Design Travel Tripod, the brand's 9th Kickstarter and pioneering break into the tripod industry.
Available in either aluminium or carbon fibre, the seamless design makes it the most compact when closed, both easy to use and competent for heavy DSLR setups. They're aiming to target professionals that want to stay light and capable. The most successful launch in the history of Peak Design, they've raised over $5m so far, with delivery expected in time for the winter holidays at the end of this year.
For Pros, Enthusiasts and Creators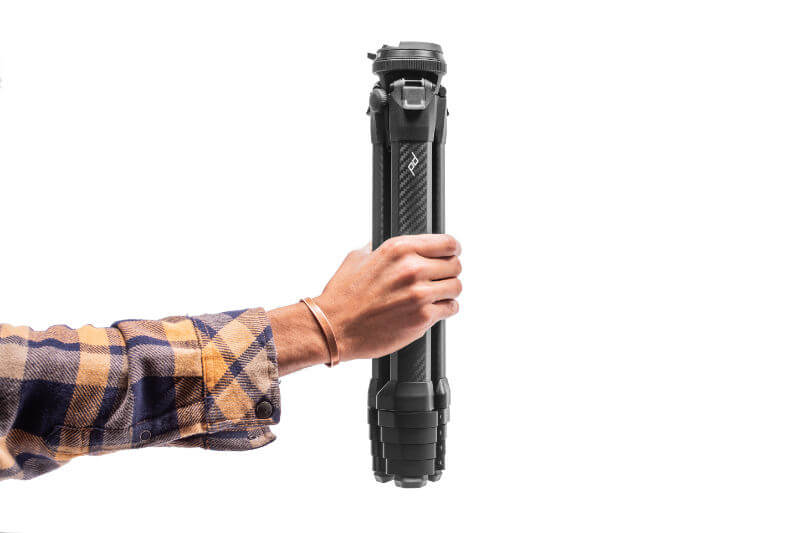 Travel tripods tend to be lightweight and compact, suited to carry with your backpack and most normal weather conditions. The Peak Design Travel Tripod is aimed at photography professionals and enthusiasts, most likely due to the eyebrow raising prices – the aluminium will set you back MSRP $349 and the carbon fiber a hefty $599. Those prices aren't out of place among high-quality tripods, however they are priced that you may not rush out impulsively to buy one just yet. So unless you're committed to stepping up your game, willing to make an investment, or a professional that sees a lot of value, you may want to consider cheaper alternatives. Fortunately, Kickstarter backers can grab either model for $289 or $479, a saving of $61 and $121 respectively in what looks like the most exciting premium travel tripod I've ever seen.
Now we got that out of the way, let's focus on what exactly you're getting with the Peak Design Travel Tripod. If mobility and a small footprint are important for you in a travel tripod, you're going to love these. They've been built from the ground-up to remove plenty of wasted space between the 5 section legs, centre column and ball-head. Closed up, it's impressively downsized when compared to models like the Manfrotto BeFree or Big Traveller travel tripod series. The Peak Design Travel Tripod use cam levers to extend each section leg, a mechanism I much prefer as they're super easy to snap, release and see each leg is fully locked in place.
Easy on Shoulders, Heavy on Payload
Going over the tripod specs, it's reasonably tall – with legs fully extended it reaches 130.2cm, while max height with the centre column is 152.4cm. Collapsed down into travel mode, it downsizes to 39.4cm. Weight is 1.56kg or 1.27kg with the carbon fibre option and just 8cm thick when closed. Mighty compact. So you're getting a decent height and a standard weight in the market today, but it withstands a punchy 9.1kg payload. That's perfect for heavy DSLR rigs and setups using telephoto lenses that manages to stay balanced. Wildlife and landscape photographers will especially love that.
Some may be concerned of it's slender frame, including the centre column. If you're in windy conditions or need to reduce vibration during timelapses, long exposures or telephoto, the built-in counterweight at the bottom of the centre column lets you hook your bag. Keep your bag away from the dirty ground and give extra stability at the same time.
Efficient Ballhead Control and Security
The ball-head offers an efficient workflow with it's quick-release system that pairs with an included Peak Design standard plate well, effortlessly transitioning from the Peak Design Capture on your backpack straight to the Peak Design Travel Tripod. You'll find a two-lock system on the ball-head, a ring to adjust the angle of the ball head and the top ring to lock the camera into the quick-release system. The extra lock means you won't accidentally press the quick-release button while shooting and see it fall off; it'll stay on hold with a clear indicator so you know.
The included standard plate can be screwed into either your camera or telephoto lens using a hex key that you'll have to keep hold of, but there's a dedicated pocket inside the swish waterproof case the Peak Design Travel Tripod comes in to ease your worries.
Low Modes and Peak Design Accessories
If you prefer to get low and intimate to your subject and surroundings, the Peak Design Travel Tripod has your back. Leg angle selectors let you switch from standard to low mode, bringing the legs to angle acutely. That's usually amiss in travel tripods (or tripods in general) and it's great to see the option neatly built-in, giving you stability on all levels. Alternatively, go flatlay for macro or product photography work by flipping the centre column for inverted mode in just a few moments.
If you need that extra grip and prefer to use your own ballhead, there are two addons you can get to better adapt the Peak Design Travel Tripod to your needs. The first is a set of spike feet that provide superior stability and grip when shooting on slippery or loose terrain (like ice, snow, smooth rocks, loose dirt, or gravel). Ideal also for very heavy rigs too.
The second is the universal head adaptor that hex screws into the centre column after replacing the included ball head. It is ideal for users who already own a tripod head with special functionality (like fluid pan and tilt for video). Both accessories will go for $30 but are available at a discount for $25 during the Kickstarter campaign.
Grab and Go Casual Pickups
Feel like leaving your camera behind but still want those sturdy, handsfree shots without the bulkiness of normal tripods? You're covered here too. Pull the counterweight hook down enough reveals the phone mount that easily clips onto the ball head, letting you slide your camera with minimal effort to capture those moments. The Peak Design Travel Tripod is small, light and slim enough to pack inside your Peak Design tote, Everyday Backpack or bag, takes seconds to set up and provides stability whether that's capturing stunning sunsets, or casually taking group shots with your friends.
While the Peak Design Travel Tripod is expensive, it's bringing sexy back to what has been a functional but boring essential. It's beautiful design means you won't mind taking it with you, together with a user experience that's fast, effortless and simple. While pros and enthusiasts may be most interested in this, content creators especially travel creators or bloggers may find this an exciting addition to your arsenal that removes the heavyweight, tedious process in achieving great captures to share your adventures.
I definitely love to stay light and mobile so the Peak Design Travel Tripod is really attractive for me. I'm still thinking whether it'll play nice with my wider production gear such as my DJI Ronin-S stabiliser, as well as the price tag to absorb. No doubt, this is such an efficient and beautiful execution of the travel tripod that ticks most things for me. Sooner or later, I'll be upgrading my current basic travel tripod and it may just be the choice.
Peak Design Collection
The Peak Design CapturePro clip is a powerful tool. It has a huge impact in the way you now think about carrying your camera on your travels. I love being on the go and taking great pictures and if you are too, this is a no-brainer.
'TECHTRAV10' CODE for 10% off
The Peak Design Everyday Backpack 30L stands up to the occasion to defy extremities, demonstrating durability, accessibility and versatility that you don't have to compromise on.
Lightweight and durable, it leaves an unforgettable carry experience that holds my core photography equipment impressively. This is one fine beast of a compact sling.
For disclosure, this article features affiliated links which means I may receive a commission if you make a purchase through these links. They in no way influence or dictate my thoughts towards a brand, product or service. As the sole creator of One Tech Traveller, this helps support my work and platforms.