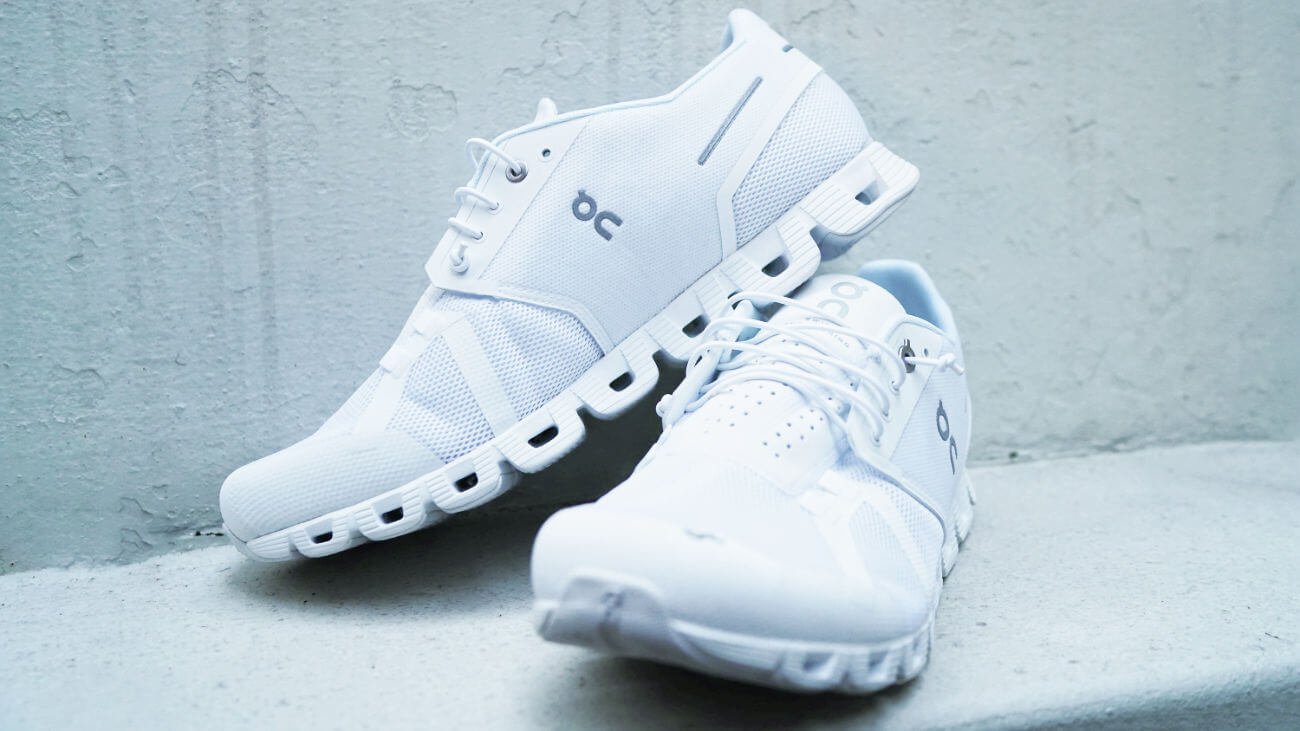 The On Running Cloud is a great choice for road style running-minded individuals. A unique design that's practical, breathable and functional for the everyday. The speed laces are a welcome addition that makes these convenient to put on, but also agile to maneuver with. Simply put, the Cloud is a superb choice for those new to On Running, built to wear daily that does urban running very well.
Meet the On Running Cloud
When it comes to fit, the On Running Cloud is true to size so you'll want to order your usual shoe size. It has a normal shape – not wide not narrow – with satisfactory toe allowance for breathability without any play. The heel molds into your ankle for a secure fit, though you'll wasnt to spend time adjusting the speed laces on the low, mid and high to ensure the kind of tension that suits you. My feet er slightly on the narrow side however found them to be very comfortable and secure. I tried a half size up where my heel would come out of the Cloud, so definitely go true to size.
As for weight, the On Running Cloud is appropriately named to be cloud-like. This shoe is light. 230g that hardly feels like anything, making you feel like you're walking on clouds. The mesh material throughout most of the body helps that feeling, resulting in an agile shoe to run with. The zero- gravity and Cloud Tec outsole gives that cushioned feel that reduces the vibrations and pressure running on roads, alleviating upstream pressure to your knees. Great for runner with sensitive knees or just your everyday person. These can really improve your tolerance.
Direct, Comfortable Outdoor Running
Like I mentioned before, the On Running Cloud shoes are breathable, perfect for most of the year to wick away moisture or sweat build-up. For the winter, you'll definitely want to wear warm socks as the chills pass through. Worn with my base layer and normal socks or merino wool socks, I got by absolutely fine around zero degree weather. But, if you're doing that most of the time, you may want to optfor the Cloud venture waterproof instead.
For the everyday, these are very comfortable to wear. The springboard adds more lift, forward motion and energy in your strides, while the outsole make these very comfortable for a long period of time. While the added height helps to avoid puddles soaking water through, it'll catch up to you in persistent rain. Speaking of wet weather, you'll get great grip and reaction throughout most of the year in dry conditions.
Agile Laces, Energetic Outsole
In the wet, you'll still be fine however some precautions if it's very wet and going up or downhill as you may struggle in testing environments. For most of your average condition, weather and road surfaces, the On Running Cloud will handle them superbly. I also want to comment on the traditional laces you'll find stashed in the box too – while the speed laces serve excellent for the majority of the time, when you really want to grind and push hard, they are too short to make use of the lace holes towards the tongue, and further down towards the toe.
That's where the normal laces are better suited, for a more snug, firm hold across your feet. I would like to see either another set of speed laces that are long, or just make the current ones a bit longer so we can still enjoy the same level of convenience and assurance, while allowing us to use the other lace loops.
Robust Heel and Fine Detailing
You'll find the On Running in a bunch or colorways from the subtle, too the stylish to the eccentric. I'm particularly a fan of the Cloud design – aerodynamic with its profile and unique outsole design, reminiscent of Nike Air Max but refined and more appealing to the eyes. For premium running shoes, the attention to detail is remarkable, with perforated holes on the tongue, mesh body etched with In Running trims, accents and Swiss flag.
It looks also smart in the all-white variant I'm holding, but the Black Slate, Blue Denim and Slate Rock are also keepers. The overall quality is very high and for premium trainers like these, you'd expect it. I feel the On Running Cloud are built and worth their price tag, when I consider the robustness, materials and detailing. It all feels very well-made and a standard above the rest, especially factoring the lightness.
City Running Shoes for Active Lifestyles
My first foray into On Running's trainer collection, the Swiss brand's entry model 'Cloud' is a great start for individuals who like to exercise outdoors, especially around the city roads with a distinct design and cloud-like outsoles. By the end of it, had me excited about the rest of the collection that excel in rougher, trail and dynamic movements.
If you want to push harder, the more competent Cloud X, Cloudswift or Cloudventure Peak are better suited for those kind of activities. The Cloud however, is an excellent everyday wear for general cushioning, impact comforts around the knee and uplift over steep hills with a sleek aesthetic to stand out in style.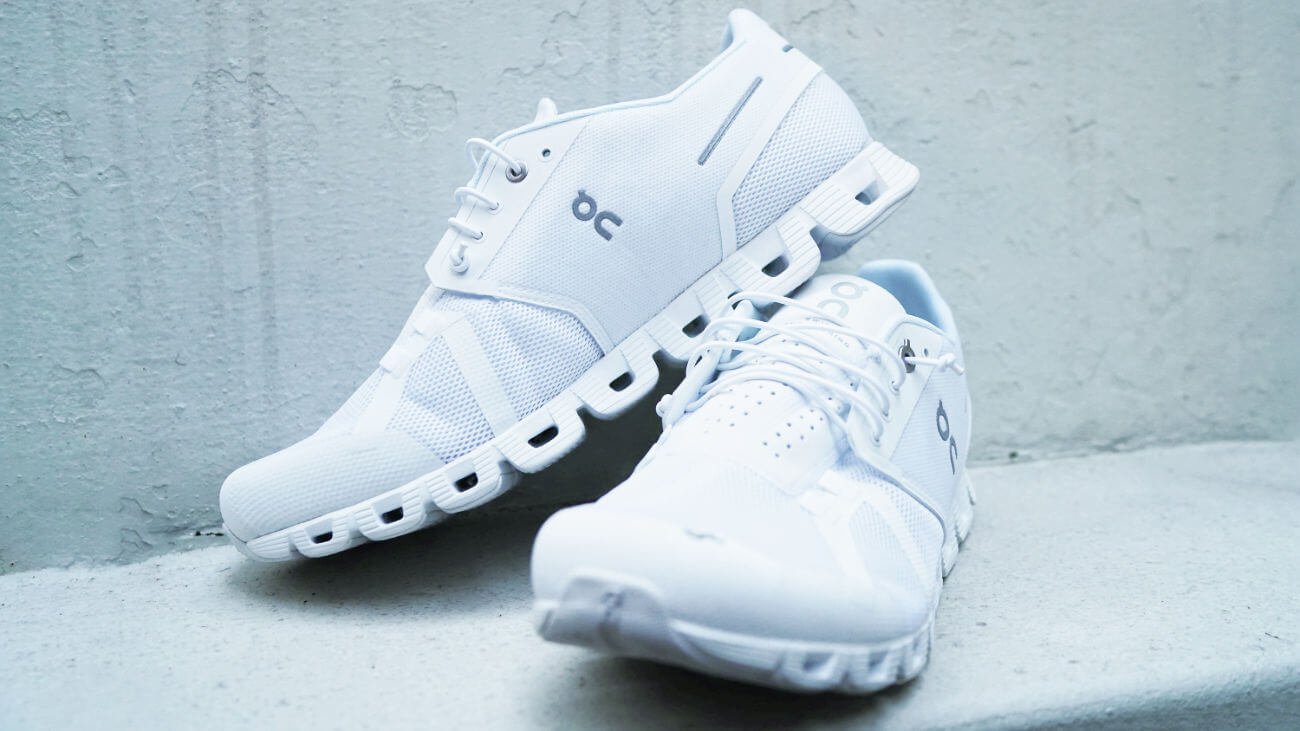 CONCLUSION
A solid running shoe you can wear all-day in the city. Easy on the knees, lightweight and convenient to put on, while pushing hard for your runs. Speed laces hold well no matter the intensity.
HIGHLIGHTS
Excellent grip and traction on road type surfaces
Robust heel for stability and longevity
Nice fit for normal, narrow feet
Beautiful, breathable design
LOWLIGHTS
Speed Laces too short to use all holes for greater fit
Less grippy on wet, slippery surfaces
Very cold to wear in winter