It's been 2 years since I first reviewed the ON Running Cloud shoes, praising them for their lightness, intuitive stride springboard and comfort over a long period of time. I want to follow up my initial review with a deeper impression after much greater usage, sharing how these have held up since.
There are areas the ON Running Cloud shoes have fared far better in general wear and tear compared to other high-performance shoes. But there are also a few things to consider what the limitations are and where alternatives may be better suited.
impressionable performance
Even with several trainers to choose from, when it comes to being on my feet for a long period of time or racking up step mileage, the ON Running Cloud shoes have always been a preferred choice. The lightness holds true to the Cloud name, and there's no doubt the much expanded ON Running range can break the boundary further to stride weightlessly. Not just a marketing stunt after all.
If I had to sum up what you can expect from the ON Running Cloud – refreshed as the Cloud 5, 45% using recycled material – is how light, comfortable and effective it is in propelling your strides without aches or pain points. The speed laces preinstalled are an impressive revolution from the typical hassles of normal laces and one I have not switched back to since I first got these. You get a solid hold and smooth slip-off, slip-on experience for everyday wear.
ON Running shoes have a performance design from the aerodynamic silhouette and impressionable CloudFoam sole with a 'holey' side profile. It certainly reduces drag when in motion, with a ventilated mesh body to keep feet cool. This is great during the summer to perspire but freezes my feet in the winter. Merino wool or warm socks are definitely a must when training in the cold.
excellent impact absorbers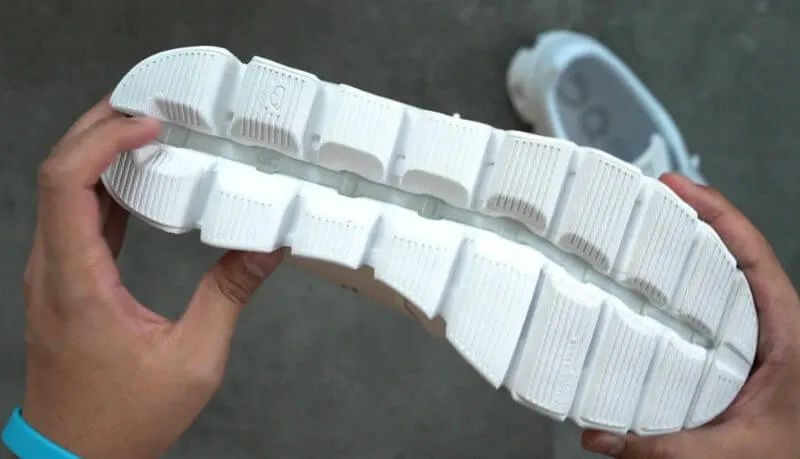 That holey sole I mentioned before is very interesting. The bottom shows the Cloud Foam split into two halves, with a clean separation down the spine. This gives flexible pressure support to your foot. They are amazingly comfortable to wear, one of the best I've worn without feeling like it's overly cushioned which dulls your feet sensors. The Cloud Foam absorbs impact impressively well, making these great for people with knee discomfort walking issues, or shingles. The ON Running Cloud is great for beginners building up miles or experienced runners for training.
Where these don't do so well is heavyweight training when you need a stable foundation and base to exert power. The separate foam design means a less uniform base so I don't recommend it so much if you're doing deadlifts, bench presses, squats etc. You CAN, but they aren't the best. Another to consider is the 'hole' side profile. Rocks are more likely to get sandwiched over gravel terrain so I did find on a few occasions picking stones out from the sole. It doesn't happen much, but it happens more than normal outsole designs.
structurally rigid
In terms of wear and tear, over the last two years, the ON Running Cloud has done well. My all whites stayed like that for a while, as long as I cared for them. Over time, dirt and mud slowly dulled the colour. They returned to a good level of whiteness when I hand-washed and brushed them with baking soda, so they CAN stay white. The only thing is the heel material is different from the side body, so while that returned to a pure white, the body came back more as a cream or off-white. If you use them with care, white can stay white or restored as close to it.
The solid heel may not be to everyone's liking, but if you've had a bad experience before, try these with an open mind. The rock-solid heel is what kept the shoe structurally strong all this time, not deforming in any way and providing great heel support without digging into my skin. I will say structurally it's held up, but the material has worn down to expose the heel material underneath. It's not an issue now but further worn down it could pose an issue. 2 years of constant wear and heavily exercising is not a bad return on usage though.
on running believer?
With all said and down, are the ON Running Cloud shoes worth investing in and does the design work? I've worn barefoot shoes from Vivobarefoot (Geo Court and Magna Trail), Adidas EQT Boost, your typical casual white pair of trainers and a few others. When it comes to being on my feet all day, walking, or exercising for a long period of time, I've always found these the most comfortable of the bunch. The lightness makes me feel very agile and the speed lace system makes these an everyday convenience.
If the heel holds up, they can last for a few more years, but from the number of times I've worn these, I'm happy with the experience and would not hesitate to invest in more ON Running shoes in the future. The wider range including the Swift, Flyer, Nova and Cloud X specialise in certain terrain, weather condition, and activities, so while the Cloud has been a great entry into the brand's ecosystem, I'm hopeful these may offer a greater experience on the original Cloud foundation.