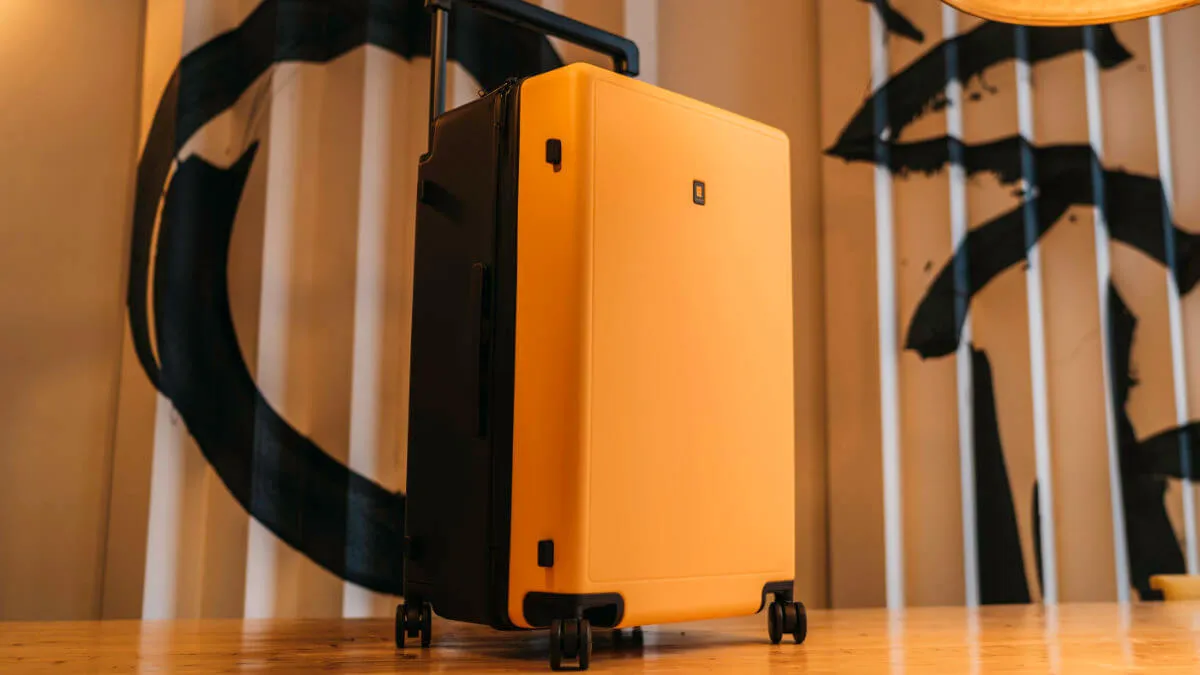 Luggage designed for modern travelling, the LEVEL8 Voyageur has the best handling and quietest wheels I've come across in a 26″ check-in. The wide handrail and contemporary design warrant the curiosity of people as you pass them by. What makes this even more impressive is the premium quality at an accessible price which delivers amazing value for money. The Voyageur will transform the way you think about luggage and once you've tried one, going back to what you know feels somewhat regressive and a little outdated.
PROMO Up to 30% Black Friday Sale on LEVEL8 Luggage with free US and EU shipping. Use code BS20 at checkout. Visit here
BRAND LEVEL8
DESIGN ORIGIN NEW YORK, USA
MANUFACTURE ORIGIN CHINA
SERIES VOYAGEUR
TYPE HARDSHELL
SIZES 26 / 28 INCH
CAPACITY 93 / 99L
WEIGHT 5.35 / 5.62 KG
MEASURES 43.4 L X 33.7 W X 69.3 H (CM)
SHELL GERMANY MAKROLON POLYCARBONATE
WHEELS 360 SPINNER DOUBLE-CASTOR
For disclosure, this article or review features affiliated links which means I may receive a commission if you make a purchase through these links. They in no way influence or dictate my thoughts toward a brand, product or service but a professional assessment through my experience.
hardware details and features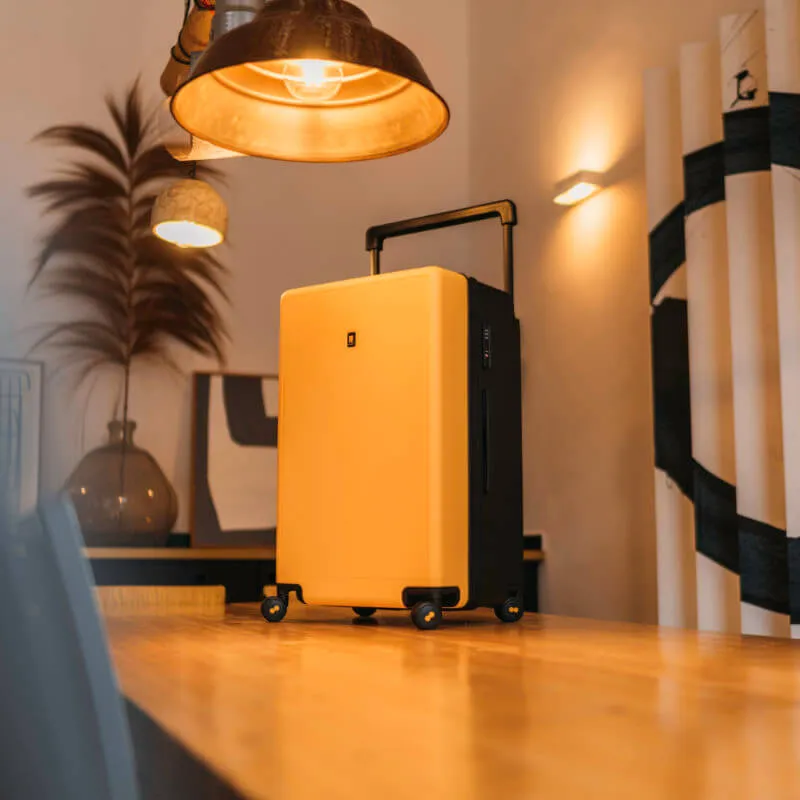 The Voyageur comes in two checked sizes: 26 and 28 inches, offering 93 and 99L in capacity. It's currently available in three colours: yellow/ black combo, all-black and navy. The design strays away from conventional design as the luggage sits wide and deep, and has a roughly 60/40 split opening from the zipper and an aluminium alloy wide handrail to trolley along. The handrail has no wobble and feels super robust in the hand which tends to be a weakness of luggage durability.
The TSA three-code lock is on the left side with one of three luggage handles flanked midway. You'll find the other two on the right and top sides. 360 double-castor spinner wheels are used on all four sides and sit slightly recessed into the luggage body to maintain a fairly low profile. The LEVEL8 branding is minimal and placed on the front in a matching colour.
For the material, the exterior is made of a German Makrolon® polycarbonate hard shell with a micro-diamond finish. Internally, The shallower side has two pockets, one hydrophobic and one normal zipper, while the deeper side is a fully zipped compartment. There's an internal divider that folds down or opens up to create a shelf two-thirds of the way up for built-in separation.
The design is very attractive to me – it's stylish and contemporary. The corners are rounded but defined and soften a boxy design. The details are minimal, clean, and feel in tune with modern travelling.
Rolling and Travel Experience
In a short period of time, I've thoroughly travelled with the Voyageur on my travels within Brussels, London and other parts of the UK. I've taken it on the metro, Eurostar, coach, and underground train and rolled it across many flat and rocky terrain surfaces. Looking back, I'm blown away by how well it's performed in all scenarios. It is without a doubt, a standout performer with how excellent it rolls.
The Voyageur's wide base design gives extra gravity like wide, low-profile cars to reduce the rolling drag while turning. The wide handrail feels more stable than the narrow telescopic handles that tend to either wobble or strain my wrist under heavy load which check-in luggage tends to be. LEVEL8 quote the spinner wheels as 'ultra-quiet'. In reality? They're ultra-quiet.
I've rolled much other luggage and constantly find these so much quieter on harsh surfaces, while these truly glide in the airport to a faint whisper. The wheels are aligned well and carry the direction I roll and let go further than others that tend to veer off sooner than later. Frequent flyers will appreciate the low noise of these wheels and round off a very satisfying performer that indexes better than more expensive luggage.
Internal Organisation
Let's talk about the 60/40 opening because it's quite a fundamental part of the Voyageur- most luggage have a 50/50 split which means both internal sides of luggage offer the same space to pack into. The Voyageur split means you get greater depth towards the rear with a shallower front side. This works well when you need the extra depth for bulkier items and the ability to stack more things on top of each other which sometimes can be restricting in 50/50 designed luggage. And coming from a non-scientific approach, it may play a part in the lower drag I feel while turning and moving the luggage under a heavy load. Some may disagree but this means trolleying is far more responsive with the Voyageur. It's most likely a combination of the various design elements at play in the Voyageur, so take what you will but that's the impression I get.
The benefit of a wide handle design is the broad space internally too. The docking slot for the telescopic handle is now at the sides and corners, instead of two tubular blocks down the middle. Many will appreciate the bare space to lay clothes, and packing cubes among other things. It's not much of an issue, but it definitely feels like a more refined approach than the typical handle design.
A neat addition in the LEVEL8 Voyageur is the internal divider shelf – it folds down or up to section off the top third. The shelf integrates nicely into the system without disturbance. The shelf itself is quite thick and well-padded without the extra heft. This can separate say footwear and clothing, tech gear or smaller cubes and stop these items from crushing each other when the luggage is stood up.
The interior feels higher quality and more durable thanks to the thicker polyester lining. That, and the zip tracks glide smoothly, especially around the corners which can stress the material and create breakages over time. Even when the Voyageur is fully packed, I never had trouble unzipping or worrying that the liner will tear. You can easily see through the main compartment through the mesh liner. While I would like to see a wide pocket on this separator, I don't tend to use it all that often but some may find this useful.
Unique Features
The separator towards the front has pockets – two in fact – and they prove to be very useful. The notable highlight is the hydrophobic pocket with a translucent silicone front and liner. There's some stretch to the material and I can fit quite a lot of toiletry things like my shaver, and a few bottles of creams and gels, although I'd rather stick the latter in a dedicated toiletry. It's better suited for flat profile items but I do say it gives me extra assurance if something exploded… this would at least contain the mess without ruining the rest of my stuff. The pocket may not be entirely relevant to everyone, but it's a useful addition as a one-luggage option, say for a family or if you carry plenty of toiletries and need extra separation.
The mesh pocket beneath is easy to look through with some stretch to separate smaller items or stuff you want access to quicker than the main compartment. There's a track stop just before the main compartment zipper so the pocket zippers never get in the way of the main compartment track. I admire LEVEL8's attention to detail in usability in the Voyageur.
Packing Cube Compatibility
LEVEL8 have its own packing cube set which consists of 1 x large, 1 x medium and 2 x small. While these are perfectly tailored to use within their carry-on range, you can still definitely use these in the check-in Voyageur. The packing cubes are made of the same material as the luggage liner which means they feel robust, offering slight padding and smooth zippers. The velcro patches can be switched to indicate what's inside without the need to look which is quite cool. There's no compression built in so these are for organisational purposes but they're well made to complement LEVEL8 luggage.
The deeper cavity of the Voyageur luggage means you can place packing cubes on top of each other with room to spare beneath the mesh zipper, or lined next to each other on the front side. They also make use of the internal divider where I can stack small cubes together and leave the larger cube below. The packing cube set is a welcome addition and if you find yourself adding a carry-on from LEVEL8 like the Textured or Elegance series, you'll benefit greatly from having these further down the line.
LEVEL8 Voyageur Verdict
The Voyageur is one of the first luggage from LEVEL8 I've tried using and can say they've made an exceptional impression on me. They position among the upper echelon of premium brands and hit premium affordable price points to deliver amazing value for money. The Voyageur is the best example of the innovation LEVEL8 has made, thanks to the game-changing wide handrail, super quiet wheels and pleasant, interior system to round off a complete package.
The Voyageur 26″ checked size hits the sweet spot in volume, size and weight for short, medium and long-term travel, but the 28″ excels as a large capacity alternative when you need the extra volume. When I first saw the Voyageur, I was curious, intrigued and cautiously hopeful. By the end of it, I was impressed beyond imagination and no doubt convinced LEVEL8 walk the talk and have delivered something special.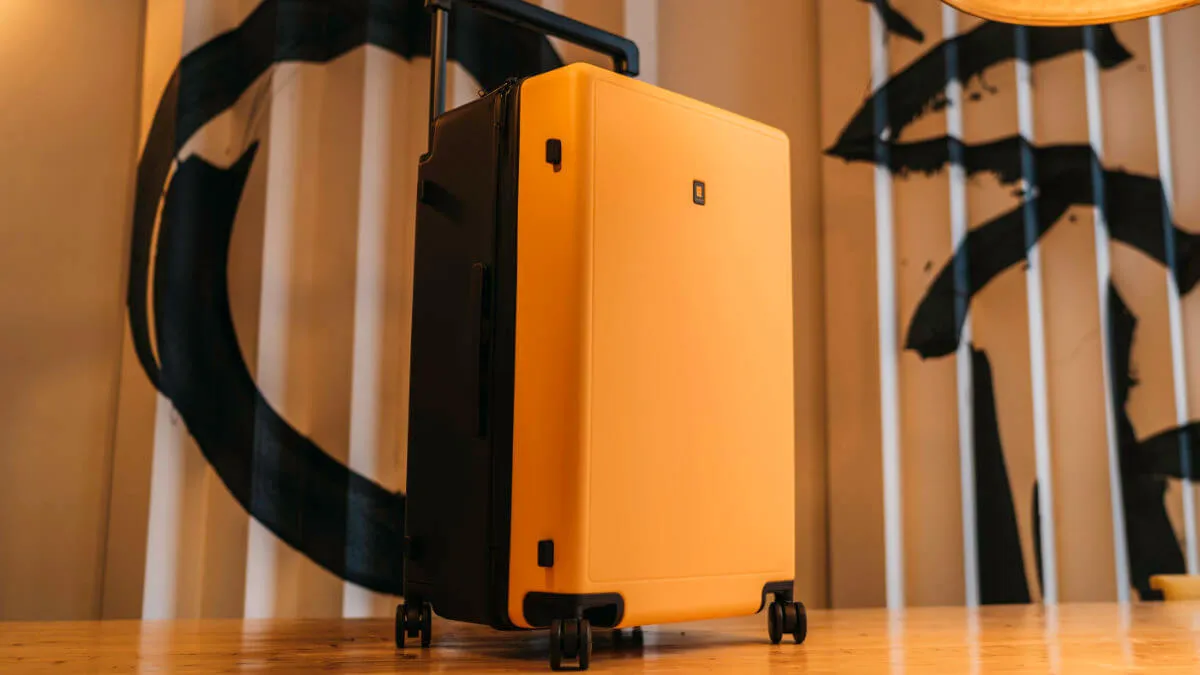 CONCLUSION
Outstanding checked luggage with amazing handling and stability. The quietest wheels I've come across and includes thoughtful internal organisation. A premium luggage at an aggressive pricepoint
HIGHLIGHTS
robust and stable handrail
excellent handling and usability
super quiet wheels
comprehensive internal organisation
deeper compartment for bulkier items
LOWLIGHTS
could add extra wide pocket on mesh separator
so may prefer 50/50 opening
wide and deeper dimensions may feel bulkier for some