When it comes to luggage, people tend to gravitate toward established names or budget options without much thought, however, it's been a long-time coming for upcoming brands to tap into the changing needs of modern travel – an increasing desire for premium luggage design and features attached with affordable prices. And after getting my hands on luggage by LEVEL8, I'm convinced they are leading the charge in that area. With a unique approach to design and functionality, I've been exploring the Voyageur 26″ check-in, Textured 20″ carry on and the packing cube tool set, seeing firsthand just how these tools are redefining what modern travel luggage looks like.
Textured Series Carry On
You can be expressive with carry-on luggage because it travels with you and is less likely to get damaged compared to Check in. The pastel shades of the Textured series breathe new life into carry-on luggage. They're tasteful in tone, ranging from light blue, floral white, pink, olive drab, navy, classic grey, and black. The light blue colour of mine looks so much better in person and gives a cool understated premium look. It has a very attractive minimal design that punches above the premium affordable price tag it rocks.
Everything feels durable, solid, and firm where they need to be. The handrail extends with such fluidity and robustness that's sometimes missing in more expensive luggage, and it's usually here where weaknesses are exposed. The handle wobbles and may cave under tension, but none of that happens to the LEVEL8 Textured carry-on. I honestly feel excited using the Textured and that's because these just feel confident inspiring to travel with.
It also helps how tall the handle extends for a 6-foot guy, and how low it goes for relaxing rolling. When I roll the Textured, it's super quiet and glides, whether spinning on the spot in a 360 or abruptly turning as I navigate around train stations, airports, and within the city of Brussels. These 360-spinner wheels are the real deal.
The inside is as pleasant as the outside, with a minimal, well-executed organisation and a full zipper compartment. The zipper tracks are smooth to open and close, fluidly moving around the corners when others get caught and stress the material. Everything just feels fluid. The left side is split into two zippers on the compartment with the zippers opening from the middle.
Now this is quite interesting as it means the top compartment opens from the bottom, but I'm expecting it was intended to open when laying flat down so the zippers do not get into the way of the main track. I prefer fully sectioned compartments seen here and in the Voyageur instead of open dividers as my things won't fall out when I open the luggage. The Textured offers a seriously rewarding top-class treatment for a fraction of more expensively priced luggage out there. I'm all aboard seeing more quality luggage at aggressive price points if this is anything to go by.
Voyageur Series Check in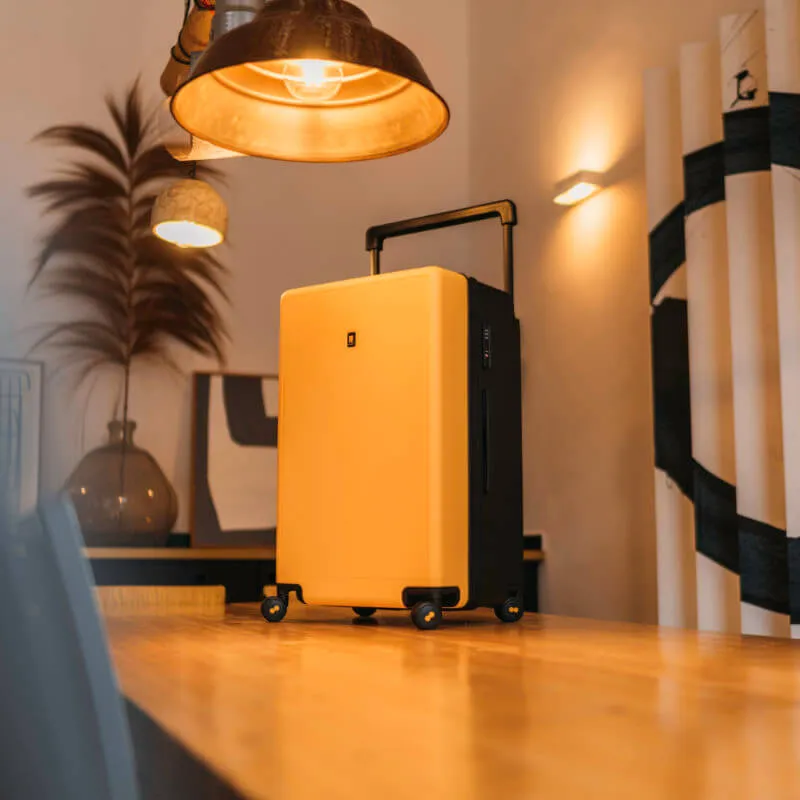 The flagship Voyageur struck me with its unique wide handle, stylistic design language, and bold yellow colorway. Much like how it gripped me with its looks, it's consistently turned heads wherever I travel with it. Much of that admiration is a forward-looking design which fundamentally makes traveling much more satisfying rolling this check-in luggage than any I've used before.
When I moved back from Brussels in Belgium to the UK, I rolled it alongside another luggage to Gare du Nord station, tackling the curbs, downhill walkway, and less-than-smooth surface. I rolled the LEVEL8 Voyageur and noticed how much quieter the wheels handled the surface than my own check-in which was far noisier and louder. Another point is how much the wide handle makes controlling, turning, and moving the check-in much better than traditional handles. The deeper-than-usual measurement gives a wider base for the wheels.
Everything felt responsive and 'sticky' to where I'm going with far less drag. These may seem quite minute details but the impact on handling and usability is huge. Since check-in luggage can be very heavy when loaded up, traditional handles struggle to bear the load and move the way you want it to, usually requiring extra effort, and causing hand fatigue. The telescopic handle starts to wobble and feels less reassuring or like it's going to snap that you resort to changing the way you roll it from the top of the luggage.
The Voyageur feels like it's on another level. It's what you want check-in luggage to be: spacious, well-designed internal, contemporary style, well-oiled wheels, and handrails to trolley along with ease. In most circumstances, walking with the Voyageur for its size and weight felt effortless. It's one of LEVEL8's best luggage designs and a flagship statement about who they are and the quality they deliver.
Packing Cube Set
In some form or another, I've always used packing cubes in my luggage to organise my different sets of clothing. What's nice about the LEVEL8 packing cube set is they're designed to fit perfectly inside any of their cabin luggage, including the Textured series. I wasn't sure what to expect but the set is surprisingly (or unsurprising when looking at the quality of their luggage) really well-made.
The set includes one large cube that fills one side of the Textured carry-on, while one medium and two small cubes fit together to complete the other side. These have nice padding and a quality feel to them, feeling neither flimsy nor heavy. Just smart storage with quality zippers and good soft protection.
The swappable patches that velcro onto each packing cube is a neat feature. It helps identify what's inside without the need to unzip – included patches indicate if they're clean or dity, tech, and toiletries for convenience. Considering how well they fit inside LEVEL8 carry-on luggage and the quality build of them, these offer excellent value for money and complete the overall luggage experience.
Smart Luggage Travelling
My first time using LEVEL8 luggage has been nothing short of feeling very impressed with the quality, and modern design aesthetics. Thoughtful design which improves the functionality of rolling, handling, and packing throughout their range. The Textured carry-on luggage feels very premium for an affordable price of this level, while the Voyageur check-in is no doubt my firm favourite of LEVEL8. I'm a big believer in the wide handle system and I hope they roll it out to more models in the future. The packing cubes are a finishing touch to complete the overall set. Travelling feels even more satisfying, rocking luggage that tackles today's modern travels with the peace of mind functionality you will no doubt appreciate in your travels ahead. LEVEL8 have created exciting luggage and will no doubt be on my radar on how they build on the momentum from here on out.