Back again Team KBA for another guide in the Last Shelter Universe, this time delving into the Seasonal Hero Recruitment Schedule. I'm documenting when these seasonal hero timed exclusive events drop, breaking down the pool of heroes available in each event; a perfect heads up on when you should drop those delicious Super Hero Tickets you've been saving up.
And if you haven't been, start now. I've also detailed token shop refreshes that coincide with the timeline, giving you an idea when previous seasonal hero tokens are available. Please note, this may differ as the schedule may change between states, however from my experience, you'll find the core seasonal recruitment drops are largely the same.
This schedule will be updated as I go through each cycle so be sure to check back now and then for an updated look at the seasonal recruitment cycle. This recruitment guide will cover from S1 to S4, with a dedicated SX hero recruitment guide to be published once I reach the season. Enjoy and support my guide by sharing it with your members on discord, in alliance chat and on social media as it helps me know it's useful to you in the Last Shelter Community!
LAST SHELTER (VIEW ALL)
Clash of Zones: Gathering Day
Clash of Zones: Research Tech Day
Clash of Zones: Hero Development
Baneblade Super Energy Core Guide
Doomsday Shop & Coin Spend Guide
Eden: Dissidia Beginner's Guide
SX Legendary Ticket: Which Hero Group?
Seasonal Hero Recruitment Schedule
SX Hero Recruitment Timeline
Positions for Every Season Hero
Legendary Heroes Guide
Season 1 Heroes Guide
Season 2 Heroes Guide
Season 3 Heroes Guide
Season 4 Heroes Guide
Wisdom Medal Hero Trick Guide
Best Ways to Level Up Heroes Fast
How to Save Electricity with Buildings
Doomsday Season 1 for Beginners
Base Level 25: REAL Journey Begins
Is VIP Shop Worth Unlocking?
Is Project Hero Worth it?
How to Earn Hero Super Tickets Fast
WHAT IS SEASONAL RECRUITMENT?
These limited recruitment events run alongside your usual Super, Advanced and Normal ticket pulls, giving you the chance to gain a seasonal hero. The pool of heroes change, some bigger, some smaller, but a chance to pull any hero in that season, and then later a more focused pool, to get those duplicatesand fully unlock their skills. While base orange heroes only need the 1 duplicate and 5 orange hero medals to unlock skills, seasonal heroes require 3 of that hero duplicates and 4 orange hero medals.
You will also find previous season heroes cycled through the token shop, in between development heroes, which cost 60 tokens per fragment and require a total of 2240 for a complete hero. Remember, you can only pick that hero once per cycle.
These limited seasonal hero recruitment events last 4 days (from hero development COZ until Free Development day reset). This is measured with a luck system out of 1000. The closer to 1000 your luck reaches, the closer you are to a guaranteed seasonal hero. The luck meter resets when you either pull a seasonal hero, luck reaches 1000 or the limited recruitment event ends. Any earned luck points do NOT carry over to the next limited recruitment so once it ends, you start at 0 for the next event. If you are around 850 – 900, most likely your next 10 tickets will reward you.
HOW MANY TICKETS DO I NEED PER HERO?
The range of super tickets flying around on average is roughly 80-100 tickets per seasonal hero. Sometimes higher, sometimes lower, that's just randomness and luck. For example, I've pulled 50 tickets with no seasonal hero during recruitment, while my farm pulled an S2 hero with just 5. It just happens. I then tried again and got seasonal in 20 tickets and then a duplicate in 80 tickets That put my pull rate at 1 in 50 over 100 tickets.
Give yourself the best chance by not spending your super tickets every COZ Hero Day, complete special events where you earn tickets, max zone commemoratiom for double COZ chest rewards, hit chest 3 of COZ, and FINALLY, reach at least Base 23 which awards Super tickets when you win. Base Level 25 is even better.
SEASON 1
Once Doomsday Season 1 finishes and you get your maiden S1 hero (or not) from Doomsday Rewards, S1 recruitment will pop up a few weeks in between the long layover until Doomsday Season 2. It differs in that there are no smaller pools, but is an event where you can pull any of the 9 S1 heroes, which are evenly split between troop types: 3 vehicle heroes, 3 shooter heroes, and 3 fighter heroes.
| VEHICLE HERO | SHOOTER HERO | FIGHTER HERO |
| --- | --- | --- |
| Jax: The Flash | Cincinnatus | Light of the Past |
| Falcon | Fatih The Janissary | Uqbah The Courageous |
| War Boss: Chuck | Bart: The Professional | Dragon's Rage: Danny |
If I can remember there are 2 recruitment pools after DD S1 and before DD S2, with 6 of the 9 S1 heroes available in the Token Shop. This happens once during the period. Note, Jax: The Flash, Cincinnatus and Light of the Past do not appear in the token shop, which makes them the rarer S1 heroes to the max.
TOKEN SHOP S1
Vehicle Hero The Falcon, War Boss: Chuck
Fighter Hero Dragon's Rage: Danny, The Courageous,
Shooter Hero Bart The Professional, Fatih: The Janissary, Cincinnatus
If you already have an S1 hero, there's a chance to pick up their token just before Doomsday Season 2 starts. War Boss and The Professional are heroes I would only suggest picking up, otherwise, you are better off saving them for S2 heroes which are more worth it, though you'll be waiting until at least S4 for that. Seasonal heroes all cost 60 tokens per 5 fragments, requiring 2400 tokens to fully unlock the hero themselves. There's also a chance to earn S1 recruitment tickets from Doomsday tasks (rolling out from newer states) or the permanent S1 recruitment event where you can buy the weekly S1 ticket packs.
SEASON 2
There are a total of 6 S2 heroes, balanced across each troop type: 2 vehicle heroes, 2 fighter heroes, 2 shooter heroes. Season 2 introduces new skill mechanics that when paired with other heroes, creates an environment for their skills to do extra damage, suppression, or continuous attacking outside of the usual combat skills and basic attacks.
RECRUITMENT ALL Doomsday S2 Week -1
| VEHICLE HERO | SHOOTER HERO | FIGHTER HERO |
| --- | --- | --- |
| Captain Ivanov | Inquisitor: Jorge | Viscount: Nigel |
| Panther: Andre | Executioner: Eudora | Knight: Jane |
If you're looking to cast your net as wide and simply want to try your chances of getting any S2 heroes, the all-hero pool is when you should do it. There are more seasonal heroes to potentially pull, however you are less likely to get a duplicate.
RECRUITMENT POOL 2 Doomsday S2 Week 2
| VEHICLE HERO | SHOOTER HERO | FIGHTER HERO |
| --- | --- | --- |
| Panther: Andre | Executioner: Eudora | Knight: Jane |
This is a solid pool with front-row Panther a deadly damage hero that combines well with Captain Ivanov, The Executioner: Eudora an excellent and versatile mid-row/ back-row shooter that deals flammable status and ignite damage, pairing well in future seasons, and The Knight, a solid mid-row fighter hero that has a nice balance of defense and multi damage abilities. You cannot go wrong with any of these heroes, though Executioner is my pick for longevity and usefulness in the Shooter season lineup, while Panther is a great vehicle hero that does best when paired with heroes that complement his.
TOKEN SHOP S1 Heroes
Vehicle Hero The Falcon, War Boss: Chuck, Cincinnatus
Fighter Hero Dragon's Rage: Danny, The Courageous
Shooter Hero Bart The Professional, Fatih: The Janissary
OFF-SEASON TOKEN SHOP Development Heroes
Frontline Medic, Pioneer, Carpenter, The Alchemist, Oil Tycoon, Esquire
RECRUITMENT POOL 3 Doomsday S2 Week 5
In this pool, we have the front row fighter Viscount: Nigel, the mid/back-row vehicle hero Captain Ivanov, and the mid-row shooter hero Inquisitor: Jorge. These are your best chances of getting duplicates for them if you pulled either in earlier recruitment pools or prefer your chances of getting these heroes in S2. While the pool of heroes is small, the chances are slimmer so expect to pull more super tickets to get what you need.
| SHOOTER HERO | FIGHTER HERO | VEHICLE HERO |
| --- | --- | --- |
| Inquisitor: Jorge | Viscount: Nigel | Captain Ivanov |
For this pool, Captain Ivanov is the best hero to aim for, as his high damage makes him great for any vehicle APCs and combines well into the later seasons like Major Anastasya. Viscount: Nigel is a solid front row fighter hero for a few seasons, while Inquisitor is also a great shooter hero best partnered with Executioner or future season heroes that cause flammable status.
OFF-SEASON TOKEN SHOP Development Heroes
Great Engineer, Frontline Medic, Marketeer, Drill Master, Master Marksman, Mechanic
RECRUITMENT POOL 4 Doomsday S2 Final Week
During the final week of Doomsday Season 2, there is a final S2 all-hero pool from hero development COZ until the end of Season 2. It resets after the last free development day (this is COZ Warm-up week for us so no Kill Enemy before the last war). This limited recruit finishes after you receive your Doomsday S2 rewards in the Tally Phase.
| VEHICLE HERO | SHOOTER HERO | FIGHTER HERO |
| --- | --- | --- |
| Captain Ivanov | Inquisitor: Jorge | Viscount: Nigel |
| Panther: Andre | Executioner: Eudora | Knight: Jane |
Like the beginning of the season, you get access to all S2 heroes. It's a chance to complete any S2 heroes you have or add to your roster, though duplicates in larger pools are always less likely. I would suggest saving your super tickets for Season 3 as if you rank well for Doomsday, you'll get a few S2 heroes.
And if you don't have any S2 heroes from rewards, don't sweat it as Season 3 is not too far from here. This is the last chance to try your luck at S2 heroes until they next become available in the token shop in Season 4. Quite a while.
END OF DOOMSDAY SEASON 2 TALLY PHASE
OFF-SEASON TOKEN SHOP Development Heroes (2 Weeks)
Great Engineer, Drill Master, Master Marksman, Mechanic, Foreman, Patriot, Taskmaster, Chrome
TOKEN SHOP Development Heroes (2 Weeks)
Great Engineer, Foreman, Patriot, Taskmaster, Chrome
SEASON 3
Unlike previous seasons where heroes were available either on the weekend or a week prior Doomsday, Season 3 heroes are available when Doomsday Season 3 starts and lasts for the entire week. A longer time frame to work with saving those tickets and pulling them as you go before duels commence.
ALL S3 POOL START OF DOOMSDAY SEASON 3
Season 3 is arguably the biggest pivot in gameplay mechanics when it comes to heroes. They introduce heroes that add more complexities to battles such as healing and stackable skills. The newest additions lean heavily towards vehicles, with a total of 6 heroes available, yet 4 are vehicle exclusive heroes, 1 fighter exclusive hero and 1 shooter exclusive hero. Experimenting these with other seasonals will largely change how battles play out.
| VEHICLE HERO | SHOOTER HERO | FIGHTER HERO |
| --- | --- | --- |
| Countdown | Wings of Liberty | Tech Priestess: Jiwon Lee |
| Farseer | | |
| Vanguard | | |
| Major Nastasya | | |
If there is a season to drop saved up tickets on, this is the season. Without having to wait too long, Season 3 offers a deadly vehicle APC formation which are the 3 sisters (Countdown, Farseer, and Vanguard), combining together to remove prep turns on combat skills, damage buffs, and stackable traits, provided you attain all 3 sisters. For that, you need to drop many tickets.
If you pulled Captain Ivanov, Major Nastasya is an excellent addition to forming another deadly APC formation. Panther added to the mix completes an S2 and S3 trio if you don't get the 3 sisters.
One of the best fighter heroes is in this season, which is Tech Priestess: Jiwon Lee. She is a fighter you definitely want for an all fighter or mixed APC thanks to her healing abilities which does some serious troop recovery.
TOKENS: S2 HERO EXCHANGE GROUP 1 // DD S3 WK 3
THE KNIGHT: ANNA, THE EXECUTIONER: EUDORA
The first S2 heroes have landed, which are shooter hero Executioner and fighter hero Knight. There's been a change to older states in that we now have to wait for 3 total S2 groups vs the 2 groups of 3 S2 heroes previously.
If you only need one more copy to max, Executioner is the better bet for her staying power, while Knight will play a part until falling off in S4.
S3 POOL 2 DOOMSDAY SEASON 3 WEEK 3
| VEHICLE HERO | SHOOTER HERO | FIGHTER HERO |
| --- | --- | --- |
| Major Anastasia | Wings of Liberty | Tech Priestess: Jiwon Lee |
The first smaller pool is Major Anastasia, Tech Priestess and Wings of Liberty, meaning the '3 Sisters' will be in the next smaller pool in 2 weeks time. For the endgame, this would be the pool to drop tickets on, with Tech Priestess and Major Anastasia the top of the crop.
Depending on your ticket stack and strategy on how you want to drop tickets, you'll need at least 100 tickets including a buffer for seasonal hero. Ana will work great in mixed APCs, playing well with shooters, while Tech Priestess is a top-tier fighter hero with amazing healing abilities that plays well with mixed APCs too.
Wings of Liberty is a decent front-row fighter but not top tier. He will sit well in a shooter APC but doesn't have any staying power after S4, while the other two do. Higher chances to get dupes in this smaller pool during the 4-day window for this pool.
TOKENS: S2 HERO EXCHANGE GROUP 3 // WK 5
PANTHER, CAPTAIN IVANOV
A major update in the token shop as unpredictably Panther and Captain Ivanov appear together in the token shop. Together they have high synergy to top one of, if not the best high poison tiling for Doomsday, and both basic troop attack focused that complement each other. Pair with Major Anastasia in S3 and you get a deadly trio comparable to the Three Sisters that continue to play roles in future seasons.
Should you get them? 100% Yes. Ideally both of them to develop over time. Either still also still powerful with skills 1-5 maxed which tells you how good they are. If you only have enough for one, I would edge Captain Ivanov for his versatility in future formations, but Panther is equally as effective to pair with other back row damage dealers. These two would be an exception if you don't yet have these heroes, with Ivanov my choice to pick if you can only get 1 of the two heroes. A significant token update that can really upgrade player APCs, especially Free to Play players.
S3 HERO POOL 3 WEEK 5
The Three Sisters arrive two thirds of Doomsday Season 3, in a pool together if you got your eye on trying to build the full APC setup. Countdown Veronica is the backrow damage dealer that abandons basic attacks for bolstered skill damage, while farseer occupies the mid row and delivers both damage, buffs and immunity to full cancels including confusion and suppression. Vanguard pioneers in the front row, acting as the supporting hearing to beef up skill damage further, and more important add status effects to increase skill activation with a chance to skip any turn prep of another friendly squad.
Altogether, they form a deadly vehicle combination that's certainly top tier in the seasons so far, trading blows with the Panther, Ivanov and Anna setup. Should you go for this pool? If you've had your eye on the Three Sisters, this is when you'll want to drop your tickets. Your chances of duplicates are higher and it looks like pull % seem slightly better for others, though my experience fell foul to the 80 – 100 Super Ticket range per seasonal. You'll still want a high stack of super tickets if you want to maximise this pool opportunity as you won't get them altogether in Doomsday Season 3.
Individually, they can sit with other heroes though their synergy is best when together. Countdown and Vanguard seem to be the more pivotal pairing vs farseer, however either play well with other heroes. Should you go for these? Unless you are working on the Panther Ana Ivanov APC combo, the Three Sisters is the alternative to that. 100% Yes. And if you decided to pull in the all hero pool at the beginning of this season, this is your best chance to get that duplicate.
S3 FINAL ALL HERO POOL WEEK 7
Wrapping up, we have the final all hero pool in the final week of Doomsday Season 3. This is a 4 day pool where you can dip for any last chance S3 heroes to fill in any of the gaps before receiving Season Rewards. It finishes just before Tally Phase starts and when those rewards are sent out, so really only go for this pool if you already dropped in S3 heroes and want to build them up a little more.
After this, you'll have to depend on those token shops and paid for S3 ticket packages in the benefits tab so if you have roughly 80 – 100 Super Tickets and plan to save up for later, do it here.
TOKENS: S2 HERO EXCHANGE GROUP 3 // WK 7
VISCOUNT, INQUISITOR
Coinciding with the last S3 hero ticket pool is the final grouping of S2 heroes in the token shop: front row fighter hero Viscount and mid-row hero Inquisitor. Depending on your hero token balance, I would largely suggest to miss this token shop refresh for both Viscount and Inquisitor, with a few exceptions to where you may pick either, however would then edge towards Inquisitor or missing this entirely.
Even if either of the two are missing 1 skill left to max them out, there's a strong reason to skip this cycle. Primarily it's the timing where Season 3 heroes will appear in the token shop in Doomsday Season 4, and you may notice throughout Doomsday Season 3 that the heroes are very strong. Fighter APC formations are an added bonus and while Viscount is decent, the scarcity of hero tokens being limited to organically gaining 60 tokens per day means you want to be smart with them. Viscount isn't an influential hero to change the tide of battle while Tech Priestess becomes the fighter you want so saving tokens for her is a must.
And then we have Inquisitor which is a tough one, as I come from experience have him myself, and only needing Skill 7 unlocked to max him out. Even then, I still chose to skip this cycle because the marginal gain of unlocking skill 7 for that formation might increase, isn't as beneficial as say unlocking awaken on my Countdown or Major Anastasia, and the recovery skill of Tech Priestess.
It's the fact that S3 heroes will be in rotation once Doomsday Season 4 starts and there's not much time in between so I would suggest to continue saving your tokens for those. But, if you are running a solid shooter APC already and say have a very usable lineup with Wings of Liberty or ideally Executioner to make Inquisitor more effective, each well developed too, then I would ONLY suggest then you could max Inquisitor. Otherwise, keep moving along folks, tokens will get super hot sooner than you think.
SEASON 4
S4 balances out the troop balance with 3 shooter heroes compared to 3 vehicle heroes last season. The crop of heroes are largely great and complement existing APCs well, with few heroes like Deus Ex Machina, Hummingbird, Venom Walker and Caesar ones I deem to improve the overall strength of positives in this season.
S4 sadly is sandwiched between S3 which featured solid heroes and SX which opens up pandora's box of new heroes so unless you're spending big money on super tickets, it would be reasonable if you skip S4 if you don't have many tickets. Look out for the smaller pools if you plan to dip and check out my videos on each pool to learn more of my thoughts and insights into each hero.
S4 ALL HERO POOL WEEK 1
The full suite of S4 heroes is live! Check out my Season 4 Heroes guide to learn much more about each one of them. We have 3 shooter heroes (Hummingbird, Deus Ex Machina, Commissar), 2 Fighters (Juggernaut, Venom Walker), and 1 Vehicle hero (Caesar). S3 packed plenty of vehicle punch and high staying power heroes like Tech Priestess and Major Anastasia, while this season's top tier heroes (IMO) is Hummingbird with Deus Ex Machina a little behind. Venom Walker and Caesar are in the next tier beneath of excellent heroes, while Juggernaut is decent before the balance of quality is brought down with featured hero Commissar.
There's a 1 in 6 chance of getting Commissar which is risky but fairly low. I would buffer more tickets than usual to compensate if you do pull Commissar so at least 200 tickets minimum. 500 tickets is a good amount to develop heroes if your lucky is good, though I suggest if you decide to dip into S4 to save for the smaller pools.
TOKENS: S3 HERO EXCHANGE GROUP 1 // WK3
TECH PRIESTESS, MAJOR ANASTASIA
Stunner of an opening to S3 heroes in the token shop with arguably the best S3 heroes paired together! Tech Priestess and Major Anastasia. Both top tier heroes still in SX that pairs very well with others. Should you get them? 100% YES. Even if you don't have a single copy? Yes. What if you can only get one hero? Go for Tech Priestess. Her excellent healing ability makes her indispensable and is certainly one to develop for the future.
Open up her skill 8 if she's your second copy with either awaken 6 or skill 8 for Anastasia. I opened up her skill 8 first to prop damage for Captain Ivanov but depending on your back row hero, the extra troop count keeps the battle alive for longer. Certainly, pick both up if you can.
S4 HERO POOL II WEEK 3
The first small pool is a high risk, high reward type of pool consisting of the shining hero Hummingbird, the average Juggernaut and the pretty bad Commissar. With 3 legendary heroes, there's a total of 6 in this pool. Your chances of picking up Hummingbird (which is the only reason to dip into this pool) is greater, however the overall quality is not that great due to the imbalances of the other two. If luck is on your side, Hummingbird is great, but definitely stack a buffer of extra tickets for the likelihood you pick up Commissar and to a not-as-bad-but-not-as-good Juggernaut if you plan to max Hummingbird.
TOKENS: S3 HERO EXCHANGE GROUP 2 // WK5
WINGS OF LIBERTY, VANGUARD
Group 2 of S3 heroes in the Token Shop features Wings of Liberty and Vanguard! That confirms the final group fo S3 in the last refresh of Doomsday Season 4 is Countdown and Farseer. If you have either that is missing their final skill, pick them up over the next 2 weeks to complete them. None of these heroes are worth picking up your first copy of (and generally you shouldn't with tokens, with very select hero exceptions).
Wings of Liberty only consider if you have a competitive shooter APC with him, while Vanguard has good staying power into SX and if you built up the Three Sisters formation to improve their overall strength. If not, then skip this refresh with 840 tokens you can save up from now until Countdown and Farseer.
S4 HERO POOL II WEEK 3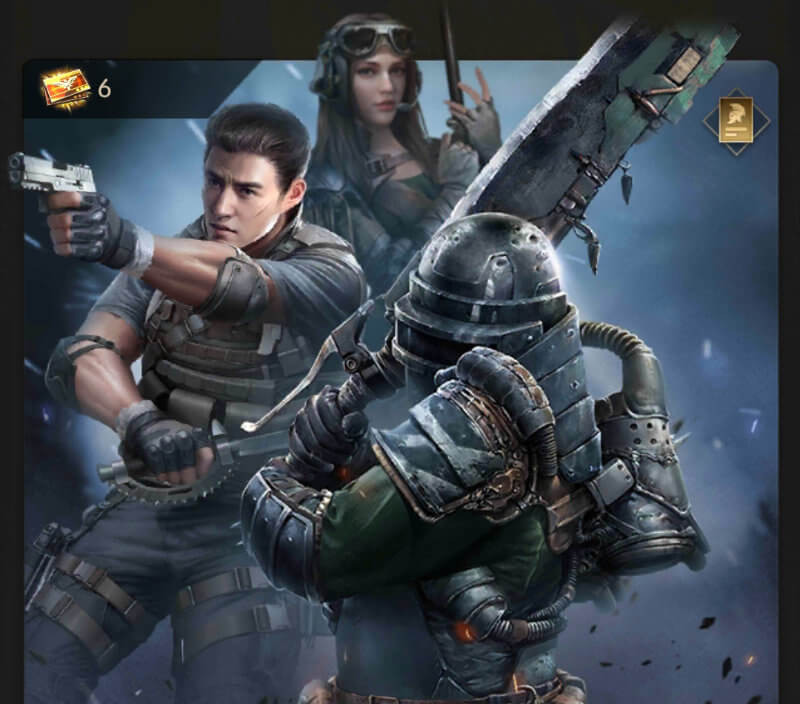 The devs need to certainly change the graphics but this is the 2nd small group of S4 heroes: that is Deus Ex Machina, Caesar and Venom Walker. Whereas the first group was the high risk high reward in pairing Hummingbird (the win), Commissar (the loser), Juggernaut (the average), we have a full set of high quality heroes in all three, with Deus Ex Machina taking the top, Venom Walker 2nd and Caesar the 3rd spot, BUT the standard is higher.
A great quality set of pools with solid staying power into SX (Deus most, venom until you get the SX replacement and Caesar a situational alternative). S4 tends to be skipped due to SX incoming, however, this pool still provides a solid set of competitive heroes that can slide into SX.
TOKENS: S3 HERO EXCHANGE GROUP 3 // WK7
FARSEER, COUNTDOWN
The final group of S3 heroes in the token shop which we confirmed it would be Farseer and Countdown! With the way the token shop is going, we should see S4 heroes appear in rotation in the first SX season but we will see. As for S3 heroes, should you drop your tokens on either of these? Depending on how many tokens you have and being so close to SX, unless you have well-developed copies of either of the two, or have the three sister formation, then you're better off saving up. I find Countdown has a little more reason to pull the trigger than Farseer if you opted to choose one based on her longevity, a little more versatility being the back row damage dealer with the options to choose someone in front.
But of course, if you don't have a single copy or duplicate, none of these would be appealing and you're best to save for SX which requires 3,000 tokens.
That's all folks! This is the completed seasonal recruitment timeline guide for seasons 1 – 4. Stay tuned for my upcoming SX recruitment timeline which will focus solely on the pool and token drops, while also optimising the content to be more digestable and retain all the value you're looking for. Check out the rest of my Last Shelter guides and join Team KBA viewing my gaming playlist for all things Last Shelter.
LAST SHELTER (VIEW ALL)
Clash of Zones: Gathering Day
Clash of Zones: Research Tech Day
Clash of Zones: Hero Development
Baneblade Super Energy Core Guide
Doomsday Shop & Coin Spend Guide
Eden: Dissidia Beginner's Guide
SX Legendary Ticket: Which Hero Group?
Seasonal Hero Recruitment Schedule
SX Hero Recruitment Timeline
Positions for Every Season Hero
Legendary Heroes Guide
Season 1 Heroes Guide
Season 2 Heroes Guide
Season 3 Heroes Guide
Season 4 Heroes Guide
Wisdom Medal Hero Trick Guide
Best Ways to Level Up Heroes Fast
How to Save Electricity with Buildings
Doomsday Season 1 for Beginners
Base Level 25: REAL Journey Begins
Is VIP Shop Worth Unlocking?
Is Project Hero Worth it?
How to Earn Hero Super Tickets Fast