What's up Team KBA! We're in the Last Shelter Universe and I've hit a new milestone in the game – SX has arrived! That brings an entirely new seasonal recruitment timeline as I did for S1-S4 with some refinements to the presentation and layout, as well as what you need to do. This is based on the 8xx state range for reference as there may be slight changes but will give you a heads-up for newer states as to what you can expect, and for those in a similar state bracket, some of my thoughts including a new rating for the SX pools and whether they are worth it.
You'll slowly start to see SX-related hero videos and Eden: Dissidia content publishes so keep an eye out for that, while you can check out the rest of my COZ guides, S1-S4 hero guide, and more to support my work! Thanks and hope you find the limited hero recruitment timeline below useful going forward.
>> Pre-SX Seasonal Recruitment Schedule <<
LAST SHELTER (VIEW ALL)
Clash of Zones: Gathering Day
Clash of Zones: Research Tech Day
Clash of Zones: Hero Development
Baneblade Super Energy Core Guide
Doomsday Shop & Coin Spend Guide
Eden: Dissidia Beginner's Guide
SX Legendary Ticket: Which Hero Group?
Seasonal Hero Recruitment Schedule
SX Hero Recruitment Timeline
Positions for Every Season Hero
Legendary Heroes Guide
Season 1 Heroes Guide
Season 2 Heroes Guide
Season 3 Heroes Guide
Season 4 Heroes Guide
Wisdom Medal Hero Trick Guide
Best Ways to Level Up Heroes Fast
How to Save Electricity with Buildings
Doomsday Season 1 for Beginners
Base Level 25: REAL Journey Begins
Is VIP Shop Worth Unlocking?
Is Project Hero Worth it?
How to Earn Hero Super Tickets Fast
SX Hero Drop 1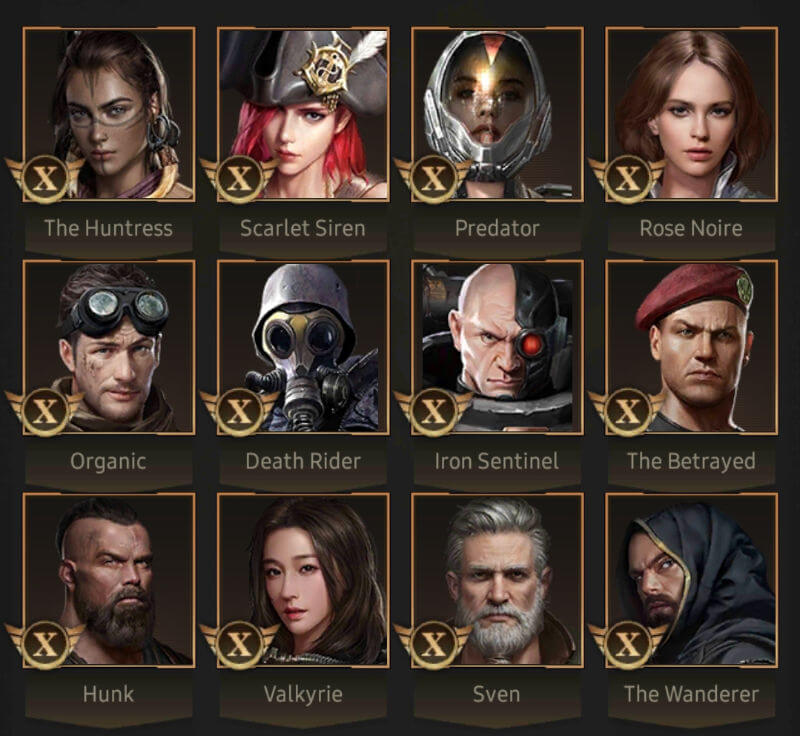 Pretty exciting to have the first set of SX heroes, right? But stepping away from the shininess of new heroes coming into the foray, we can see the SX pools are much larger than any we've had pre-SX. With a total of 12 SX heroes, there are 5 fighters (scarlet siren, sven, hunk, wanderer, iron sentinel), 4 shooters (Valkyrie, Predator, Rose Noire, Betrayed), and 3 vehicle heroes (Organic, Death Rider, Huntress).
There are a few top-tier heroes mixed in with great ones, wrapped with less than appealing SX heroes. Specifically, Death Rider being my top pick, with Scarlet Siren, Predator (formerly known as Tracker), Organic, Valkyrie, and Huntress (though new and unproven looks promising) the next batch of heroes that are great additions. Sven is excellent to help with force tiling which outside of combat, he serves a unique purpose (like S2 Panther, who you can pair with, and Captain Ivanov for the top formation to force tile). Rose Noire, Betrayed, Iron Sentinel, are good options in SX – not the best but serviceable additions. Hunk while individually not as strong, can form a very sorbitol but highly rated mixed formation. Wanderer is the least impressive in this set compared to the other SX heroes simply dur to his underwhelming offensive skillset as a backrow hero.
In terms of combinations, there's no standout APC pairing which means you'll need to dabble in other hero pools to put good hero synergy together, but if you're looking as to what you can make within this pool, Valkyrie / Predator / XXX is an excellent foundation for shooters, with Rose Noire and Betrayed serviceable in the back, though there are better glass cannon options. XXX / Organic / Death Rider or XXX / Organic / Huntress (unproven) for the mid / backrow builds a very potent vehicle combination to add onto and Sven / XXX / Scarlet Siren for fighters. This is purely trying to build an SX combination solely from this pool. The others can fit in, but are less desirable over other SX heroes not in this pool so I omitted.
GROUP QUALITY: 7 [HIGH RISK, HIGH REWARD]
Several top heroes worth dragged down by less desirable heroes which make the overall quality of the pool decent, but not great. The slight weighting towards fighters which offer the weakest selection (an exception to Scarlet and potentially Sven exclusively for force tiling) means it's quite risky to bet on this set to pick up the top heroes, which in itself are limited to a few.

If you're looking to flesh out your shooters and fighters, this isn't a bad set – better pay off for shooter heroes than the selection of fighters. It's risky for the worthwhile vehicle heroes, but if you have tickets to plunge for that early access, it may pay off. If not, we'll see what the second pool has in store and you're more likely to get more useful heroes outside of the top tier ones.
SX Hero Drop 2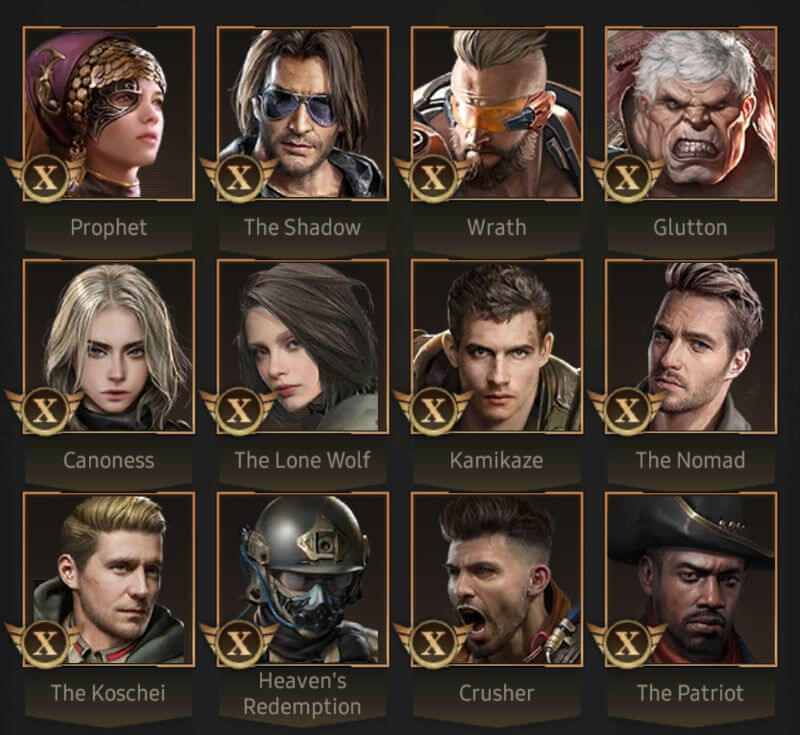 Well that was fast wasn't it?! Certainly a shocker out of the blue, but also makes makes sense. First SX season, frontload anyone who wants to upgrade right in the beginning to use for the rest of the season. We have the final 12 SX heroes in this drop that spans the full 2nd week of Eden: Dissidia, 4 vehicle heroes (wrath, crusher, heaven's redemption, kamikaze), 4 shooters (nomad, koschei, patriot, shadow), and 4 fighters (prophet, canoness, glutton, lone wolf).
The breadth of quality in this pool is exceptional, with glutton, canoness, nomad, kamikaze, wrath the best of the rest, koschei, heaven's redemption, crusher, prophet next highly rated heroes, patriot and shadow, good standard with lone wolf the worst of the pack.
If you're new into SX and have a decent stack of tickets to pull even a couple, you're in a good position to get great heroes you can build on for later, while maxing demands far more tickets to complete the entire set. I would say fighters have the overall best standard across the troop type heroes, as besides the lone wolf, the others are excellent, then vehicles and then shooters, in their balance of power and worth.
Glutton / Canoness / XXX make a top fighter formation or mixed APC with glass cannon a the back. Glutton / Canoness / Lone Wolf for a complete fighters in this drop, though lacks a punch. Prophet can service the back row from this drop. Koschei/ xxx/ Nomad also makes a top shooter formation, while Kamikaze / HR / xxx or Crusher / HR / xxx offers a stellar vehicle formation. Kami / Wrath / xxx can also work with more troop block and status effect approach vs HR's standard defensive skillset. Patriot would be 2nd fiddle to Nomad in that line-up. You can put together high quality formation in this drop vs the first selection pool.
GROUP QUALITY: 9 [RECOMMEND]
Though a large drop of 12 SX heroes like the first one which makes maxing these heroes more difficult, the quality in this group is very high. While Death Rider was the stand out in the first drop, there are five heroes that meet the same top-tier standout. Even after that, you have excellent heroes that build out strong synergy while the solid heroes are still very good.

Considering most if not all of these heroes are worth having to develop for the future, even if you don't have the high number of tickets for maxing, it's an excellent drop to put your tickets down. Where hero drop 1 was high risk, high reward, drop 2 is low risk, high reward!
TOKEN SHOP S4 GROUP 1
JUGGERNAUT, HUMMINGBIRD

Hummingbird is an exception to pick up for the long game if you don't have a copy, as an excellent shooter hero, provided she has the support and coverage. If you have any dupes of her, she is definitely worth opening up further in order of Skill 8, 6 and finally 7. Juggernaut is a hard pass no matter if you can max him – he's simply overwhelmed by the strength of SX fighter heroes like Canoness, Glutton and Tech Priestess.
SX Hero Drop 3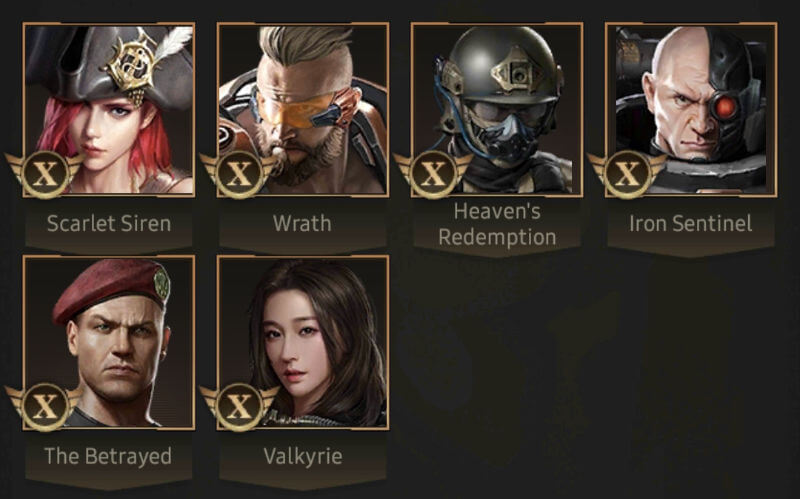 The first small drop in Season 5, we've got a new pairing of top tier heroes with a solid, but not great, lineup. The heroes are balanced, with 2 vehicle (Wrath, Heaven's Redemption), 2 Fighters (Siren, Iron Sentinel), and 2 shooters (Valkyrie, The Betrayed). Valkyrie and Siren are the offensive damage dealers, while the rest are more supportive and counter heroes for their respective troops.
If you have any pre-SX fighter heroes like Tech Priestess and Venom Walker, Siren will form a top fighter formation in the back row. Iron Sentinel can be placed in the front though there are stronger heroes for this position. Heaven's Redemption is the same as Wrath as an alternate mid-row support hero, where you can build front and back row heroes around such as Caesar, Vanguard, Kamikaze, Crusher, Death Rider, Countdown or Captain Ivanov.
Valkyrie if you have Predator or Inquisitor with any pre-SX backrow or Nomad, Hummingbird will be an excellent shooter formation, but works in the sum of the formation, since Valkyrie is a very specific, niche type of shooter.
GROUP QUALITY: 7 [SIREN & WRATH]
If you dipped into the larger SX hero drop and picked up any of Siren or Wrath, the top picks of this set, this 6-hero is a pretty appealing set to go into, provided the other heroes can slide into your APC. Otherwise, skip if you are yet to get any SX heroes as these are mostly support heroes in the mid-row, unless you specifically want siren and wrath.

The shooter set are solid though not the best, while iron sentinel is the least attractive hero in this drop. Wrath or Heaven Redemption's are excellent pickups but are formation building and not significant enhancements to game chance an APC, but build around. If you decide to pass, you'll have to wait until next season but may get smaller drops for higher duplicate copy chances.
SX Hero Drop 4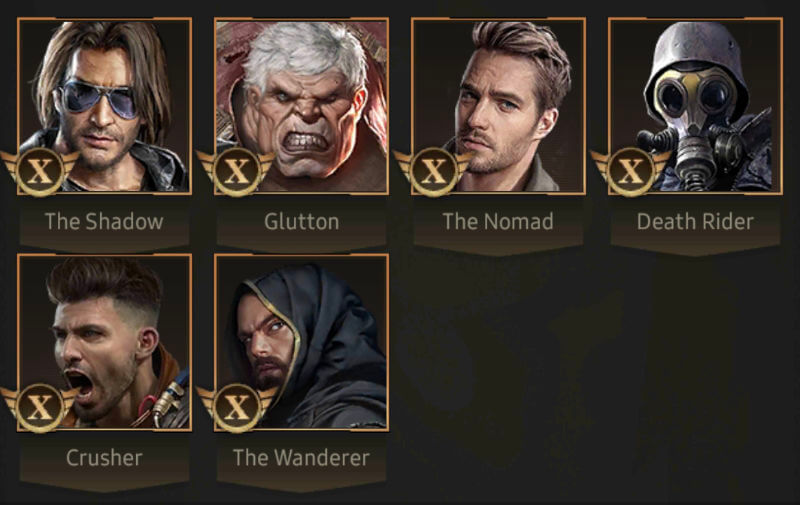 This is an insane hero drop with the top tier Nomad and Death Rider in the same pool for a near full sweep of offensive backrow heroes to bolster your shooter and vehicle APCs. There's then a top tier front row fighter in Glutton, solid frontrow vehicle hero Crusher and serviceable Shadow, while throwing in the spanner of Wanderer to add a little more reality to this crazy drop.
If you can pick up just 2 copies for DR and Nomad, they are enough to be useful in a main APC. Nomad you'll want his skill 8 open for that +1 position so he's out of range in combat while DR depends on where you want to use him – skill 6 to 1 hit doomsday tiles with an all vehicle thanks to his +300 destruction power or skill 8 for strong combat presence. Crusher is a very good hero until you can get Kamikaze, while Shadow is an evasive front row that is decent until better options come along. Wanderer is someone you hopefully won't get, but means a little more ticket buffer gives you breathing room for the heroes you are seeking.
GROUP QUALITY: 8 [DEATH RIDER, NOMAD, GLUTTON]
A strong damage dealer hero drop mixed in with solid front row heroes, thrown off with the Wanderer for good measure. If you're looking for that missing link in backrow big hitters such as Death Rider for vehicles, Nomad for shooters and can find suitable placements for Glutton and Crusher, this is a strongly favourable pool to pick these top tier heroes. Shadow is a decent pickup if you don't have a seasonal shooter front row while wanderer is the joker. Crusher will make a great front-row for the rest of your APCs.
TOKEN SHOP S4 GROUP 2
VENOM WALKER, COMMISSAR

Venom Walker is a pretty solid backrow fighter hero that isn't necessarily great for damage, but has a unique sustained curse, burning and poison skill stack that accumulates and deals more consistent damage over the turns. His mid turn activation for solid healing is great and pairs for a solid fighter formation if you want an alternative to Scarlet Siren, Lone wolf or upgrade to S2 Knight or S1 Dragon's Rage. He can also go in the midrow to work alongside them.

Commissar is honestly a waste of tokens so avoid spending on him at all costs. See my S4 heroes guide as to why.
SX Hero Drop 5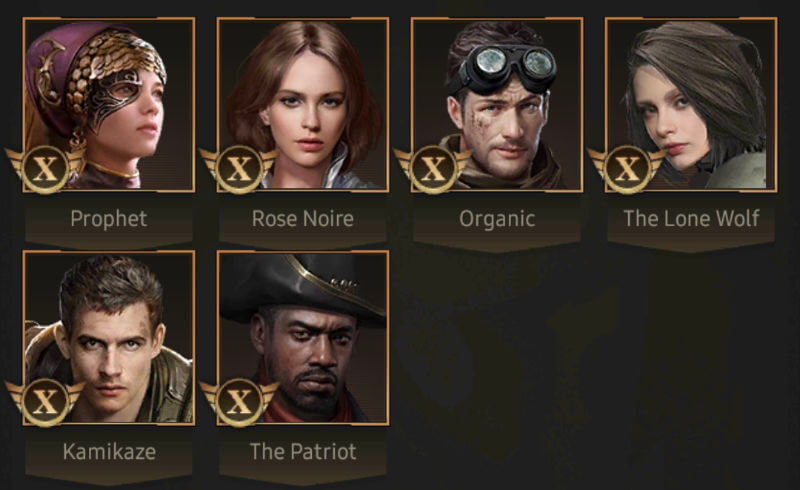 The defacto front row vehicle hero is in this drop, with Kamikaze being the top pick and biggest reason to pull in this drop. He's crazy insane with his top healing, beastly counterattack and is usable with just two copies. Prophet is my highly rated hero and is a support that buffers an offensive hero like siren or any high damage output, whike lffering good enemy debuff and linked damage. Organic is next up as an alternative to Heaven's Redemption a d Wrath, offering good counter synergy and damage effects. Rose Noire has great synergy potential to link up with other shooters focused around basic attacks like predator, while Patriot is decent, offers great 3 turn shooter output though limited in synergy. Lone wolf is serviceable but outshined by Siren for fighters, with good damage output but less compelling skillset over other fighters.
A very risky pool in terms of hero pickups outside of Kamikaze and Prophet when it comes to the top standard but still good if they can slide into your formations while going for the Kamikaze biscuit.
GROUP QUALITY: 7 [KAMIKAZE, PROPHET]
Plenty of eyes on this pool for the prize-hero Kamikaze, but it's not as straight-forward since the Last Shelter devs know that. As a result, the rest of the hero drop isn't as strong or balanced, with Prophet the next best pickup, with Organic and Rose Noire the next batch that are very good, but not enough to prop-up the difference if your tickets don't land Kamikaze.

If you pulled tickets in earlier larger pools and have a couple of these heroes you can develop as a by-product, then the risk is lower, whereas those wanting Kamikaze will have to make do with these heroes in pursuit of him. You'll want a buffer of tickets for this one as you may be left feeling sour if RNG luck alludes you. But if you manage to get a copy or few of Kamikaze, you'll be laughing to the bank and back. Less strong hero drop across the board, but an exceptional prize hero that is a game-changer to your APC if your tickets afford.
SX Hero Drop 6
The finall small hero drop and what a big bang it is! Honestly, it's a hugely high quality set across the board, with 1 vehicle hero in huntress, 2 shooters in koschei and predator, with 3 fighters in canoness, hunk and sven. You're getting specalist heroes that excel in their areas. Huntress, the meta-breaking vehicle damage dealer that is making waves and is tough to break-down, predator the most versatile support shooter hero that is top in all shooter formations and super high synergy in mixed APCs. Canoness is arguably the highest healer in absolute numbers for fighters, koschei a high quality defensive front row with great qualities, sven the force tiling god at crazy high poison levels with the right formation, and finally Hunk who is generally the weakest in isolation, but played in a highly specific mixed APC formation, becomes crazy good.
He's the only hero I'd place a condition on, that you need predator to make him work well, but he's highly rated in this drop because of predator is in the same drop, and generally synergy across them all. If you've been patient or got any tickets left to scrap, this is a serious drop that's arguably the most balance in terms of quality with no joker, meme or poor hero.
GROUP QUALITY: 9 [HUNTRESS, PREDATOR, CANONESS]
An incredible hero drop that can really upgrade your formations and excel in all areas of combat, force tiling and mixed APCs. The fact that you have huntress, predator and canoness, who are insane top tier heroes in isolation is a no-brainer, but then you add the fact you get highly rated Koschei, Hunk and Sven who are really great in their own areas means the overall baseline standards in this drop is high and you can expect there are no 'joker' heroes unlike the others – each serve a purpose and do them well.

Granted, Hunk is highly rated due to the fact he is in the same drop as Predator who has high synergy with him, while Sven's highly rated status is hupgraded if you have panther and ivanov for the ultimate high poison force tiling pair. You've got three top tier heroes and three high rated ones. What's there to lose?
SX Hero Drop 7
This is an all 24 SX hero drop as a final chance to get any random hero within the total lineup before Season 5 finishes. There's not much to say in terms of strategy, as it really is if you want to just pick up any SX hero before the season rewards are distributed. The odds of course are very lower and the spread of hero quality means it really depends on luck whether you get the hero you want or pick up a hero you didn't need. If you want to pick up any last hero then I guess you can try your luck, but know your chance are super slim. The best tip is to carry those tickets over into S6 for the heroes you want to target and give yourself a better chance.
LAST SHELTER (VIEW ALL)
Clash of Zones: Gathering Day
Clash of Zones: Research Tech Day
Clash of Zones: Hero Development
Baneblade Super Energy Core Guide
Doomsday Shop & Coin Spend Guide
Eden: Dissidia Beginner's Guide
SX Legendary Ticket: Which Hero Group?
Seasonal Hero Recruitment Schedule
SX Hero Recruitment Timeline
Positions for Every Season Hero
Legendary Heroes Guide
Season 1 Heroes Guide
Season 2 Heroes Guide
Season 3 Heroes Guide
Season 4 Heroes Guide
Wisdom Medal Hero Trick Guide
Best Ways to Level Up Heroes Fast
How to Save Electricity with Buildings
Doomsday Season 1 for Beginners
Base Level 25: REAL Journey Begins
Is VIP Shop Worth Unlocking?
Is Project Hero Worth it?
How to Earn Hero Super Tickets Fast