Retrograder is a pretty rad support hero. He's the first in Season X that goes back to elgendary hero basics by allowing you to run him with any troop type, has excellent healing capabilities, the ability to clear counters and amp damage dealer output. Whether you're going full healing, adding extra balance or healing coverage or want that flexibility to run him in any formation to slide in with all of his goodness, Retrograder is going to give you a lot more versatility with one of tthe best healing setups so far.
GAME LAST SHELTER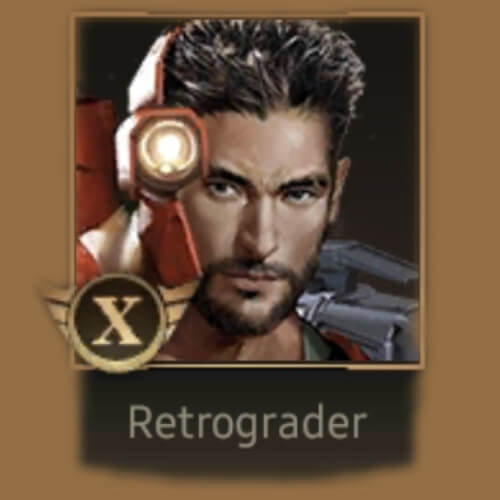 RETROGRADER BLAZE
SEASON X
TROOP TYPE ANY
HERO TYPE HEALER
DAMAGE TYPE INDIRECT
PRIMARY MID
OTHER FRONT / BACK
RETROGRADER BLAZE
I also refer to Retrograder as an equivalent of Canoness but with a little more flexibility. His healing is comparable and a similar setup, he opts to clear counters and is well-rounded in supporting all fronts of attack and defence. He can be countered if exposed towards the front which will negate his healing but if you pair him with extra protection, support or away from damage, Retrograder will be a killer support addition best run with vehicles and shooters.
STRENGTHS
focused high healing
run any troop type
very stubborn to beat
countering balance for apc
high synergy
WEAKNESSES
damage buff only from turn 4
silence, suppression or confusion
if his healing doesn't trigger
Please consider supporting my work by contributing any amount as low as $1. This helps to maintain my website costs, development, creation efforts and putting food on the table. Your support is very much appreciated. Keep being awesome! Donate to support my platforms
KEY SKILLS
1 | DICTATOR
23,100 bonus marching capacity for hero's squad
2 | OATH OF THE ROCK (PREP) (5)
Different effects are triggered when hero carries different types of units. Fighter: damage received -35%. Vehicle: when two random enemy squads launch bombat skills and basic attacks, damage caused by that squad is -8%, stacking up to 8 times. Shooter: first three turns, 65% chance to evade damage.
3 | DEFENSIVE FORMATION (DICTATOR)
Hero's squad has +50% resistance
4 | OFFENSIVE FORMATION (DICTATOR)
Hero's squad has +50% might
5 | WATER GUN (COMBAT) (2,1)
50% chance to recover squad with lowest troop count (recovery rate 270%), and clear debuff state of two random friendly squads (cannot remove pre-battle debuffs)
6 | AWAKEN (DICTATOR)
+15% might and resistance, +15% hp, +250% dictator skill effect
7 | DISCIPLINE (DICTATOR)
Hero formation +40% resistance
8 | FIRE AMBITION (PREP) (2,1)
All friendly squads unit countering -10%. Starting from turn 4, damage caused by other two friendly squads +30% damage.
OATH ON THE ROCK (STATUS EFFECT) this adds different effects depending on which troops you run with Retrograder. Retrograder offers most when running vehicles or shooters, thanks to his damage reduction stack and highly successful 3 turn evasion. His straight-up damage debuff when running fighters is still solid, added with unit countering damage reduction, but vehicles makes him potent in the faster vehicle formation and extra healing goodness, while he'll make an excellent front row for all shooters.
WATER GUN (HEAL & REMOVE COUNTER) the crème de la crème of his skills. He tops out at 25K healing troops at his most focused to the hero squad with lowest troop count for crazy good formation survivability. It ensures either your damage dealer, front row or himself lasts as long without losing overall effectiveness. The counter removal is also great friendly support to have your friendly squads continue working, though this ability is exposed as a combat skill so you'll need to protect him to get this continually working.
FIRE AMBITION (DEBUFF & DAMAGE BUFF) The unit countering reduces the advantage an enemy has if they run the troops that counters yours. I.e fighters will have -10% countering effect if you run shooters. This is also great for mixed APCs with the added damage buff bonus from turn 4 to really amp your hitter.
SKILL UNLOCK SEQUENCE
SKILL 6 (AWAKEN)
SKILL 8 (OATH OF THE WIND)
SKILL 7 (FORMATION MIGHT)
You'll get more out of Retrograder by awakening him first for two reasons – allow him to last long enough in battle for his high healing and two, allow his healing to work properly as outlined above. Fire Ambition is a great skill but you get more out of awakening first and is a nice to have for that extra unit counter damage reduction and buffing up your damage dealers from turn 4.
FEATURED IN VIDEOS
SPECIALTY
FOCUSED HIGH HEALER
ALL TROOP HERO
SHOOTER EVASION
COUNTER REMOVAL
SHOOTER & VEHICLE
WEAKNESS
SILENCE OR SUPPRESSION
CONFUSION ON HIS HEALING
LESS CONSISTENT TRIGGER
HEALS ONE HERO
HOW TO COUNTER
Retrograder is an excellent hero but he can be dealt with to negate his focused high healing. He's mostly combat skill based so silence, suppression are very effective against him, stopping his healing from triggering. That is his biggest draw so disabling that will remove a lot of his effectiveness in battle. It can be a little tough if he is paired with shooters as he will avoid damage in high succession in the first 3 turns so can outlive front-loaded damage, but is more exposed if running vehicles while fighters will reduce his overall damage received.
When placed in the back row, heroes like Huntress or counters that spread far are very useful like caesar or heaven's redemption, while confusion from tech priestess, hunk, lust or organic can even make his healing work against him by healing your troops.
SYNERGY
VANGUARD (S3) (VEHICLE / MIXED) can make Retrograder trigger his healing skill with more success and at least 4 turns if her skill reload lands on him. Extra combat skill damage buff alongside his amps your damage dealers output further while her evasion and possibly with Retro using shooters in a mixed APC will give better damage evasion in the first few turns.
PREDATOR (SX) (SHOOTER) Predator can also increase his healing skill activation by 10% and possibly 30% if she buffs him past turn 4. He'll work well as a front-row with shooters for that damage evasion and give great healing to shooters. The extra damage buff with Predator will be deadly for the back row hitter.
KAMIKAZE (SX) (VEHICLE) more so for the stacked damage skill where Kamikaze siphons enemy damage to friendly squads, and Retrograder adds a further +30% damage to friendly after turn 4. Kamikazes greater healing coverage adds greater healing capability though watch troop recovery blockers.
CAPTAIN IVANOV (SX) (VEHICLE) together with his +80% self damage buff, Retrograders additional will give him more firepower.
DEATH RIDER (SX) (VEHICLE) Similar with Captain Ivanov, Death Rider's big buff on might and damage increases his firepower, while his counter immunity plays well to put DR in the mid for greater protection of Retrograder in the back.
NOMAD (SX) (SHOOTER) Nomad's 100% might self-buff works great again with Retrograders damage buff, while Retrograder's high healing ensures Nomad's troop count remains high to deal with as much damage as possible. Retro's high evasion when paired with shooters makes him excellent for the front or mid-row to allow Predator in this formation.
LUST (SX) (SHOOTER) her confusion protection ensures Retrograder's healing is not used against him while taking advantage of his damage buff and counter removal.
TECH PRIESTESS (S3) (MIXED & FIGHTER) great healing pair, adds confusion in this defensive combo while the damage stack over the two will play great for the damage dealer such as Lust for confusion specialism, Nomad, Death Rider.
COMPATIBLE
VALKYRIE (SX) (MIXED COMBO) her blitz ensures Huntress can trigger her skills first before any enemy squad while unleashing guaranteed solid damage in turn 2 and makes the enemy take more damage from friendly attacks. She would be in the synergy list but just misses out as her skill 8 Heavy Fire Power Assault increases friendly squad damage by 50%, but sadly only for shooter squads. If this was to any squad, Huntress would benefit and make Valkyrie excellent but is still good nonetheless.
BETRAYED (SX) (MIXED COMBO) his heroic strike increases Huntress next 2 attacks by 40% when the combat skill triggers which is great if it triggers in the first 3 turns, although has a relatively modest 30% skill activation. It also requires Huntress to be in the backrow, while missing out on betrayed getting a bigger 80% damage buff if he is in the back, so a trade-off and not the highest synergy but workable.
WRATH (SX) benefits from wrath's reflective armour to negate damage if it lands on Huntress but isn't guaranteed, while wrath levels the APC with his strong troop recovery block.
GLUTTON (SX) provides clear-minded status so she cannot be countered in any way including confusion, but limits her to the backrow. Her high damage also works well for Glutton in healing from turn 4 for survivability.
NOT COMPATIBLE
Retrograder has the highest synergy and compatibility with any hero due to his ability to use any trop type for a single troop formation or mixed APCs. His healing support means he can play with anyone and everyone.
HERO COMBINATIONS
| FRONT | MIDDLE | BACK | TYPE |
| --- | --- | --- | --- |
| Kamikaze | Tech Priestess | Retrograder | Healing |
| Tech Priestess | Wrath | Retrograder | Anti-Offense |
| Kamikaze | Retrograder | Death Rider | Protect |
| Tech Priestess | Retrograder | Lust | Confusion |
| Heaven's | Retrograder | Death Rider | Support |
| Hunk | Retrograder | Siren | Counter |
| Retrograder | Predator | Nomad | Damage |
| Organic | Retrograder | Death Rider | Balance |
| Anna | Retrograder | Huntress | Balance |
| Caesar | Retrograder | Countdown | Counter |
| Glutton | Retrograder | Siren | Defense |
| Prophet | Retrograder | Siren | Defense |
| Retrograder | Predator | Rose Noire | Balance |
ALTERNATIVE
Don't have Retrograder? Try these other heroes that operate in her position and/or offer similar skills.
| | | |
| --- | --- | --- |
| Canoness | SX | Fighter |
| Heaven's Redemption | SX | Vehicle |
| Tech Priestess | SX | Fighter |
| Kamikaze | SX | Vehicle |
OTHER HEROES
LAST SHELTER (VIEW ALL)
Clash of Zones: Gathering Day
Clash of Zones: Research Tech Day
Clash of Zones: Hero Development
Baneblade Super Energy Core Guide
Doomsday Shop & Coin Spend Guide
Eden: Dissidia Beginner's Guide
SX Legendary Ticket: Which Hero Group?
Seasonal Hero Recruitment Schedule
SX Hero Recruitment Timeline
Positions for Every Season Hero
Legendary Heroes Guide
Season 1 Heroes Guide
Season 2 Heroes Guide
Season 3 Heroes Guide
Season 4 Heroes Guide
Wisdom Medal Hero Trick Guide
Best Ways to Level Up Heroes Fast
How to Save Electricity with Buildings
Doomsday Season 1 for Beginners
Base Level 25: REAL Journey Begins
Is VIP Shop Worth Unlocking?
Is Project Hero Worth it?
How to Earn Hero Super Tickets Fast
Please consider supporting my work by contributing any amount as low as $1. This helps to maintain my website costs, development, creation efforts and putting food on the table. Your support is very much appreciated. Keep being awesome! Donate to support my platforms