An excellent mid-row support for vehicle heroes that truly bolsters basic troop attack efficiency, frequency and provides a swathe of counter removals, suppression and damage buff effects. She's highly effective in force tiling with the right combination and enables damage dealers to overwhelm the opponent considerably. She continues to serve well in Season X with long staying power. Place her in basic attack / passive skill focused formations and she'll provide insane damage synergy.
GAME LAST SHELTER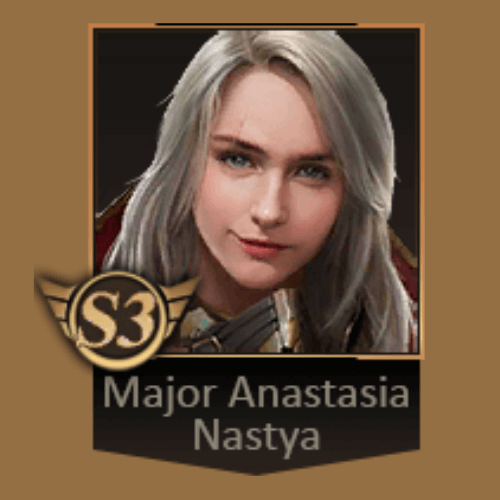 SEASON THREE
TROOP TYPE VEHICLE
HERO TYPE SUPPORT
DAMAGE TYPE BASIC
PRIMARY MIDDLE
OTHER FRONT / BACK
MAJOR ANASTASIA
For a season 3, she does incredibly well into Season X, effective synergy among Season X damage heroes. She's flexible working in mixed APCs as her skills explicitly support shooters, while a combination of suppression, vehicle combat speed to buff other vehicle hero priority in battle and big basic troop attack frequency and damge stack makes her a very potent support hero for going on the offensive.
STRENGTHS
double troop attack frequency
combat speed to vehicle heroes
quick enemy damage received stack
excellent with offensive heroes
WEAKNESSES
exposed to basic damage
no direct offensive damage
lacks healing compared to SX
incompatible with combat skill heroes
Please consider supporting my work by contributing any amount as low as $1. This helps to maintain my website costs, development, creation efforts and putting food on the table since I run everything myself. Your support is very much appreciated. Keep being awesome! Leave a Tip via PayPal
KEY SKILLS
1 | DICTATOR
23,100 bonus marching capacity for hero's squad
2 | BLITZKRIEG (COMBAT) (4,3)
30% chance to remove all debuffs of friendly vehicles and shooters (excluding debuffs from pre-battle skills), and give their basic attacks 25% chance to cause 1 turn suppression, lasting 1 turns
3 | DEFENSIVE FORMATION (DICTATOR)
Hero's squad has +50% resistance
4 | OFFENSIVE FORMATION (DICTATOR)
Hero's squad has +50% might
5 | CRIMSON TIDE (PREP) (3,3)
During the first 3 turns, all friendly squads gain 100 combat speed and a 70% chance to deal 2 basic attacks on each turn.
6 | AWAKEN (DICTATOR)
+20% might and resistance, +180 combat speed, +250% dictator skill effect
7 | DISCIPLINE (DICTATOR)
Hero formation +40% might
8 | SLAUGHTERING SIEGE (PREP) (4,2)
During battle, whenever 2 random enemy squads take damage, they take 12% extra damage, maximum 5 stacks
BLITZKRIEG this removes all applied counters that activated during battle including disarm, silence, confusion and suppression. There very few that can remove counters from the enemy and is the next best thing to immunity for a hero. This wipes counters from all friendly squads which makes this a great clean-slate for squads to continue triggering without disruption. The added 25% basic attack suppression for 1 turn is an added bonus, negating basic attacks and combat skill from the hero it applies to.
CRIMSON TIDE this props up hero priority for all of your hero squads by 100, no matter which troop type they are using (fighter, shooter and vehicles). 100 is pretty big and can make a bigger difference to heroes with killer skills to trigger before the enemy. This is guaranteed before battle, while there's a 70% chance for each squad to deal 2 basic attacks instead of 1, bringing the total basic troop attack from 3 to 6 if they all triggered. This skill is also big as it activates passive skills such as Captain Ivanov, Huntress or Death Rider, dealing even more damage outside of basic troop attacks.
SLAUGHTERING SIEGE prep skill that activates before battle occurs, this is an enemy damage received stack of up to 60% every time they take damage – troop attack or combat skill – making her basic troop attack high frequency hit the full stack early on in battle. This is for 2 enemy squads for any friend hero to deal more damage against.
SKILL UNLOCK SEQUENCE
SKILL 8 (SLAUGHTERING SIEGE)
SKILL 6 (AWAKEN)
SKILL 7 (FORMATION MIGHT)
She is flexible in the mid or back row and since she's a support hero, I suggest opening her skill 8 first for damage dealers to hit with even more punch. You can place her in the back row for extra protection in combat, while doing it in this order will help with force tiling in Doomsday and Eden (where tiles are limited to max 40K troops per row, so awakening doesn't improve this).
FEATURED IN VIDEOS
SPECIALTY
BASIC ATTACK FREQUENCY
FORCE TILING
COMBAT SPEED BUFF
SUPPRESSION
DEBUFF REMOVAL
WEAKNESS
PRONE TO COUNTERS
LACKS HEALING OR EVASION
NEEDS GOOD PROTECTION
LIMITED TO BASIC SKILL HEROES
SYNERGY
Panther (S2) increases the amount of basic troop attacks for Panther to deal more splash damage per attack to the mid and back row. Her slaughtering seige stacks quickly from the extra damage enemies will receive.
Captain Ivanov (S2) increases his passive skill triggers Apocalypse Herald for high damage and more suppression chances through more basic troop attacks dealt. The extra combat speed gives greater priority to his attacks in battle too.
Death Rider (SX) similar to Captain Ivanov in his skill setup (passive and combat skills), Major Ana increases his basic troop attacks, cause for suplression and higher combat speed. He doesn't benefit as much as Ivanov with her debuff skill, but that's not a bad thing as he is immune to counters through his skill 8. She bolsters his overall damage output and capabilities as a result.
Nomad (SX) in a mixed formation, Nomad benefits greatly from Major Ana as he is basic troop focused with shooters higher damage output, Ana being compatible with shooters who can also remove enemy debuffs from shooters and increase the damage stack and basic troop attack count too. He won't benefit from her combat speed buff to vehicles but gains great leverage on the attacking side.
Huntress (SX) similar to Captain Ivanov and Death Rider, Huntress is an excellent high burst damage vehicle hero focused on basic troop attacks, she hits crazy damage passively and takes advantage of Major Anastasia's basic troop attack frequency, for these skills to pop off further. Her focused damage to the same row on the opposite side makes her a devastating combo with Ana.
Koschei (SX) an alternate to Predator, Koschei's basic troop attack passive skills highly complement Major Ana's basic attack frequency, allow higher suppression chance and having those skills pull off further. Add Anas high basic troop frequency with his Bullet Hail that make 2 other friendly squads attack twice and you've got a highly offensive pairing before you add a damage dealer into the formation.
COMPATIBLE
Predator (SX) Major Ana's synergy with shooters and combining her with predator bolsters extra basic troop attacks, higher suppression chances and combat speed. While Ana's fifth skill doesn't take advantage of Predator's Command: Traverse, Predator's adding skill damage stack for the back row and high damage reduction should Ana get countered adds a little more protection in this high support combo.
Kamikaze (SX) the evolved front row hero of Crusher and more balanced replacement from Panther, Kamikaze takes advantage of the enemy damage received stack that lets his higher counterattack damage run a little deeper over the two targeted squads. He benefits from her combat speed and adds further enemy debuffs to dull enemy APC damage.
Crusher (SX) while there's little direct synergy within the skill set, crusher is an alternate front row to place in front of Major Ana and a damage dealer to add some solidarity, counter and damage to keep her protected. He benefits from her combat speed buff and enemy damage received stack to deal a little more counterattack damage.
NOT COMPATIBLE
Countdown (S3) she auto disarms herself through Death Comes skill since she is more combat focused, and doesn't take advantage of Major Ana's extra basic troop attacks as a result. She'll benefit from any debuff applied and enemy damage stack but is really shoe-horning a combo that are focused on different things: countdown being combat skill and Ana becing basic troop attack focused.
Vanguard (S3) like with Countdown, vanguard weakens vehicle basic troop attack in exchanging for boosting combat skill. While she fronts the three sisters formation alongsode Farseer, she's better suited to the middle outside of that, conflicting witb Major Ana's primary position. While in a way Vanguard can boost Major Ana's debuff removal skill to trigger, it's a weaker reason to boost vs another heroes skill that can benefit more greatly.
HERO COMBINATIONS
| FRONT | MIDDLE | BACK | TYPE |
| --- | --- | --- | --- |
| Panther | Ana | Ivanov | Damage |
| Kami | Ivanov | Ana | Damage |
| Kami | Ana | Death Rider | Damage |
| Kami | Ana | HuntressS | Damage |
| Ana | Predator | Huntress | Support |
| Panther | Ana | Huntress | Damage |
| Panther | Ana | Death Rider | Damage |
| Crusher | Ivanov | Ana | Balance |
| Ana | Wrath | Death Rider | Support |
| Koschei | Ana | Nomad | Damage |
| Tech Priestess | Ana | Nomad | Balance |
ALTERNATIVE
Don't have Major Anastasia? Try these other heroes that operate in her position.
| | | |
| --- | --- | --- |
| Predator | SX | Shooter |
| Heaven's Redemption | SX | Vehicle |
| Organic | SX | Vehicle |
| Wrath | SX | Vehicle |
| Vanguard | S3 | Vehicle |
OTHER HEROES
LAST SHELTER (VIEW ALL)
Clash of Zones: Gathering Day
Clash of Zones: Research Tech Day
Clash of Zones: Hero Development
Baneblade Super Energy Core Guide
Doomsday Shop & Coin Spend Guide
Eden: Dissidia Beginner's Guide
SX Legendary Ticket: Which Hero Group?
Seasonal Hero Recruitment Schedule
SX Hero Recruitment Timeline
Positions for Every Season Hero
Legendary Heroes Guide
Season 1 Heroes Guide
Season 2 Heroes Guide
Season 3 Heroes Guide
Season 4 Heroes Guide
Wisdom Medal Hero Trick Guide
Best Ways to Level Up Heroes Fast
How to Save Electricity with Buildings
Doomsday Season 1 for Beginners
Base Level 25: REAL Journey Begins
Is VIP Shop Worth Unlocking?
Is Project Hero Worth it?
How to Earn Hero Super Tickets Fast
Please consider supporting my work by contributing any amount as low as $1. This helps to maintain my website costs, development, creation efforts and putting food on the table since I run everything myself. Your support is very much appreciated. Keep being awesome! Leave a Tip via PayPal