We're back in the Last Shelter universe and today's guide is all about the Doomsday shop – an exclusive and highly-worth shop that's fully open as soon as you reach your first Season X (post S4). You'll accumulate Doomsday coins along the way and there are several ways you can exchange them in the shop, so here's a deeper look into the store, how you can earn DD coins and my recommended best and worst exchanges you can spend them on.
IN THIS GUIDE
Doomsday Shop Inventory
How to Earn Doomsday Coins
Best and Worst Items to Exchange
LAST SHELTER (VIEW ALL)
Clash of Zones: Gathering Day
Clash of Zones: Research Tech Day
Clash of Zones: Hero Development
Baneblade Super Energy Core Guide
Doomsday Shop & Coin Spend Guide
Eden: Dissidia Beginner's Guide
SX Legendary Ticket: Which Hero Group?
Seasonal Hero Recruitment Schedule
SX Hero Recruitment Timeline
Positions for Every Season Hero
Legendary Heroes Guide
Season 1 Heroes Guide
Season 2 Heroes Guide
Season 3 Heroes Guide
Season 4 Heroes Guide
Wisdom Medal Hero Trick Guide
Best Ways to Level Up Heroes Fast
How to Save Electricity with Buildings
Doomsday Season 1 for Beginners
Base Level 25: REAL Journey Begins
Is VIP Shop Worth Unlocking?
Is Project Hero Worth it?
How to Earn Hero Super Tickets Fast
DOOMSDAY SHOP
The shop is open a little more than a Doomsday season, first making an appearance as soon as Season 4, while then being fully usable in Season X when you earn Doomsday coins. It refreshes the exchange count per season on the same inventory you see below, as there are limits to how many you can purchase per season. So if you're thinking of saving up DD coins to purchase in one go, make sure you aren't short-changed by not being able to get everything you need in one window.
Doomsday shop is by far the best kind of shop, focused around key items and hero development, while coins are the most exclusive currency as there are no paid packages you can directly increase your Doomsday coins. You'll need to spend time and energy in hitting the criteria's to get those hard earned Doomsday coins. But be patient enough and the shop will reward you. Here are the items you can exchange them for:
BASIC SPECIALTY RESET (10K, UP TO 6 PER SEASON)
Reset your specialty points allocation to change skills, has a cooldown of 7 days so cannot be changed again until after.
SPECIALTY RESET (50K, UP TO 6 PER SEASON)
Reset your specialty points allocation to change skills, has no cooldown period so you can reset specialty points again straight after.
10,000 HONOR POINTS (100, UP TO 60 MILLION PER SEASON)
Points that go towards levelling up your Honor level for more specialty points
REGENERATION SERUM (3K, 60 PER SEASON)
8 hours of healing time for troops in Doomsday hospital
BATTERY POWER (100 DURABILITY, 120 PER SEASON)
Fully recharge APC energy in Eden
8 HOUR SPEEDUPS (3K, UP TO 180 PER SEASON)
500 SUPER ENERGY CORE (1K, UP TO 45K PER SEASON)
Cores needed for crafting Baneblade parts
GENE FRAGMENT (1.2K PER 300, 300 PER SEASON)
Clone dead troops in the cloning centre
S1 HERO SELECTION TICKET (200K, 2 PER SEASON)
Select and recruit the hero you want in Season 1, which includes: WarBoss, Professional, Cincinnatus, Dragon's Rage, Janissary, Falcon, Flash, Light of the Past, Courageous
S2 HERO SELECTION TICKET (250K, 2 PER SEASON)
Select and recruit the hero you want in Season 2, which includes: Knight, Executioner, Inquisitor, Viscount, Captain Ivanov, Panther
S3 HERO SELECTION TICKET (300k, 2 PER SEASON)
Select and recruit the hero you want in Season 3, which includes: Wings of Liberty, Vanguard, Farseer, Countdown, Tech Priestess, Major Anastasia
S4 HERO SELECTION TICKET (300K, 2 PER SEASON)
Select and recruit the hero you want in Season 4, which includes: Deus Ex Machina, Juggernaut, Commissar, Hummingbird, Venom Walker, Caesar
X LEGENDARY RECRUITMENT TICKET I (250K, 2 PER SEASON)
SX ticket for heroes in selection pool 1 for a random chance to pickup: Huntress, Siren, Predator, Rose Noire, Organic, Nomad, Koschei, Iron Sentinel, Betrayed, Hunk, Patriot, Wanderer
X LEGENDARY RECRUITMENT TICKET II (250K, 2 PER SEASON)
SX ticket for heroes in selection pool 2 for a random chance to pickup: Prophet, Wrath, Shadow, Glutton, Canoness, Lone Wolf, Kamikaze, Heavens Redemption, Death Rider, Crusher, Valkyrie, Sven
S1-S4 LEGENDARY SELECTION RECRUITMENT CARD (200K, 2 PER SEASON)
Pick up a randomly selected hero from your season of choice, from S1 to S4. This is cheaper as you do not get to pick the hero you want from the season you choose, but saves up to 100K coins if you prefer to chance in Season 3 and Season 4.
WAR BADGES (100 PER 1.2K COINS, UP TO 30K PER SEASONS)
Required for unlocking and developing T10 research tech of vehicles, fighters and shooters. This will appear in the Doomsday Shop in Season 6+.
HOW TO EARN DOOMSDAY COINS
There are several ways you can earn Doomsday Coins, most of which can only only be organically earned, making them the most exclusive form of currency (even more than hero tokens). Why? Because they cannot be bought. The rewards in turn are some of the best for developing your pre-SX and offering more chances with the SX tickets with a few items added in between that are worth considering, depending on the type of gamer you are. I'll highlight some ways you may want to spend those hard earned coins. But firstly, here's how you can earn them:
EDEN REWARDS (UP TO 300,000 PER SEASON)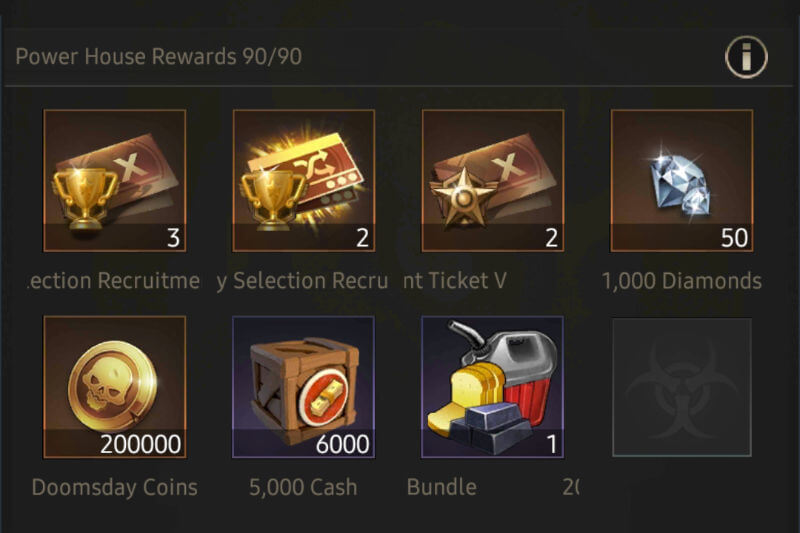 You'll earn a decent amount, even at the lowest rankings thanks in part to a three reward system for Eden: Occupation rank, guild development and personal development. The rewards in each are very good, with occupation offering the most generous, but also requiring the most effort to place weel at the end of the season. Guild development is the easiest, needing to have at least 10,000 season points before tally phase and the guild level >45 which for any active guild will hit quickly. Personal development requires activity and more conscious effort to complete the quest missions that reward you separate season points to hit the two-tier rewards.
The rewards? Both Personal and Guild Development have one accessible tier which give 30,000 DD Coins, alongside an S1-S4 random selection hero ticket, with the top-tier increasing that to 50,000 DD coins and an SX random ticket. Occupation rewards give you anywhere between 30K – 200K. So at the least that's 90,000 DD coins, or 300,000 coins max. On average, you can expect 150K -180K returns.
GUILD MISSIONS (UP TO 315,000 PER SEASON)
This is the best part of Eden for Doomsday coins as completing these weekly missions as a guild rewards 30,000 in the first week weekly drops of 45,000, with the final mission rewarding 60,000 coins. So even if your guild ranks the lowest in capture occupation, if you have a very challenging season, you can still earn all guild mission rewards
| EDEN TIMELINE | DOOMSDAY COIN REWARDS |
| --- | --- |
| FIRST WEEK COMPLETION | 30,000 |
| WEEKLY MISSION X 5 | 45,000 (225,000) |
| FINAL WEEK COMPLETION | 60,000 |
| TOTAL COINS EARNED | 315,000 |
OPERATION: OBLIVION (UP TO 20,000 PER MATCH)
A super-fun, action-oriented event that pits two alliance factions from different states against each other, with similar power to retrieve the spacekey and control the Olbivion map. A total of 20 members can participate, with 10 backup members if there are no show members. It's worth participating not only because it's fun, but you can earn anywhere between 1K-20K DD coins, with the maximum if you score more than 10K in the 1 hour match. You still earn half the amount even if you lose, so it's really a win-win situation for coins, just more winning if you do happen to win.
ELITE PRIVILEGE PASS (UP TO 80,000)
From SX onwards, you can earn more challenge rewards from the normal in Seasonal Challenge when you buy the Elite Privilege pass. Provided you are active and committed to Eden, it offers the best all-round value you can buy and is the only way you can purchase to access more earnings of doomsday coins. The only way. I say access because it's not guaranteed – you need to complete the daily and weekly seasonal quests to level up and receive those rewards. For maximum DD coins, you need to reach level 23 to get the full 80K, but considering you get 50K from the non-paid rewards, that's 130K total and is really worth the $19.99 USD for an enjoyable and rewarding Eden season, but 100% optional nonetheless.
SEASONAL CHALLENGE (UP TO 50,000)
As mentioned above, the normal rewards in Seasonal Challenge give you drops per every 2 levels you reach. A total of 50,000 coins can be earned in the season for playing through Eden season. You need to reach level 37 so more work and less rewards than Elite but still is an entirely free way to build up your coins.
DOOMSDAY PRE-SX DUEL (UP TO 4,000 PER DUEL)
I believe in season 4, every duel you win rewards DD coins to participants of at least 2,000, with up to 4,000 for the highest damage dealt in honor building destruction or war (not sure but either of the two). You can roughly earn up to 70-80K coins if you win all duels, but the reality is anywhere between 4-20K for a typical alliance member, unless you have a really tough season in picks and outcome. It's little but is a taste and helps a little when you get into SX.
WHAT SHOULD I SPEND MY COINS ON?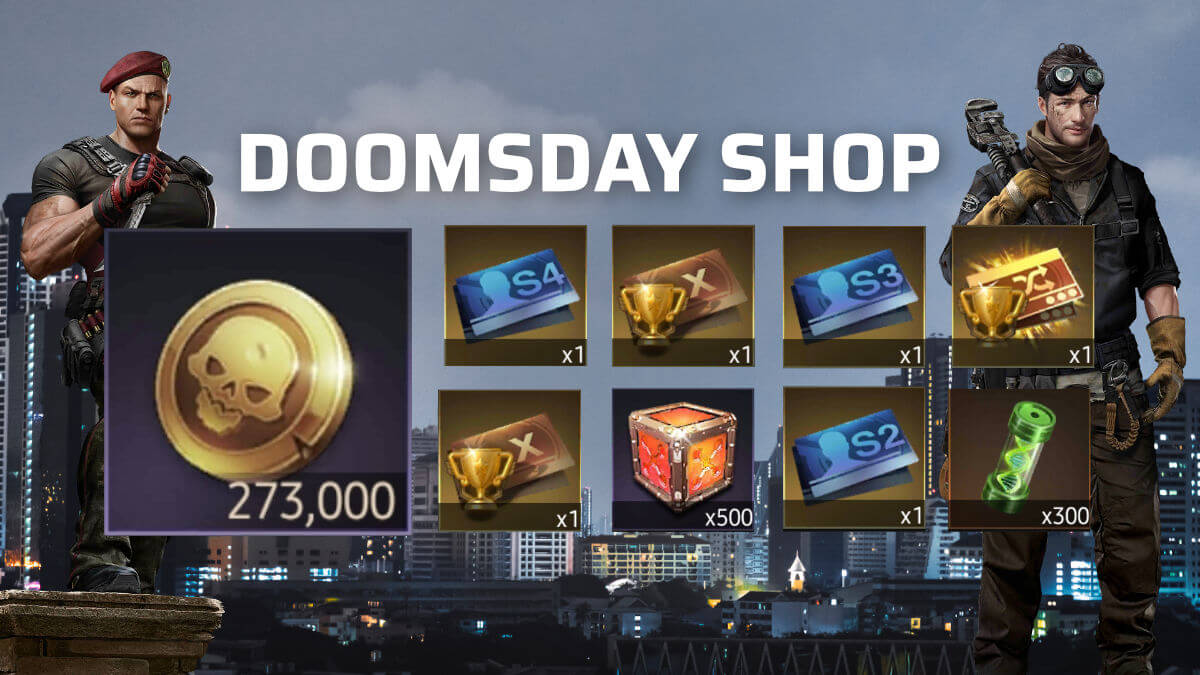 WORST TO EXCHANGE. AVOID.
All the small things such as gene fragments, battery energy, 8 hour speedup, regeneration serum, should 100% not be bought from the Doomsday Shop at all. There are many other ways you can attain these easily in game through the alliance store, claiming hourly challenges for speedups, rallying adjudicator and daily serum pickups and simply waiting for APC power to recharge. Organically, alliance members should reach really an adjudicatir that gives 1x 5 minute regeneration serum. Only have 1 other member join the rally. Get many members to do that and everyone receives 1x serum. You can easily get 50 or 100+ daily if you need the healing. Which is why the worth of serums still aren't great. A few is arguably ok, but doing this and healing in batches of manageable healing time is good enough nkt warranting using DD coins for.
NOT WORTH IT
They are S1 selection tickets. The heroes are honestly not worth using hard earned doomsday coins on, considering nearly all lack any staying power in comparison to SX heroes and to pre-SX heroes. At 200K, it is the most expensive in terms of hero return for your coins, while the random S1-S4 random selection ticket represents much better value at this exchange cost. With a little patience the 50K extra for selecting an S2 hero is far better for Captain Ivanov and secondly Panther with their relevance in SX Eden and combat formations.
UNDERSTANDABLE IN SITUATIONS
Basic Specialty Reset. The only time this is reasonable are for free to play players that need to make a switch in specialty points. You gain 1 per season and if you need to respec to unlock fortresses or play the season with the skill you want, you'll need another. There are no other ways to reset your specialty points without spending besides this, in which the cheaper 10K version is somewhat understandable if you are purely free to play.
You should not aim to respec often or at all if you are free to play, so the 7 day cooldown version is suitable enough, while the 50K non cooldown would be a waste. Alternatively, you can forego 1 season of changing specialty so you can have 2 resets for the next season without using your doomsday coins, which I would recommend more to preserve your doomsday coins. But if you don't want to, this option is decent.
MOST WORTH EXCHANGES
The most valuable ways to use the Doomsday coins are either the S2-S4 hero selection tickets where you can choose the specific hero you want, SX random ticket, super energy cores if you're free to play to fast forward baneblade core balance and War Badges for T10 troops once they are available to research in your state range. Your super tickets should be solely focused on attaining copies for SX heroes, while you can use these to max out the remaining core pre-SX heroes in your lineup.
At the same time, the SX tickets though random are split into two pools of 12 heroes. It's a great way to increase your SX hero attainment outside of super tickets to go with your Eden rewards or say you expect little returns from a hard season, getting a total of 2 extra per season can help you develop them.
War badges like courage medals are difficult to organically attain, with plenty of war badges required to fully spec out T10 troops for each fighter, shooter, vehicles, as well as specialisation levels for added troop attributes. It's another method to give you a competitive edge in battles.
My recommendation is that for the majority, you will want to focus your DD coins to max your pre-SX and SX heroes, filling in their skills, prioritisation SX random tickets if you don't spend on super tickets in the early stages of SX and Pre-SX to develop top hero pickups in S2-S4. Use DD Coins for Super Energy Cores to craft baneblade parts for the long-term, either in the full 45K or partially which is far better than relying solely on helipad drops that take over 4 years to complete (read my Baneblade guide here). War Badges can be used to help T10 further and top up research tech Clash of Zones if you have maxed research or fall short of 9 boxes as you reach max status. So thats S2-S4 selection tickets
LAST SHELTER (VIEW ALL)
Clash of Zones: Gathering Day
Clash of Zones: Research Tech Day
Clash of Zones: Hero Development
Baneblade Super Energy Core Guide
Doomsday Shop & Coin Spend Guide
Eden: Dissidia Beginner's Guide
SX Legendary Ticket: Which Hero Group?
Seasonal Hero Recruitment Schedule
SX Hero Recruitment Timeline
Positions for Every Season Hero
Legendary Heroes Guide
Season 1 Heroes Guide
Season 2 Heroes Guide
Season 3 Heroes Guide
Season 4 Heroes Guide
Wisdom Medal Hero Trick Guide
Best Ways to Level Up Heroes Fast
How to Save Electricity with Buildings
Doomsday Season 1 for Beginners
Base Level 25: REAL Journey Begins
Is VIP Shop Worth Unlocking?
Is Project Hero Worth it?
How to Earn Hero Super Tickets Fast
HERO PROFILES