This cute, light-hearted slice of life anime has all the charms to win you over. Kotaro Lives Alone season 1 follows a preschool boy who moves into an apartment building. As time goes by, it reveals a deeper, emotional and heart-breaking evolution of how Kotaro came to be. Each episode shines a light on the hardships, challenges and realities people face in our world, raising awareness, consideration and empathy in a beautiful and compassionate depiction.
I stumbled upon Kotaro Lives Alone flicking through Netflix, caught by the playful and innocent art style, curious to see what it's about. Little would I go on to realise how deep, thought-provoking and intellectual Kotaro Lives Alone is, and how much of a special gem it articulates such profound takeaways everyone should pay attention to. You'll fall in love with Kotaro and the edgy residents he crosses paths with throughout Season 1.
ANIME KOTARO LIVES ALONE
RELEASE DATE APRIL, 2022
PLATFORM NETFLIX ORIGINAL
SEASON 1
EPISODES 10
GENRE SLICE OF LIFE COMEDY
VOICE ACTORS RIE KUGIMIYA, TOSHIKI MASUDA, SAORI HAYAMI
Please consider supporting my work by contributing any amount as low as $1. This helps to maintain my website costs, development, creation efforts and putting food on the table. Your support is very much appreciated. Keep being awesome! Donate to support my platforms
kotaro has gone through a lot
Kotaro Sato likes to be independent, headstrong, and self-sufficient. But he's still just a preschool kid. He's receptive and diligent, attracting people with his assertive charms. So much so that he bonds very close to a manga artist neighbour, Shin Karino, the complete opposite of Kotaro. Karino lacks energy, and lives very insular, but has an awareness to take things upon himself to care for Kotaro and beyond himself.
He's joined by other residents such as hostess Mizuki, mobster-like Izamu Tamaru and a few others from Kotaro's history that pop up throughout the season. It offers a lens on different relationships, perspectives and mindsets. The dynamic relationships and episodic stories are quite fascinating, as everyday situations help us relate in some way. It puts you in the shoes of Kotaro and others as the narrative smoothly switches between each one of them.
Kotaro goes through a transformational journey that will pull your heartstrings guaranteed. He's learned to become a mature, intelligent and self-aware kid, and is able to be comfortable on his own when compared to his preschool peers.
friendly neighbours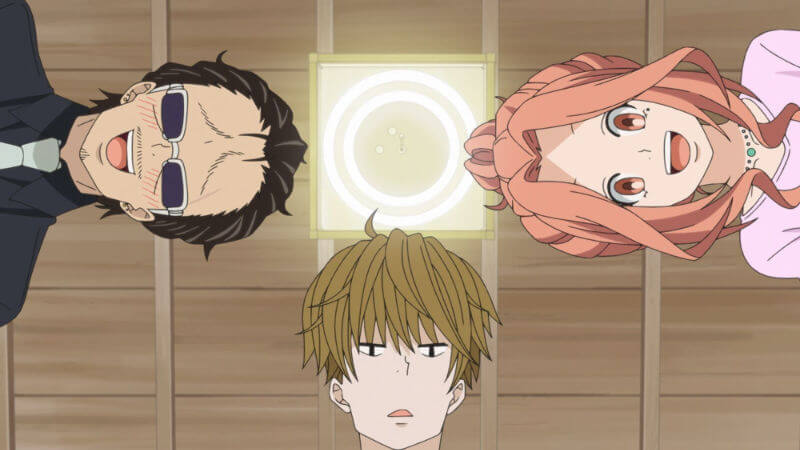 The few residents in Kotaro's apartment building aren't your run of the mill either – they're different ends of the social spectrum. A mobster, a manga artist, and a club hostess form the backbone of Kotaro's circle and create a different kind of dynamic. They all tend to get on for the most part but it's Kotaro who roots everyone together.
Dialogue can be comical at times with Karino the butt of a running joke as he always seems to invite himself on occasions between Kotaro and Mizuki. Isamu Tamaru the mobster obsessed with Kotaro's cuteness always wants to play with him. Mizuki always has a very close and friendly relationship, even to the point they have a sleepover and Kotaro stays in the same bed as Mizuki. That last part can be misconstrued but Kotaro cheerfully shows how he is still a man after all.
Their interactions with Kotaro and each other vary throughout season 1, sometimes very frequent, and sometimes distant. The anime does a great job at switching the focus and adjusting the amount of chat to highlight they all have their own lives to live too. At the end of the day, they're still all just neighbours but they have quite a unique bond altogether.
little moments explain plenty
It also goes to show how having fairly close-knit neighbours can fill in some of the holes each other, compared to being on their own. They can rely on each other, do activities together, chat about big and small things, help with favours and even to an extent, create an extension of a family that Kotaro doesn't always feel the emptiness and loneliness in life.
And it's here where Kotaro Lives Alone shines, as the anime addresses many deep themes beneath it all: abandonment, longing, neglect, abuse, family, pain, divorce, birthdays, hope, and growth. To an extent, we see these themes among the apartment residents and their own challenges in life, but most of it revolves around Kotaro, often flashing back to glimpses of days with his family and in the orphanage. Little fragments over the episodes piece together a greater picture of understanding Kotaro further.
Behind every trivial or everyday activity, there's a lesson to learn and an awareness to consider. And never would I have thought they would come from Kotaro Lives Alone. An example of this is when he cooks dinner, he prepares many dishes. Karino and Mizuki catch a glance while visiting Kotaro, who invites them and Tamaru for dinner. They expected a table full of delicious food, only for Kotaro to turn up with a single dish with rice.
Bemused, Karino asks directly why there's only one dish to the dismay of Mizuki and Tamaru. Little did they realise the dishes he cooks on his own are actually companions so he doesn't feel lonely while eating. Feels.
kotaro lives alone final verdict
Though 10 episodes of Kotaro Lives Alone may seem a little few for season 1, each episode is full of microstories and events that you'll be surprised it's all just an average length episode. It's mostly all slice of life fun and games, with frequent clashes of Kotaro's feudal speaking linguistics and everyone else, but ties the episode together showing Kotaro's vulnerability and his life learning for the moment. The overarching story throughout season 1 comes to a calm conclusion with a scope no doubt for season 2, but a sense of closure in the unexplained… which feels oddly satisfying.
By the end of Kotaro Lives Alone, I couldn't get enough of him and how brilliantly executed this simple anime is. It's flown under the radar because of its playful and simple art style but any inkling of curiosity will be boldly rewarded in such a light-hearted, fun and deep series. It's an anime that lights up 2022 in a different way and will leave quite a lasting impression for years to come.
CONCLUSION
I stumbled upon Kotaro Lives Alone flicking through Netflix, caught by the playful and innocent art style, and curiosity to see what it is about. Little would I go on to realise how deep, thought-provoking and intellectual Kotaro Lives Alone is, and how much of a special gem it articulates such profound takeaways everyone should pay attention to.
HIGHLIGHTS
accessible and family-friendly
a very deep, sentimental and profound anime
playful and light-hearted slice of life art style
great voice acting
excellent episodic and season character progression
strong story development
LOWLIGHTS
season 2 hasn't been confirmed yet