Get 10% off the Side by Side Power Packer on their website using 'ONETECHTRAV' code on checkout.
The Side by Side Power Packer is quite a compact organiser to throw inside your daypack. Flexible to carry many big, small, bulky and thin items, it's everything you need in a neat carry with a handle. I'll let you in on a secret: it stores more than just cables. With a little creativity and imagination, this affordable organiser could possible be a fantastic portable packer for your lifestyle. Here are 6 inspiring ways to style your very own Side by Side Power Packer.
Everything Cables
Here's a typical loadout of the Side by Side Power Packer. If you have a lot of devices you need cabling to, whether that's connecting to your phone, several devices to charge from your powerbank, or a variety of cable tips, the elastic loops and straps are ideal to pack them tidily. You can fit your laptop charger (even the UK 3-pin plugs that are bulky) in the separate zipped compartment, with the help of the stretchy elastane to accommodate awkward shaped peripherals. The loop on the spine is ideal for a stylus or pen, complete with any small accessories inside the mesh pockets on the other side of the dividers. A basic loadout that's functional and comprehensive, but there's more you can do with the Power Packer.
Content Creator
My most exciting loadout as someone who handles a lot with cameras. Content creators, photographers and videographers will find the Side by Side Power Packer an excellent portable carry inside your backpack and doesn't take up much space, but keeps a host of accessories in reach. From my quick release plates to my camera batteries, travel light and compact shotgun microphone, it's pretty comprehensive in what it can store.
Don't forget a set of lens wipes and sensor swabs if you're shooting outdoors during the day, together with a microfibre cloth. The other side of the divider holds 5 memory cards, while I use the separated zip compartment for my ND filters, powerpack and camera charger. The top carry handle makes it easy to pick up and move with. The best part is it the shape is compact and thin, adding little footprint to your workflow.
Grooming Stylist
The Side by Side Power Packer is fun to organise for stylists or grooming of any kind. It handles nail polish, creams, lotion, face pads very well, thanks to the elastic loops and flexible straps. Nail or makeup technicians may find the side sleeve next to the creams great for palettes, while makeup brushes fit in well too. This simple setup is great for storing small items you want to take on your travels or your most used at home. Lipsticks, small perfume bottles and eyelash curlers would also fit well.
DIY Loadout
Whether you're a handy person or someone with just a clutter of tools hiding inside a drawer, the Side by Side Power Packer is quite nifty in organising all kinds of tools. These were just some hanging around my drawer so it's nice to see all of the above fit inside. That includes the tape measure, roll of sticky tape, set of allen keys in the zipper mesh pocket and a multitude of pliers, screwdrivers, batteries and knife. I'm quite light in what tools I have, but you can also fit a wrench and few other DIY must-haves, perfect when you need them at home, or to leave inside your car for any moment that pops up.
Everyday Tech
This is more of an everyday tech loadout, ranging from your laptop accessories like the PC mouse, hard drive and laptop power charger, to music with your wireless earbuds (depending on your charging case, otherwise hold in the loops) and dedicated MP3 player (perfect for long-trips to preserve my phone battery). Interchangeable tips on my USB cable to go with my 26800 Mah powerbank beast and I've kind of got my essential accessories for the day. I still like to be analogue and mechanical so a field notepad and pen helps with ideation. A good idea is to add a tile lite to the organiser so if you leave it behind, you'll get an alert to your phone.
Pitstop Picnic Essentials
Plan to go on a camping trip or a picnic at a park? Stow all the cutlery, sachets and portable utensils in a neat way. Even if you're on a road trip or in a hotel, take some basic eating items to help make you more comfortable. Some ideas to create a picnic pitstop are a pair of spoon or forks, chopsticks (for me anyway), a rice paddle of sort if you're sharing some dishes, together with an optional coaster for a hot drink. You can't go wrong with sauces and if you only have access to hot water, extra sets of coffee or teabags go a long way. Napkins and wet tissues to clean up afterwards. For camping stays, you'll find the separated zipped compartment great for holding one or two bigger kitchen utensils. All together neatly without the clutter and mess in a plastic bag.
---
So there you have just 6 of many possibilities you can use the Power Packer, to inspire how you want to create your own portable kitchen, studio, DIY or artists personal power packer. The loops, pockets and such are all flexible to carry a variety of things and these are just everyday household items and tools lying around my place that can find either a permanent new home in the Side by Side Power Packer, or when I need a travel loadout to go. Got an idea how you'd set one up? Let me know down in the comments!
If the Power Packer looks like a mighty fine carry you'd like to get your hands on, I've partner with Side by Side to help you get your very own, with a 10% off code to make that happen. It works on the Power Packer and Travel Packer, so once you're ready to checkout your cart, enter 'ONETECHTRAV' on their website. Enjoy!
Side by Side Collection
A premium toiletry bag that offers neat organisation, storage for the small, large, thin and sensitive, with a modular system that offers packing suited to your length of travel. It's slim and compact to slide into a carry on backpack, duffel or luggage with more purpose for your lifestyle accessories beyond the bathroom.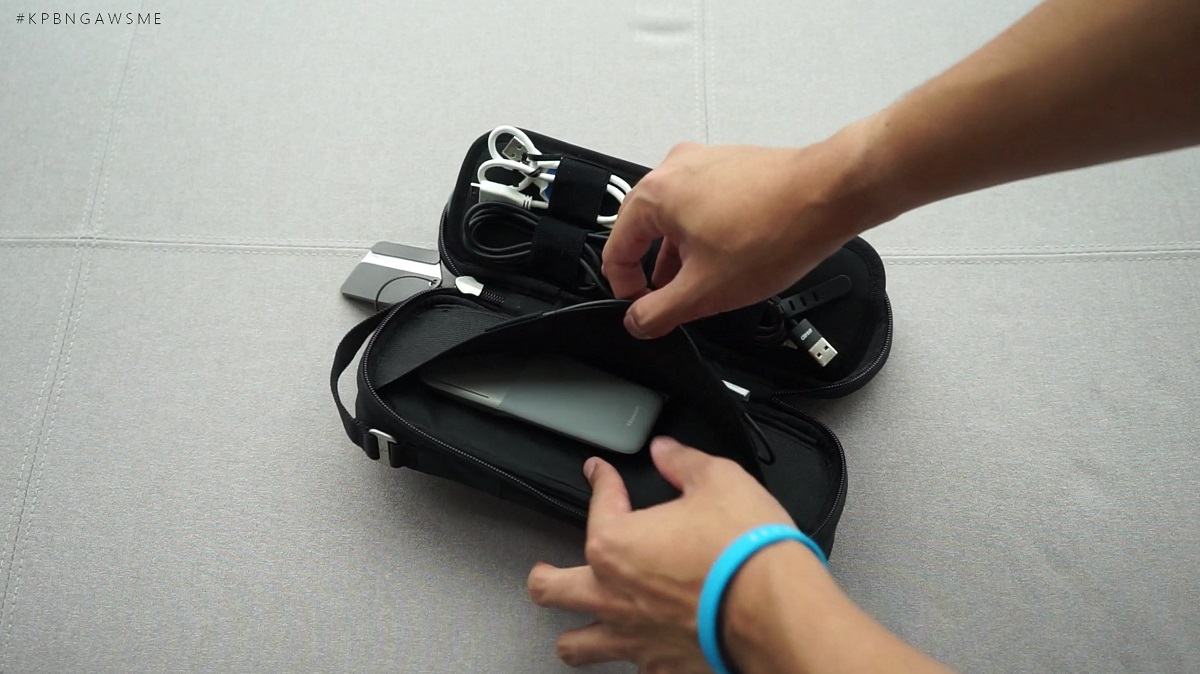 A top travel accessory to pack all your small accessories for a clean, efficient and functional transition taking out items when you need and securing with confidence when done.
For disclosure, I may receive a commission if you make a purchase through these links. They in no way influence my thoughts towards a product or service. As the sole creator, this helps support my work.