Sup KBA Squad, today's guide we're diving into the world of Idle Mafia and talking about mythical capos. They're a step above normal legendary capos and possess some unique abilities to take advantage of and give you an edge in gang wars, gang fights, and meta gang combos. But it'll require a good understanding of how to leverage these capos and how you want to add them to your lineup. Here are my thoughts on each of the mythical capos to help you better decide which mythical will suit your playstyle and combos.
IDLE MAFIA UNIVERSE
Mafia Club Membership Review
Best Capos to Develop First
JailBreak: Everything You Need to Know
Money Talks Event: Beat All 200 Waves
Illegal Market Event: Complete Guide
Kill Frenzy Event: Complete All 30 Levels
Please consider supporting my work by contributing any amount as low as $1. This helps to maintain my website costs, development, creation efforts and putting food on the table. Your support is very much appreciated. Keep being awesome! Donate to support my platforms
How to Unlock Mythical Capo
Mythical capos are attained differently from legendary capos. There are several ways you can earn them, such as:
Mythical Safe
Main Event Rewards
Smaller Event milestone drops
Festive puzzle rewards
The most available way is the mythical safes which cost 200 diamonds per chest or 2,000 diamonds for 10 safes. The drops are very low and you have to select which mythical capo you want to receive mythical shards of. The most frequent drop is 5 x with better drops at 10-20 and much better at 30. The best is the full mythical capo but the drop rate is 0.5%. These are great for fillers but expect to consume plenty of diamonds if you're trying to make up plenty of ground.
The best ways to attain shards are from completing the main events like Japan, Las Vegas, Illegal market, etc. Those events give you mythical chests which let you select how you want to use shards. Reaching the milestone reward before the final is where you want to reach to get the full mythical box rewards which are around 70 mythical shards.
You'll get closer to 40-50 mythical boxes in the smaller events like kill frenzy, weed farm and are usually easier to complete so these are the most time-efficient to complete. Festive puzzle rewards are when you collect all puzzles to complete the jigsaw and align to festive events like lunar new year, Halloween, Christmas, etc.
You'll need 500 mythical shards of one capo to unlock them and will need 500 per copy to level them up.
Link Feature
Unique to mythical capos is a 'link' feature – you can link a mythical to another legendary capo (not another mythical) and the linked capo levels and stats provide a boost on top of the base level of the mythical. For example, a mythical capo once attained reaches level 500. If you have a legendary capo at level 900 and link them together, the mythical capo will be treated as a level 900 capo and attain the amount of skill slots, income, fight power, and HP boost.
Note, by linking the capo, it doesn't actually level up the mythical capo but provides boosts of the higher level capo on top of their base level. The number of stars and colour do not change. You can link and delink capos without consuming diamonds ONCE per capo. After that, it will cost you 400 diamonds thereafter.
Andrea Baronti
"Godfather"
Nation Italy
Trait Business
Eye for an Eye (Passive)
Whenever a friendly ITA capo is hit by an enemy's damage skill, the skill damage is reduced by 60%, and a counter-attack equal to 172% of the capo's fight power is performed.
Migration of Power (Buff)
When the capo's HP is lower than 60%, the teammate with the lowest HP who hasn't inherited this skill yet, will gain a shield of 50% of their own maximum HP and gain X% fight power. This teammate will then inherit this skill.
Compatibility
To get the most out of his eye for an eye skill, you'll want to pair him with at least one Italian capo. It reduces the damage that targets a friendly Italian capo by 60% and buffs up a counter relative to Godfather's fight power. Since this is a skill that reacts to enemy attack damage, you can pair Godfather with any support or attack Italian capo but try to have at least one to get more out of him. More Italian capo's don't necessarily benefit more from the Godfather as his migration of power skill can work with other capo types.
Recommend Capo Link
TBC
Miguel Macias
"Tentacles"
Nation Mexico
Trait Tech
Tentacle Attack (Nerf)
During the battle preparation phase, waves his tentacles to stun current and surrounding enemies and swap the position of his direct enemy's surrounding teammates. Additionally, he reduces the fighting power of all these enemies by 70%.
Entanglement (Passive)
Links friendly MEX Capos to let them share the damage they receive. When Miguel's HP is lower than 50%, he will heal all teammates for X HP per round for 3 rounds.
Compatibility
Tentacles like Godfather have a skill that prefers pairing with Mexican capos in that damage is split equally among them. If you are very developed with Mexican capos this will favor you, otherwise, if they are not developed as much as Tentacles (linked or leveled up), they will die earlier as they will also receive damage. The more Mexican capos in your gang, the more the damage is split among them.
His health skill is one of the best among all capos as once his health depletes to 50% he will heal a large amount for 3 rounds to all friendly capos. His damage reduction among all enemy capos is a huge nerf to enemy fight power boosts. You can go very aggressive in attack with friendly capos thanks to his healing ability and enemy fight power reduction or balance using other support capos.
Recommend Capo Link
CAESAR & VANESSA takes advantage of their ability to keep Tentacles alive after 3 times health reaches 0. Also Mexican capo to split damage between and added fight power % even though it's fairly small (.
GIANLUCA his devastating direct attack works excellently and keeps him alive with Miguel's Healing.
Tomoe Yamakawa
"Naginata"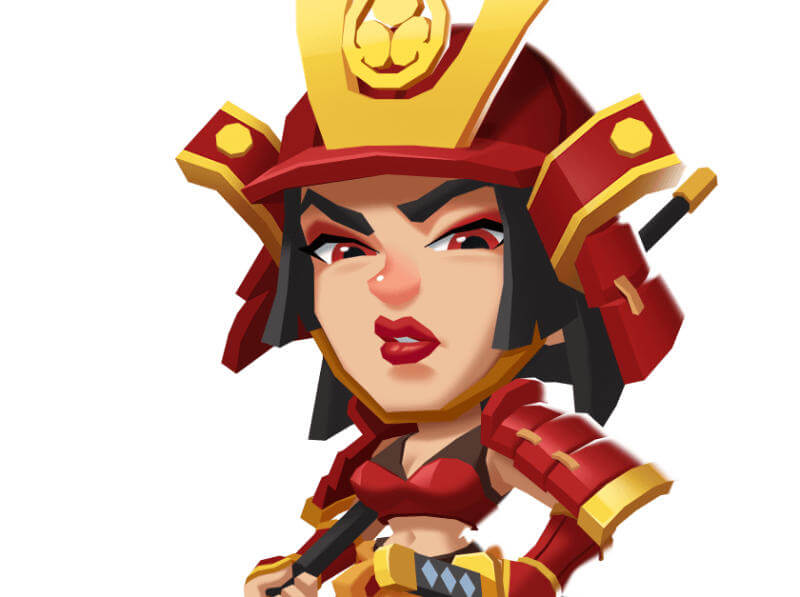 Nation Japan
Trait Strength
Gift of the Samurai (Damage)
At the start of the battle, deals X damage to friendly JPN capo's direct enemies and increases their damage taken by 30% until the end of a battle.
Shadow Strike (Damage)
When the capo's HP is lower than 60%, deals X damage to current and surrounding enemies and stun them for 2 rounds.
Compatibility
Naginata pairs well with JPN capos as it expands her attack at the start of the battle to all enemies directly opposite each of your friendly JPN capos.
IDLE MAFIA UNIVERSE
Mafia Club Membership Review
Best Capos to Develop First
JailBreak: Everything You Need to Know
Money Talks Event: Beat All 200 Waves
Illegal Market Event: Complete Guide
Kill Frenzy Event: Complete All 30 Levels
Please consider supporting my work by contributing any amount as low as $1. This helps to maintain my website costs, development, creation efforts and putting food on the table. Your support is very much appreciated. Keep being awesome! Donate to support my platforms