I found myself arriving on the small island of Malta, where the sun is out for pretty much 10 months of the year. It's refreshing to wake up to the ocean waters, packed with gorgeous Maltese architecture. The perfect time to pack my Western Rise collection of garments and put them to work under the heat, cool breeze and traditional cities.
Our gear is a constant evolution as the way we travel and explore changes. My scouting for adaptable garments brought me to Western Rise, built on the principle of crafting select garments for the active individual to meet the modern lifestyle demands of everyday adventures.
I packed a near head-to-toe suite of Western Rise garments: Elevation Baseball Hat, AirLight Western shirt, StrongCore Merino Tee, Elkton Stretch Wool Flannel Shirt and AT Slim Rivet Pants. Under the warm sun, but breezy ocean waters, these were well-suited to exploring the city of Valetta, scenic city Tas-Sliema, relaxing walks of Qawra and vantage points of Mellieha.
Inspiring Classic Flannel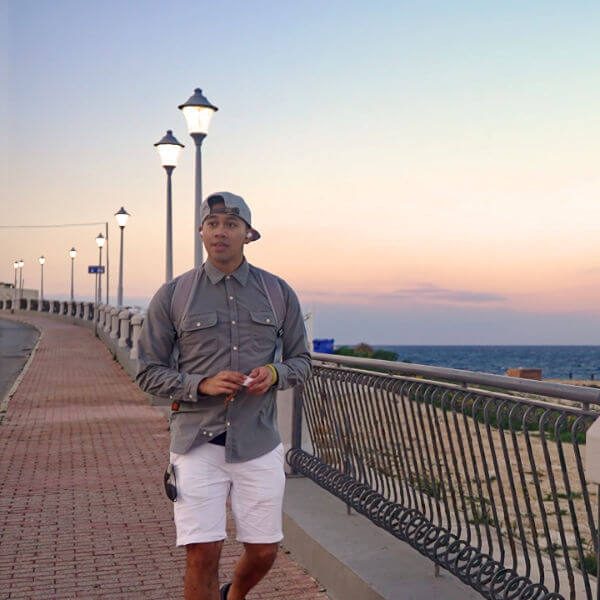 I found myself reaching for the Elkton Stretch Wool Flannel Shirt on many occasions because it feels sooo awesome. It's a little weighty and thick, but when worn doesn't feel heavy or stuffy. The fabric is plush against my skin, while the quality is truly something special. I like the tailored fit as it contours the body elegantly, offering great stretch as I roamed the street alleys and countless steps of Valetta.
The structured design means it holds a flattering shape, retaining warmth under cold, gusty winds. I never needed a jacket when you'd expect to because it subtly warms your body from the material blend. Warmer than the AirLight Western for sure due to the fabric weight and denser build, but still breathable with an open style.
The Elkton Stretch Wool feels premium down to the micron. The considered quality is right up there.

My favourite garment travelling around Malta
There are two features I love which are the buttoned sleeves and sunglasses pocket. The sleeves rolled up, hold well and style slick, while the separate slot on the front pocket quickly solves my gripe when wanting to dock my glasses away.
It cleanly slots an arm inside with the closing flap untouched for an effortless look. From the seams to the flattering shoulder frame and curved hem, this Western Rise garment is a must for aesthetically-forward individuals wanting an adaptable and adventurous shirt.
Light, Fast and Repellent AirLight
As I walked along the cliffside, water crashed against the rockface, splashing over onto the surface. A fair amount of water sprayed onto my AirLight Western Shirt and shorts. I remembered these were water-repellent so rather than soaking into the fabric (like my shorts), I swept it off with ease without leaving much of a trace. It beads off which is ideal for those strolls along the beach and sea waters.
AirLight Western is the agile, breathable alternative for those warmer days or slight breeze. It fills in the gap to accompany the Elkton Flannel.

AirLight as a companion
The lightweight and thinner fabric compared to the Elkton Flannel make it great as an overlay for slight breezes. I like that the front buttons clip together, for fast transitions between leisure, open look, to a smartened closed outfit. The front pockets and sleeves clip too, purposefully for switching styles as quick as the weather changes. The curved hem always adds that modern touch.
Fashion-Forward Merino
Day after day, the StrongCore Merino Tee continued to impress me. Like the rest of the Western Rise garments, it has all the contemporary stylings such as the curved hem, side slit and tailored fit that tapers towards the bottom. Pared with either the Western Rise
AT Slim Rivet Pants or Evolution Pants and you've got a shirt that functionally works for a very long time.
Highly versatile tee that performs under most conditions superbly, when you want to go simple. Possibly the most adaptable merino tee I've worn.

StrongCore Merino Tee performance
It's also one of the most contemporary designs I've seen designed with Merino, blending fashion and function perfectly. If you don't know, merino wool inhibits plenty of anti-bacterial properties which means you can travel with the same shirt for longer, fresher and comfier. This is definitely a favourite of mine when it comes to merino tees that look as great as it feels.
Breathable, Stretchy AT Rivet
And then there's the AT Slim Rivet Pants. I was surprised by how breathable the trousers look and feel. The AT Cloth (custom nylon canvas) fabric makes it super breathable, even under stress walking up and down the hills of Mellieha under the heat. These are one of the most complete trousers I've worn, complete with a zipper pocket discreetly built into the design, deep front pockets and flex you wouldn't expect your legs to enjoy.
The blue grey is refreshing to wear, the fitted upper and relaxed lower combined with the stretchy fabric makes these comfortable to wear even under intense activity. Craftsmanship is astounding.

Highlighting the AT Rivet Pants build
Like the AirLight, these are stain proof and repellent against liquids that bead right off. Getting caught out in the rain isn't so much a bad thing anymore. Airy to ventilate the legs while looking stylish and fresh, the AT Slim Rivet Pants in Blue Grey is a killer pair to pack an outfit with.
Iconic Nod to Tradition
What else to complete the look than the Elevation Baseball Hat. Honestly, hats don't suit me well. My head is pretty small and let's just say my head isn't the most flattering under a hat. But, I've found renewed joy wearing the Western Rise adaptation of the classic.
It says something when I've strayed away from hats as they don't suit me well, yet here I am wearing one.

Simplicity of the Elevation Hat
The matching grey is a no-brainer when paired with the Elkton Stretch Wool Flannel Shirt, offering a refreshed look when I want to switch it up slightly. The leather strap closure contrasts well, while the flat rim personally is more my style. It fits well, even when adjusted. My head wasn't stuffy, the eyelets kept it breathable under the heat and overall, takes a minimal approach that works.
Uncompromising garments allow us to travel without limits. The Western Rise collection let me do just that in Malta. The quality, feel and style are without a doubt made of the highest quality, a tribute to the innovative, ethical and quality values Western Rise prides itself on. If you're looking for garments that perform exceptionally every single day, these are worth their weight in gold. They do limited runs of the above and a few other lines, so be sure to a hands on them. Check them out in the store below and be sure to read my in-depth review of each garment. Buy Western Rise
For disclosure, this article features affiliated links which means I may receive a commission if you make a purchase through these links. They in no way influence or dictate my thoughts towards a brand, product or service. As the sole creator of One Tech Traveller, this helps support my work and platforms.