The coach is the widest form of public transportation available to visitors around Korea. It's also one of the most affordable ways of doing so. I've used the coach a few times between cities, towns and will be using it for long haul journeys where trains just aren't available. It's relatively comfortable, takes you directly to your destination terminal and overall straight-forward to use.
So if you're looking to do a round tour, here are three ways how to buy a coach ticket in Korea to make your next adventure straight-forward and smooth.
Terminal Ticket Office
The most obvious method is buying it on the day when you arrive at the bus terminal. The ticket office tends to have a massive board above the ticket counters, showing the various destinations and prices. Bear in mind, these are generally shown in Korean so if you can read Hangul you're good to go. Otherwise, simply matching the place you're visiting using the Korean alphabet vs what you see can help you match the information.
If not, do not fret. Simply go to the ticket counter and say the name of the place you want to go. Try to be clear in the name of the place you're speaking as there are cities named very similarly sto each other such as Jeonju, Gwangju, Cheongju and Jinju!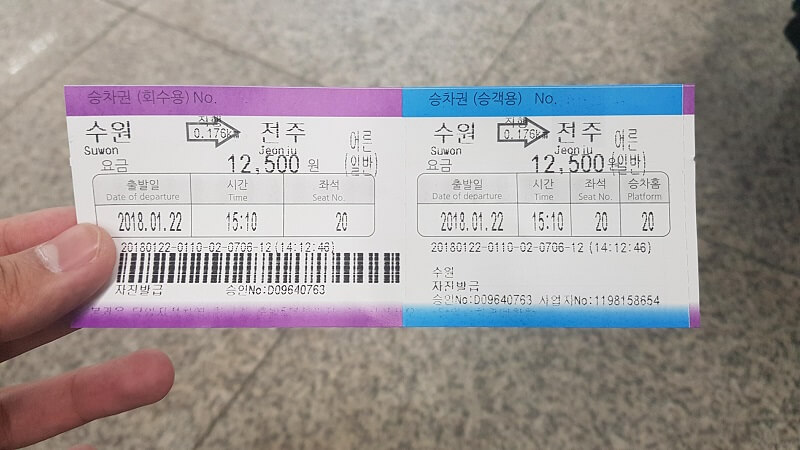 I went to buy a ticket for Jeonju and wanted to be super sure it was the right destination. So I wrote the Korean Hangul '전주'on my phone  (wouldn't you hate it if you arrived in a completely different place hours later? I'm all for spontaneity to a degree, but if you have a planned schedule of a trip, this can throw that up in the air).
Simply say '어른하나' (uh-reun ha-na) which means 'one adult' and you'll be good to go. They tend to give you the ticket for the next bus unless you ask so it's perfect if you're looking to leave as soon as possible.
Cashbee
The recommended way of buying your coach ticket. These self-serving machines aren't available in all terminals, but if they are I highly suggest for you to use it. Firstly, it offers multiple languages including English. You simple enter the first letter of the place and select from the list to book your coach ticket for.
You'll then be greeted with a screen that offers different times to your destination and the prices for each time. You can even book the seat you want to reserve which is really cool.
You'll also be glad to know these take international cards such as VISA and Mastercard. If you plan to use your card in Korea or like me using Monzo as your travel card, it fortunately works smoothly here which is awesome! Very convenient, quick and easy with confidence to know you're going to the right place. So if you can, look out for these machines within the bus terminal, using near the ticket counters.
I've used this method so far from Jeonju (전주) to Gwangju (광주) and a day trip to Mokpo (목포) and it's as easy as using it back in the UK. OK it is actually easier. It gives the option to book for the next coach even if it's leaving in the next one or two minute so don't hesitate, book it and make way to the gate!
T-Money Bus App
More for locals or long-term stays in Korea, you can book your ticket in advance using the T-Money TX Bus app. I recommend this for people who want to book in advance and have that peace of mind, especially for peak times or busy routes such as those coming into Seoul from satellite cities or further like Busan.
You can download the app from the respective app stores on iOS and Android smartphones, called '시외버스 모바일' . The menu is in Korean but you can pretty much get it setup. You'll need to download the security app as part of it called V3 Mobile Plus (which I imagine is for securing payments while using the main app), then create an account with your email address as the username and a password.
Once you're setup you can create a plan of routes and the available times with prices ahead of visiting the bus terminal itself. Great for getting a feel on how much a ticket would cost and the times, rather than at the time of departing.
The limitation here is it only accepts local card issuers so Visa, Mastercard and such are out of luck (which is why I recommend for locals or long-term stay and have setup local bank accounts). You can see the list of accepted card issues in the picture. But if you can, then you can simply collect your reserved ticket in the terminals seen below.
Alternatively, you can use the TX Bus website on your laptop and is dispalyed in English, but still only accepts local bank cards to purchase. An easier experience however if this method works for you.
---
There you have it, three different ways to buy a coach ticket so the next time you look to venture around Korea, you'll find taking the coach a straight-forward process and cheap way of doing so!