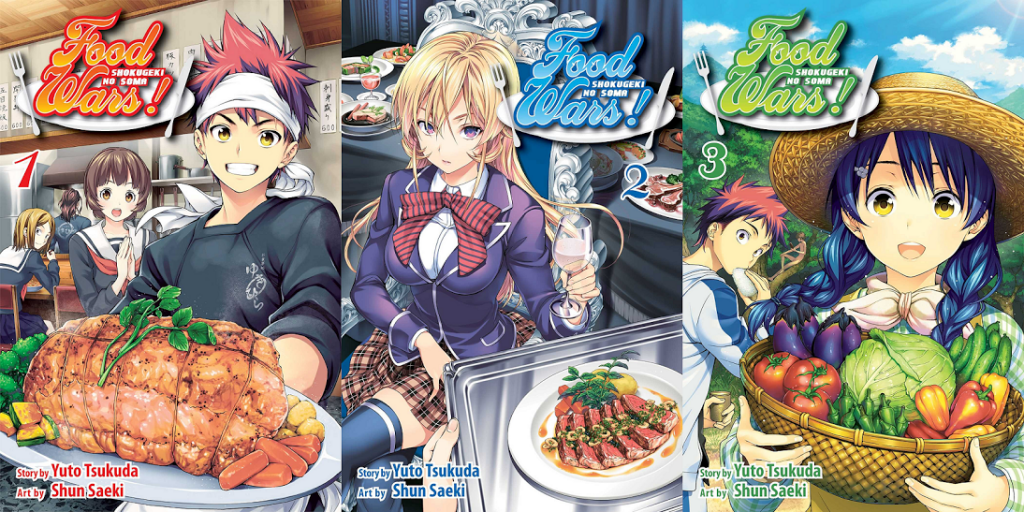 When you couldn't think a show could capture the heart of cooking and food in a humorous, light-hearted and exciting adventure, Shokugeki no Soma! Season 1 stunningly delivers.
I love food. I know I'm not the only one but my gosh I love food. So when I first caught wind of this, it was a match made in heaven. Who knew when you combine food and anime that you'd get an exciting, enthralling, and hilarious adventure that keeps you wanting more; salivating over delicious cultural food created throughout the 24 episodes.
Meet Soma Yukihira, a middle school student that helps run the family restaurant with his father Joichiro Yukihira in his local town. He strives to one day surpass his father's culinary skills and head the Yukihira restaurant, learning not long after that his father is travelling away for a couple years and closes up shop.
Tasked with pondering about life after middle school, Joichiro enlists him at the most prestigious elite culinary school in Japan, whereby only 10% graduate on to become the world's best Chefs. Skilled chefs would await and it's up to Soma to rise to the challenge.
Cook-Off Showdown
Upon arrival, Soma meets other students – friends, rivals and enemies (though the later pretty much the school) – hoping to make it through the first term. In terms of characterisation, Soma is an ambitious protagonist who strives for perfection, exuding confidence in the way he conducts himself in the kitchen and through his dishes, whilst also balanced as a friendly, modest and chilled guy.
Though his family specials were surprising enough for the early challenges, he soon learns he needs to take his dishes to the next level and at the end of it, shows he can still grow in skill further, even with many years under his belt.
Placed in the Polar Star academy which he learns about the Elite Ten – who are crazily skilled students formed as the council that directs into the chairman of the academy – he meets students from his own dorm that grow in presence over the course of the series. Megumi Tadakoro such as comes from a humbled village, hoping to make the village proud, though struggles in self-confidence and academic achievement.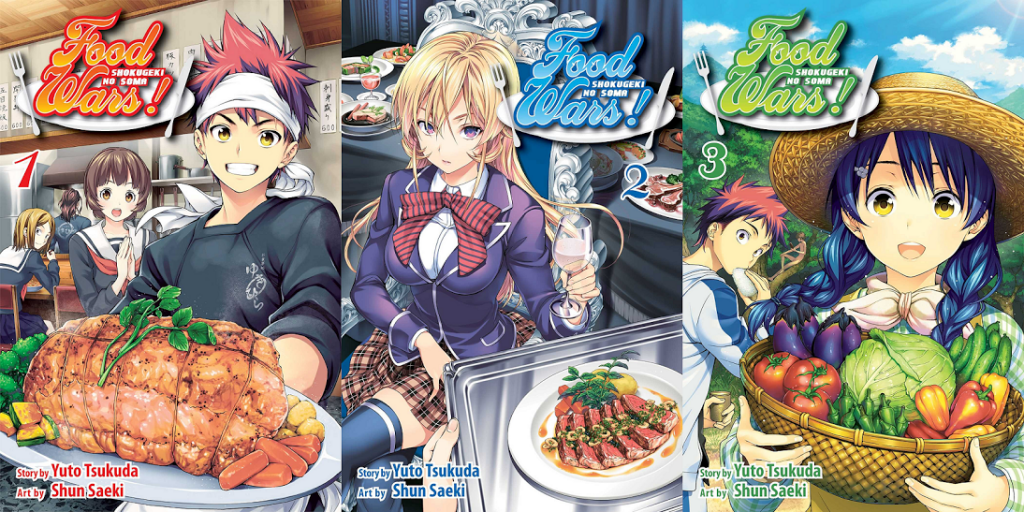 Polar Star Academy
Contrasting her with Erina Nakiri, the youngest member of the Elite Ten blessed with the 'God Tongue' at birth, who has critiqued the most prestigious chefs in the world as soon as she was able to speak. She's confident, controlled and adored by the school, but there's something about Soma that just gets under her skin; that chip on her shoulder. Is it because he's a small town kid? that unwavering determination to be top student? Or the fact he actually makes delicious food? Yeah, pretty much all of those.
Sworn rivalry and friendship blossom through each other's cooking, with intense training camp challenges making for entertaining scenes (50 steak dish serving to the bodybuilding club anyone?). A worthy mention is the unofficial Shokugeki (duel) between alumni prestigious chef Kojiro Shinomiya and tag-teamed Soma and Megumi. Soma bound to sous Chef status and the self-conflicted Megumi tasked to take the reigns, all tensions rise, breaking up the light-hearted exchange with serious undertones at the threat of expulsion.
The audacity that 'Food Wars!' goes to dramatise the effects of people enjoying these wonderful creations is strikingly ingenious…I couldn't get enough of it, just like the rest of them.
If there's one thing I really love about 'Food Wars!', it is the depiction of people enjoying their food. I mean we all show small signs of appreciation when we enjoy it – closing our eyes, smiling helplessly or making a satisfied 'mmmm' sound, we all do it (even if you won't admit it).
But 'Food Wars!' (oh man) takes this to a place out of this world, and what it results in, are extreme, imaginative, insane (running out of words here) scenes of orgasmic, clothes-stretching, body-caressing and food-embracing moments that just scream out hilarity at the most organic level. (hoping no-one walks in at the worst possible time).
Proof in the Pudding
Either way, it's so dangerously awesome. So bad but it feels so right… Don't judge me. Swiftly moving on (ahem), the cut throat culinary school chewed up student after student at the hands of top alumni chefs, in what was a tense affair with not everything plain sailing for troupe Soma, Megumi and fellow dorm mates. What makes Food Wars great is the growing presence off supporting characters over time, unveiling distinct personas, speciality traits and relatively balanced limelight that sets up the framework for Season 2 (yes it's been announced!)
You've got meat lady Nikumi, medicinal based Hisako and spice master Akira to name a few. the group is vast and makes for a refreshing and adventurous outlay as they near the autumn festival showdown. For a simple concept, it's well executed with little pitfalls in the run-up.
Delicacy at its Finest
There is cooking action in every episode, however surprises to keep each fresh and different which kept me engaged throughout. The variety of cuisines that is inspired across several geographies and food groups is nourishing to see, whilst the breakdown of such dishes is a nice touch of appreciation for food.
The outlandish and sometimes outright insane reaction begs how often such impressions are left in the world, however does more to emphasise the hard work, care and delicacy such ingredients leave at the tip of our tongues. The care-free exaggerations were personally hilarious that always put a smile on my face. You'd be hard pressed not to see it.
Bring on Shokugeki no Soma: Food Wars Season 2 Soma and co!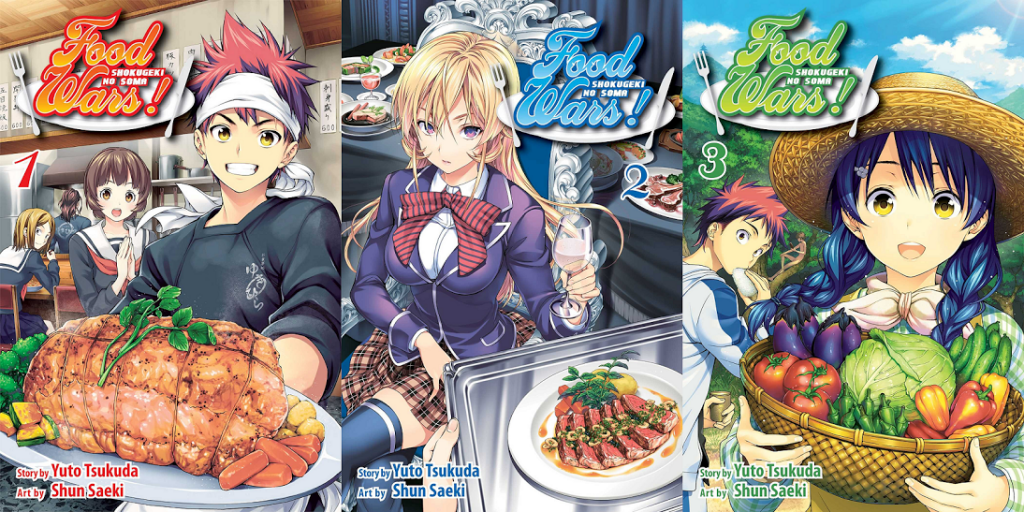 Deliciously Brilliant
If you're looking for some light-hearted entertainment with a simplistic story of an ambitious student striving to be the world's best Chef who cooks his way out of trouble with over-the-top drama, Shokugeki no Soma is a no brainer.
HIGHLIGHTS
Hilarious reactions and chemistry
Makes the subject of food so attractive
Addictively Good
LOWLIGHTS
Not all will enjoy the outrageous drama