The Surface Go is an incredibly portable machine to work with, essentially shrinking most of the goodness from Microsoft's Surface Pro range into the Go. It's pretty workable as a main or secondary travel device by itself, but I noticed over time – some omissions more glaring than others – how the Surface Go could really become a useful, versatile mobile machine. Here is my essential Surface Go accessories list is worth adding to your setup.
Sony UHS-II Memory Card Reader
If you do any kind of creative work with a camera, you'll quickly find the lack of memory card access glaring. I mean, I did. Sure, I can connect my Sony A7 III to my Surface Go and access it that way, but unless I'm backing up or going through shots from the day, most of the time I'm doing it post-shooting, leaving my camera at home. If you're like me then a quality memory card reader is high up on the priority list. My choice is the Sony MRW-S1 which supports UHS-II SD cards with SuperSpeed USB 3.1 Gen 1 for fast transfers to the Surface Go. It has a USB A port should you'll need a USB C adaptor (see below), but it means it's universal to work with my main Surface Book machine.
If you want native access to your action cam footage and similar transfer speeds, the Satechi aluminium dual memory card reader is also a great choice for a similar price. With built-in MicroSD and SD card slot with UHS-II and native USB-C, plug it into the Surface Go and you're READY to work. The wire length means it'll hang down, which is why I opted for the straight plug-in Sony MRW-S1, but the extra simultaneous MicroSD access and no need for an adaptor is an attractive alternative.
Satechi USB Hub for Extra Ports
Sometimes having a single USB C port on the Surface Go is just not enough. You might want to connect a hard drive, memory card, charge your wireless earbuds and connect your phone at any one time. The likelihood is quite low, but having that flexibility makes the Surface Go feel less restrictive. A good USB hub is one that offers power delivery to charge your Surface Go while connected through the USB hub, offer USB-C input and USB A 3.0 ports for fast data transfers which may be important if you're offloading bulk photos or videos from a day's shooting, or accessing your content from a hard drive. Something not too bulky or heavy but easy enough to pack, all powered by the single USB C port.
The Satechi Slim multiport adaptor V2 has an excellent array of ports, enough to meet all your connectivity needs including an HDMI port to project onto a display. It's slim and looks premium too. These are built with Apple products in mind but are completely compatible with the Surface Go. For a minimal setup, the fewer cheaper Anker 5-in-1 USB Hub is a very respectable bet. if you're looking for the full suite, then the Satechi Aluminium Multi-port V2 adaptor is a much pricier but complete package with more ports, ethernet. All are USB-C, ready to plug into your Surface Go.
Nonda Adaptor For The Legacy
USB C may be the way forward and packs plenty of benefits such as faster charging, image output, and data transfer from the single port. But, all those peripherals and accessories using the USB-A connector means you can't connect them directly to the Surface Go. If you prefer to do without big USB hubs and want a minimal way of making them compatible with the Go, add several USB C to USB A adaptors that make them usable with the Surface Go.
I went for the Nonda USB C to USB A adaptor, a stylish, slim adaptor with no wires that easily plug at the end of your device and secures into the Surface Go's USB C port easily. It has a nice metal finish, built well and doesn't add much extra bulk. If you're trying to keep unnecessary wires to a minimum, this is a way of achieving that. It's always handy to have one or two with you and at less than $10 each, it's worth the premium build and versatility.
NOMAD Kevlar 100W USB C Cable
If you plan to ditch the Surface Connect power adaptor to charge the Surface Go and plant to use the Surface Go on the road, then you'll want a robust USB C cable that won't let you down. One of the great features of the Surface Go is the fact it has a USB C port and can charge through this, lending to a more mobile setup. The NOMAD 100W USB C cable is my go-to, with an upgraded and world-first kevlar construction which means they are super robust, built to military-grade spec so you know it'll handle all those flex, curls and bends without any doubt of fraying. It also means it'll support power up to 100W which is can easily charge the Surface Go at the highest rate it allows. If you have a Surface Laptop, Pro, Book or even Macbook Pro which supports USB C charging and require more power up to 85W, the NOMAD Kevlar 100W USB Cable can handle all of them. These have been my go-t0 for quality USB C cables for some time now.
RavPower USB C Powerbank
Paired with a solid USB C cable, a high capacity USB C power bank is the final step to making the Surface Go a portable machine that doesn't see you hugging a wall for a power plug. Use a high wattage power delivery power bank like the RavPower, Anker or and the Surface Go can stay charged for hours, while also charging your other USB-A and USB-C devices. Since I started using my Surface Go, I haven't charged it with the Surface Connect charger it came with, besides the initial charge while I was setting up. The power brick is a lot smaller than say my Surface Book and does have some utility with the USB A port on the brick too. But there are a lot of wires and it means I'm still hunting a wall power unit when the battery gets low. A high capacity power bank means you can fast charge through USB C and do 2-3 full battery cycle charges before the power bank is empty, allowing you to work from anywhere without worry.
Official Surface Go Type Cover
Although the official Microsoft Surface Go Type Cover Keyboard is expensive, it's very much worth the outlay investment as it is essential to pair with the Surface Go. Few alternatives out there come even remotely close to the experience, quality and standard you'll get with either the Signature Alcantara or non-premium fabric version of the keyboard. It completely protects the screen when closed, 3-stage backlit keys, wide glass trackpad which is excellent and a typing experience that is satisfying to use on the go (pun intended).
I've been using the Cobalt Blue SIgnature cover and drafting up what typing with this thing on the Surface Go is like in more detail, but I can say this is an excellent keyboard worth its price tag if you can afford to and one that makes the Surface Go super productive for mobile professionals and travelling creators. Available in Alcantara premium fabric Cobalt Blue, Burgundy, Platinum and non-fabric black, it's also a great way to personalise the Surface with style.
Official Microsoft Surface Pen
Not everyone will need the Surface Pen, but if you're even remotely interested in using the Pen for drawing, creating or note-taking, the Surface Pen is a really nice accessory that extends the experience further. When I'm using the Surface Go as a tablet or clipboard, the Pen is very precise, feels fluid to write with and even helps with navigating around Windows 10 OS better. With its 4096 pressure levels and tilt support, a variety of sketch apps and software means you can really create some cool stuff. The new Surface Pen is built very well, the battery lasts beyond 6 months, adds extra off-screen actions with the buttons and is precise as a mouse too. The Go won't replace your main machine and the Pen is only worth the high price tag if it fits in your workflow. If it happens to be, then the Surface Pen is an excellent working tool. Plus, if you happen to have any other Surface device, the Pen can work with them too.
Microsoft Arc Touch Mouse
If you plan to use the Surface Go for many hours, you'll probably find the trackpad, though excellent to use, can be fatiguing to navigate the OS with. Touch works great too, but the screen may soon get fingerprints showing all over the place. A Bluetooth mouse is definitely worth adding to your setup and I recommend the travel-focused Arc Touch Mouse.
When not in use, it flattens down to keep a thin profile and complement the compact, slim design of the Surface Go, while bending the Arc Touch Mouse turns it on and creates a pretty good arch for your hand to cup over. The design is beautiful and supports touch vertical and horizontal scrolling with two traditional left and right buttons. I have used the original arc mouse for years and find it a good balance for portability and usage. The cheaper and more functional design Surface Mobile Mouse is a respectable alternative though I find the profile too low for my liking. And with my time using the Arc Touch Mouse, it's a great mobile mouse to accompany you for longer stints with the Surface Go.
MicroSD for Easy Storage Expansion
The Surface Go supports a MicroSD card underneath the kickstand which is an easy and affordable way to increase the Surface Go storage hidden from plain sight. I use a MicroSD card to store my music and movies, saving the 128GB SSD of my Surface Go for apps and files I need faster read access to. You don't need the fastest card as the built-in MicroSD reader of the Surface Go is limited and won't take advantage of faster cards. So I recommend either the Samsung EVO Plus 256GB SSD or SanDisk 200GB / SanDisk 256GB MicroSD which will do the trick nicely. They're pretty affordable and greatly increase your base storage so you can truly make it into a solid mobile machine.
Tempered Glass Screen Protector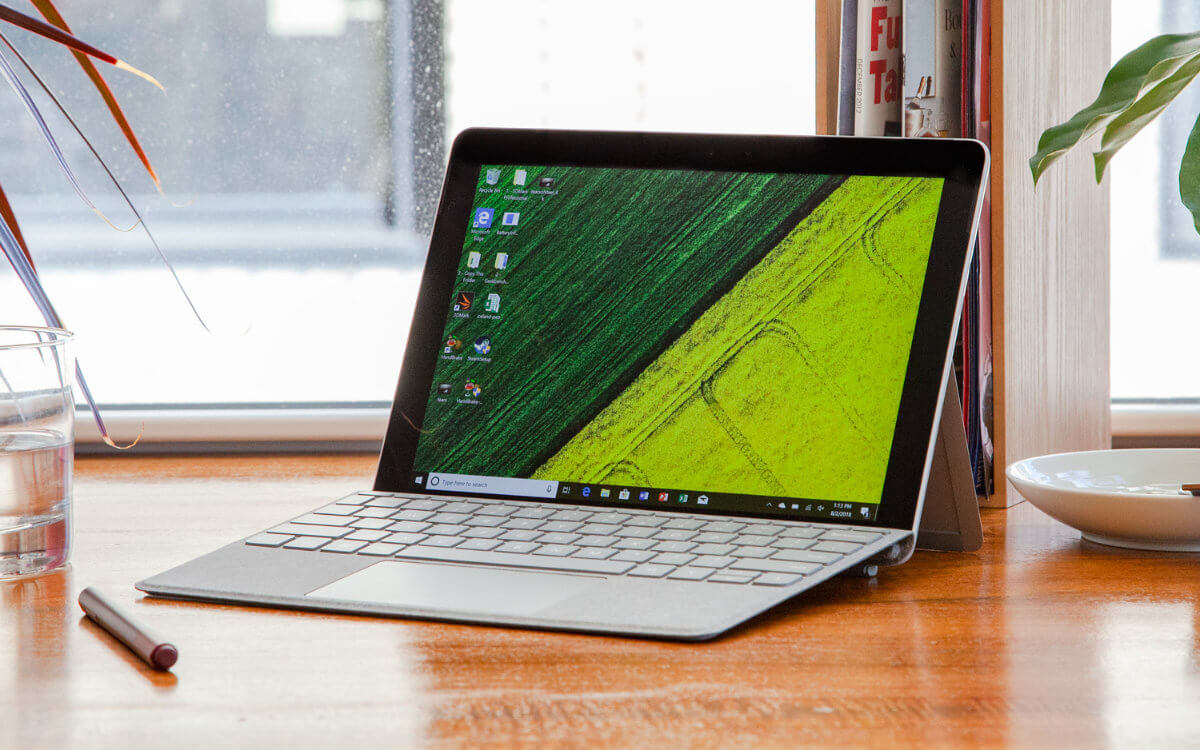 It's a no-brainer to have a screen protector for the Surface Go which adds an extra layer of protection whether you're using the touchscreen or not. There are different types of screen protectors which may add some confusion as to which one you should go for: glossy, matte, tempered glass, paper grain film to choose from. I'm a big fan of tempered glass and recommend the Spigen tempered glass or more affordable protector from MoKo. as not only do they'll stop your Surface Go screen from getting scratches like normal, glossy screen protectors, but the extra toughness and hardness helps protect the screen if you happen to drop it and it lands face down on the ground or against an object.
It's a thicker layer but adds extra protection and worth paying a little bit more for tempered glass. If you like to write on the Surface Go and want that analogue, paper-grain response, then the Mikonca PET paper matte, anti-glare film is for you. It adds extra feedback as you glide the Surface pen and reduces glare, but note, it does affect the sharpness coming through. Whether you go tempered glass or matte anti-glare, both will do a good job in keeping your screen protected.
For disclosure, I may receive a commission if you make a purchase through these links at no cost to you. They in no way influence my own opinions and review towards the product or service. As the sole individual creator, this helps support my work to keep producing quality imagery, videos, articles. If you find any of what you read, see or watch useful, please consider using these links. You can also support my work on Patreon here. Thanks and Keep Being Awesome!