I wanted to spruce up the bare, blank walls in my place and chose to use Desenio for the first time to handpick a few posters of designs and sizes. From fast shipping all the way from Europe to South Korea, to unpacking the tubes and finally putting them on my wall, I can happily say that Desenio Posters is a great service, with a satisfying collection of quality prints and designs. The extra selection of frames, clips and adhesive tapes, meaning your prints are wall-ready.
Unpacking the Desenio Tube
If you haven't watched the video, I urge you to check it out as it's a really insightful way of seeing these prints from Desenio. I ordered about 5 posters in total with a handful of posterboard clips and several non-residue adhesive tapes so I can stick them up around my place. The walls were looking a little bland and lifeless so I wanted to inject some energy, positive vibes and motivation to get me fired up in the morning and when I exercise at home.
Everything came in a black tube (two actually as I made separate orders), wrapped in a separate thick paper sealed with a rippable tape saying 'thank you'. The presentation was attractive and would definitely make for a great gift for a birthday or occasion. Everything was intact, no signs of damage and was rolled safely that is easy. The fact that my shipment took only 3 days from dispatch all the way from Europe is impressive too.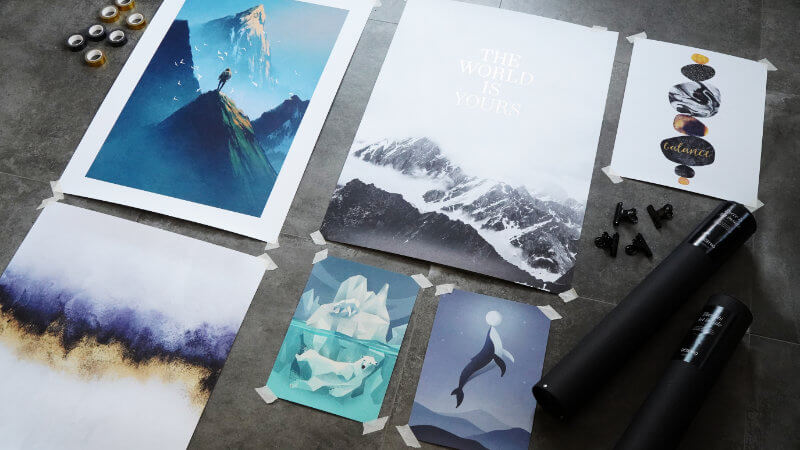 So here are all of my prints and everything that came inside the tubes! They look pretty dope I must say. I decided to go for two hero prints which are the adventurer (my favourite) and 'The World is Yours' mountain print, with the 'Balance', 'Golden Horizon' and animal posters filling out smaller areas in my place. The balance print ended up being stuck on my wooden bathroom door, the Golden Horizon just beneath the adventure hero print thanks to the square size with the same 50cm wide to match. The 21 x 30cm animal prints I stacked vertically in between my kitchen and window which had a small wall space it fits perfectly onto.
Poster Clips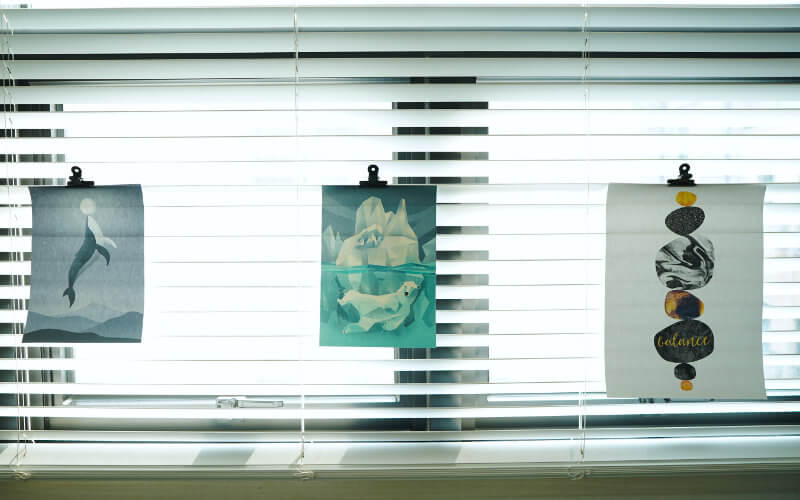 I decided to use the tapes rather than the clips as I don't have meaningful places to hang them, but here's an example of what they look like. The clips are really solid and can hold onto anything, in this case, to my window blinds. Clipping the posters is a great idea if you place the posters on board to clip them onto or a hanging thread. If you happen to have nails on your wall, the clips have a hold in the centre to hang them onto, acting as a hanging clip you can easily switch prints from time to time. The blacks give a modern, contemporary feel whereas the gold clips (or silver) add a flair of elegance and sophistication.
Smaller Print Sizes
These animal posters are really cool, right? Illustrated by Dieter Braun, I paired the two polar bears vertically on my wall, with the whale kissing the moon above for that natural sky, land and sea continuity. These are one of the smaller sizes Desenio offer at 21 x 30 cm, which is perfect for fitting into small places while still allowing you to enjoy the images themselves.
The cooler tones across both pictures work harmoniously and I like the more atsy look to them. They make my collection more alive and I always have a soft spot for animals.
Golden Frame on the Wall
On my wall, the prints look awesome. One of two hero prints, 'The World is Yours' is the only one out of the five prints to have gold lettering beyond the colour print themselves. I chose to use the gold adhesive tapes to match with that and decided to create a slim border frame to stick onto my wall.
Let's talk about those adhesive tapes – I bought a couple of solid black and gold tapes; the reason being I'm not allowed to hang pictures on the wall. These are non-residue which means instead of using blue-tac or sellotape which will leave residue and peel the wall paint, these can work in its place and not leave or peel anything behind. They work best on smooth, flat wall surfaces like wood, glass or similar, sticking and holding to best effect.
My walls aren't that great however as they are quite bumpy and don't offer as much area for the tape to hold onto, exacerbated by the cold conditions that also reduce the stickiness. On my wooden door, however? excellent. But for my large, hero posters they tended to loosen up, in which I added these corners to reinforce them. They've actually held up well to this day which I'm relieved about, but so you're aware as these aren't that sticky to begin with, whether you want to add many rolls or not. Masking tape works well as a substitute, otherwise consider the clips and poster board, or a Desenio frame to go with the print.
Collection of Quality Desenio Posters
Waking up every day to these inspiring prints strategically placed around my place really livens up the atmosphere and ambiance. Gone are the bare, blank walls and in its place are inspirational posters that talk to me and get me fired up with bundles of energy, whether that's editing a video, writing a story or exercising.
The matte paper softens the natural shine from outside but gleams against the gold tape for a pleasing effect. You'll find a range of prints in a host of sizes that come out well and really comes alive when you create a gallery and combine them together. Overall, it's my first time using Desenio and has definitely left a great impression on me that I wouldn't hesitate to order from them again. I probably don't need to order anymore tape as those 10m rolls cover much more than I expected. I can't comment on the frames but think for their size and quality, are pretty well-priced if not at a slight premium. But hey, Scandinavian quality has its allure and if you're looking for that than Desenio posters is a premium worth paying.
CONCLUSION
Desenio is an excellent print poster service, with a vast range of designs from artists, offers a wide variety of sizes with very satisfying print quality and paper. The adhesive tapes are best if you have smooth, flat surfaces, otherwise there are a range of nice, but quite pricey frames to choose from.
HIGHLIGHTS
Fast international delivery
Pleasant packaging experience
Satisfying matte paper and print quality
LOWLIGHTS
For best results, Non-residue adhesive tapes work on smooth, flat surfaces
Gets expensive for very large prints