Back in 2018, as part of my 3 month travels around Korea, I made my way further south, staying in Gwangju city for a week. There are many nice places to visit in Jeollanam-do and one of them is the green tea field in Boseong. While the tea fields are ripe in the summer to harvest, I came to Korea during the winter (bone chilling cold south of 0 degrees) and made a day trip out of it. Still worth a visit and is a great way to beat the crowds as its quite a hotspot in the summer to travel.
Day trip information
WHAT YOU NEED TO KNOW
Country South Korea
Province Jeolla-do
Journey 1 hour bus from Suncheon to Boseong
Transit 25 minutes bus from Boseong terminal
Admission 4,000 korean won adult fee (2018)
Drink From 1,500 korean won local tea at the café (2018)
Please consider supporting my work by contributing any amount as low as $1. This helps to maintain my website costs, development, creation efforts and putting food on the table. Your support is very much appreciated. Keep being awesome! Donate to support my platforms
Transport and Admission
I travelled from Suncheon, one of two cities in Jeollanam-do (전라 남도) I made by base to travel in the southern area of Korea (the other being Gwangju). Boseong is fairly small in comparison to either of the two cities, each having great transport links either by bus or train to the rest of the country. I recommend either if you like to do day trips to nearby areas as they in itself have a bit more to do and see in the vicinity (Gwangju being one of the biggest cities in Korea too).
Getting from Suncheon to Boseong is straight-forward and easy once you get the hang of the bus station. There are self-serve ticket machines where you can purchase bus tickets to any destination within the country. I bought a one-way ticket from Suncheon to Boseong for 6,300 won (2018 price) which is roughly £4 and takes 1 hour to Boseong bus terminal. From there, I then bought a ticket from the terminal to the green tea fields (again using either the machine or the ticket desk if you can speak Korean) and that was an additional 1,300 won.
That makes a round-trip from Suncheon to Boseong tea fields cost less than 15,000 won or less than £10 which is veery reasonable as a day trip and the 3 hour it takes there and back.
The bus stop is 25 minutes from Boseong town and it's not hard to miss, with the hangul letters dotted along the hill on one side of the road and a big car park in front of the Boseong resort, tea museum and green tea fields. There's a little walk from here to the entrance where you'll pass this statue below and an arch. Walk there and follow the signs before you end up at the ticket booth to enter Boseong tea fields (보성녹차밭).
Day Trip to the Tea Fields
Things might have changed over the last 3 years but its certainly a beautiful place to visit that gives you a great atmosphere of Jeolla province. There are a few attractions nearby Boseong tea field like the tea museum, resort, pension and Bonghwasa temple. The best time in the day to visit the green tea field is the early morning as the ahjummas check, harvest and work in the tea fields, will that morning musk in the air.
I came in the afternoon roughly February time and it was super quiet. I rarely met anyone inside the fields besides the ladies at the entrance ticket, the ticket checkpoint and the café. There were just a handful of visitors which is perfect if you love to explore in peace and have the entire views to enjoy at your own leisure.
Boseong green tea fields are quite vast and big, and you can easily spend a few hours to walk around the grounds, in between the fields and reach the peak at the top. If you can brave the winter (or can't help that you're travelling in Korea during this time), the snow covered grounds do make for a nice scenery, including the backdrop when you reach the top of the hill overlooking the fields, trees and beyond.
It's definitely on of the scenic kinds of tea fields thanks to the wave-like arrangement of the various fields along the hill. This helps with fairer sunlight for each row, as it lands up the hillside. It was too cold to sit among the various seats where you can adore the view lower down, but one place I recommend trying is the café on site. They sell the raft of tea and flavours they grow which you can by as souvenirs… but you can also drink the locally grown tea.
Definitely a must in this cold weather! Quite fragrant, definitely heart-warming and of course, tasty with that herbal subtle, green tea taste. I spent a good amount of time wandering around the sit, with more wood-like areas including a small bamboo forest to walk through.
Close-call back to the bus terminal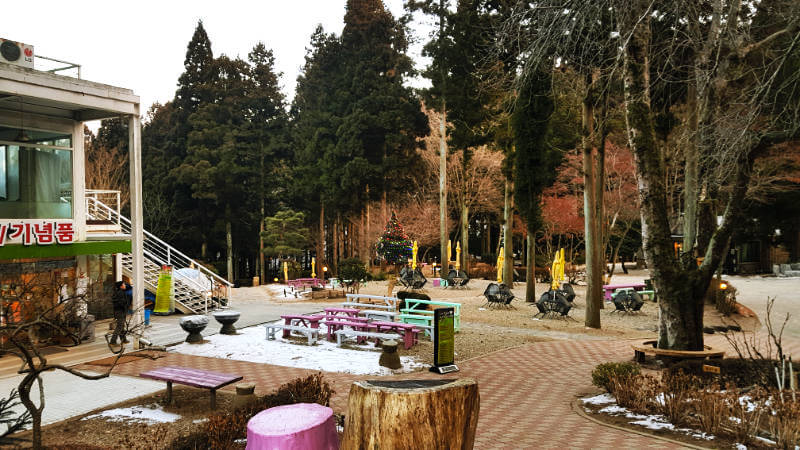 It was coming closer to the early evening, so I had to make my way back and hopefully they've fixed the bus arrangement as works were being done at the time. I was super lucky as I don't know if the last bus had already gone and I saw a minibus taking some workers from the Boseong tea fields back to Boseong town.
After a few stop and go moments (where I wasn't sure if they would let me on, and the driver equally confused), I committed running to the minibus and asked If I could get a ride to Boseong bus terminal. They were very friendly and helpful, with the ahjummas probably having a say that I most likely needed help haha.
I managed to get to the Boseong bus terminal but it was already past sunset and light almost out. The reception desk was closed and finished for the day, which did have my heart-racing a little but a self-ticket machine and my bus turning up back to Gwangju put me at ease. Phew! Definitely check the last bus from the tea fields to Boseong town as places close here fairly early, and so you don't miss your connection ride! I'd love to go back in the summer to Boseong tea fields so I'll put that on my list whenever I find myself back in Korea!
Please consider supporting my work by contributing any amount as low as $1. This helps to maintain my website costs, development, creation efforts and putting food on the table. Your support is very much appreciated. Keep being awesome! Donate to support my platforms