If you want a compact speaker that is easy to pack inside your bag or sit at home, the Creative iRoar Pro is an excellent choice. It's incredibly loud despite the size, offers all-day battery and outstanding sound quality. Thanks to intelligent audio profiles, dedicated 'Roar' mode and intuitive equaliser control, the iRoar Pro delivers great dimension to sound, in particular to bass reproduction and crispy vocals.
Meet the Creative iRoar Pro
I've tested the Creative iRoar Pro for over a month or so, using it regularly to the point it's on at least some point everyday. This is a powerful portable speaker, despite it's compact design. It measures 22.5cm wide, 12cm deep, 5.7cm tall with a weight of 1.1kg. It's a rectangular, boxy shape, however design looks premium with unique elements to stand out.
There are different textures, patterns and materials used here – metal grills cover the whole front and sides, gold trims along the edges that wrap around the unit and a glossy black finish on the top with dimpled patterns that offer a smooth, faint response to the touch. Bottom and rear are matte black, with two long rubber strips for a grippy base. The design is striking and pleasant to look at, especially with that plastic circular centre with more metal grill goodness.
On top, there are touch sensitive controls and a dedicated 'roar' and 'mic beam' function which I'll detail later. It's travel friendly, with a quality plush cloth pouch and interchangeable power adaptor with US, UK and EU plug heads (the latter working in Korea). The Creative iRoar Pro has 5 speakers: two passive radiators, one x 2.75″ woofer and two x 2″ tweeters.
Full Suite Connectivity
When it comes to connectivity, the Creative iRoar Pro has everything covered and more. Besides Bluetooth and NFC, you'll find a host of inputs on the rear. That includes: a DC power pin, microUSB for cabled playback, microSD slot for always on-board music with a shuffle and loop toggle just above, 3.5 mm headphone jack input for any MP3 or Phone playback and even an optical-in for larger music setups. There's a USB-A port to charge a device from it's 9000 Mah battery. Neat.
Surprisingly, the iRoar Pro only uses Bluetooth 3.0, and supports aptX codec. While Bluetooth 5.0 may provide a wider distance and faster wireless transfers, 3.0 has always worked very well for me. I've streamed Netflix from my laptop, YouTube and local music from my Samsung Galaxy Note 10+ 5G, both working flawlessly every time. AptX low latency has meant voice was always in-sync with video playback. I haven't tested it in crowded open spaces, which would be tough for any wireless speaker or earphones (which the Creative Outlier Gold managed well in my review), but inside my apartment, rooms with thick brickwork or outdoor spaces, it's performed great.
Touch controls on the Creative iRoar have always been responsive, with good touch detection area. The only physical button is the power button on the top-left corner. You can hold press to put it in pairing mode or tap NFC with your device for instant pairing and connection. Everything feels slick and seamless. You can even activate a voice assistant like Google Now, Bixby or Siri by pressing the call button to command anything on your phone instead of having to grab your phone. Sure, you can call out to it, but if you're playing loud music or have always listening mode off, it makes perfect sense.
Speaker Quality and Performance
These are speakers first and foremost, so you're probably wondering just how good are these? In a nutshell, excellent. That's down to the Creative iRoar drivers that produce insanely high volumes for its size without any distortion, powerful intelligent audio profiles and equaliser to tune the sound to your liking, and speaker arrangement that gives a good soundstage considering it's physical measurements.
They are meant to lay flat, the two tweeters facing the front on the flanks, with the woofer occupying the centre with an open panel on the top for extra dimension. The two passive radiators are on the side to widen the soundstage. You'll get the best sound reproduction when in front of the speakers -best placed in a corner, underneath a TV further away for wider sound or on your desk closest to you. It suffers when placed low or high, needing to be level with you. But that's typical of many speakers out there.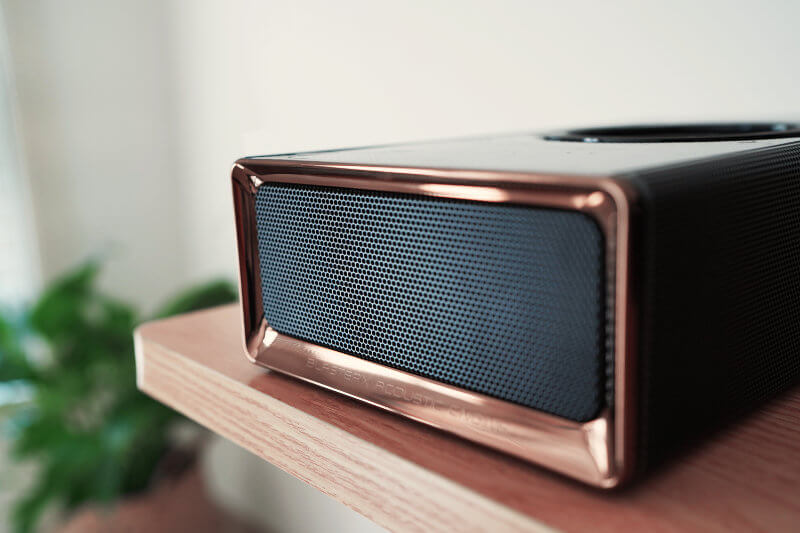 The overall sound is well-executed. Taking into consideration it's footprint and similar speakers of size, it has a high level of sound production quality, immersive staging and depth in bass details. Initially, out of the box it sounded quite muffled and lacking. But once you get to dialling the equaliser or choosing any intelligent audio profile in the Roar app, I found the speakers much better.
I rarely need to go above 30% during the day in my apartment. Honestly, again for the size, it's pretty explosive from 50% onwards. There's a night mode for when it gets late, softening the punchy notes and reaches lower volume levels which is smart. That usually means I get all-day battery life, from morning to evening with around 14 hours at 25% volume (level 3-5) which is impressive. Any lower (which I sometimes do), then you get closer to the 16 hour mark, not too bad from what Creative rates at 20 hours.
iRoar App Function and Sound Profiles
I dial my own EQ but the audio profiles are diverse in selection and really adapt the sound to what kind of medium you're listening to. From gaming to films to different audio experiences, each are pleasurable to use. Like on the Creative Outlier Gold Super X-Fi app, I find the EQ settings excellent for audiophiles to fine-tune – adjust the waveform, level of immersion (from normal to ultra-wide) and Dialog+ (normal to dialog focused) which all impact soundstage, production and clarity. The level of personalisation in the Creative iRoar Pro is truly appreciated.
'Roar' mode is super interesting as it pushes out extra fullness and brings vocals to the foreground. Tap the Roar function on the speaker itself or in the Roar app and it works instantly. It's handy if I'm switching between music styles with bassy songs drowning out the vocals a bit. Roar mode helps sharpen the trebles and brings vocals up for a clearer sound.
Travel-Ready and Space Filler
The Creative iRoar Pro is a great travel-ready speaker you can slide into your daypack and take anywhere with you. It includes a plush, smoothly textured drawstring cloth pouch which has a snug fit to the iRoar Pro. The footprint is compact enough with the 1.1kg weight feeling lighter than it sounds thanks to the rectangular design and not bearing any fatigue of sorts after lengthy hold. There are no carry straps or handles as such so you wouldn't want to hold it constantly, but the slim design makes it easy to wrap your hand around.
This is a great companion to pair with a travel-sized projector since it offers such a great battery life and packs serious volume to fill out a large room or even the outdoors. The boxy design means it's easy to pack next to your garment packing cubes in a carry-on, or fit neatly in a backpack or travel duffel. You wouldn't want to be without it.
Sure, there are more compact, travel-sized speakers out there, but if you want quality performance as compact as possible, capable of really filling a place out without battery draining too quickly, Creative nails those moments with the iRoar Pro. Smaller speakers really suffer, but the spacious internal design and arrangement of the speakers and woofer provide a satisfying result.
Punchy Speakers for Home and Away
It's difficult to find quality, compact speakers without breaking the bank. But with all things considered, the Creative iRoar Pro is an outstanding option that delivers great all-round sound across bass, mid and highs. Once you've dialled the EQ or chosen one of several audio profiles, it sounds pretty incredible and comes alive at higher volumes. You can take it even further with 'Roar' mode, which brings crispness to vocals and more edge to the sound. If you're trying to be more portable or take a minimal approach to home entertainment, the iRoar Pro are very capable in doing so.
The glossy finish makes it a fingerprint magnet and it's not the most compact or lightweight portable speakers you can find. But it looks and sounds like a premium setup that can move between your home and the outdoors without any trouble. Battery life is very respectable with amples of power and volume left in the tank. You'll need the mic beam wireless voice projector to make full use of it's calling or presentation capabilities, and you may want the subwoofer dock system for a fuller home theatre-style. But overall, you'll be very pleased with how good these are on its own.
You can generally find the Creative iRoar Pro for ($199/ £189) on the Creative site or Amazon, much more affordable than the similar Bang & Olufsen P6 ($400/ £299) and Bose Soundlink Revolve+ ($300/ £250), which offers less battery hours and a larger footprint. For how much more these alternatives cost to achieve similar battery life and sound quality, that shows how excellent and deserving the Creative iRoar Pro is.
Creative Labs Collection
Packed full of volume, balanced sound and satisfying bass, this compact portable speaker is very capable for the home and outdoors. Solid battery life and intuitive functions make this an excellent choice.
The best battery life in a pair of wireless earbuds with excellent audio quality. Lightweight, premium-looking and definite value for money. Look no further if you want to go wireless all day.
CONCLUSION
Packed full of volume, balanced sound and satisfying bass, this compact portable speaker is very capable for the home and outdoors. Solid battery life and intuitive functions make this an excellent choice.
HIGHLIGHTS
Audio comes alive at higher volume
Roar and EQ add extra edge
Long battery life
Responsive touch controls
LOWLIGHTS
Muted sound out of the box, needs EQ
Need to be central and height level for best sound
Glossy finish fingerprints and dust in gaps
requires mic beam for better call handling