So I've lived in Seoul for over 18 months now, having travelled South Korea before for 3 months, and then two short stints a few years back for travel and work. With different lenses and perspectives and approach to lifestyle, I'm decently versed in knowing what Seoul is mostly about. This isn't a generic, objective 10 reasons why kind of conversation, but a personal 10 for my own way of life and why I like living in Seoul. This is also kind of a nice way for me to look at my time here so far, and hopefully allow you to glean some insights along the way.
There are of course many reasons to stay in Seoul, so I'll probably document and cover the big and small details in other parts to this series as much as I discover them. Likewise, it's not all rosy (as in any country) so I'll also share possibly the challenges, and difficulties of living here too for a balanced perspective. But with all that being said, leegggooooo Seoul!
my lifestyle context
Although the pandemic situation presented new obstacles and restrictions into the usual, for the most part, I've still been able to live my day-to-day routine. I'm not a socialite by any means, preferring my own downtime mixed in with a few catch-ups over café, lunch or dinner. That's not happened much in recent times, but it's not a biggie since I'm always busy working on content for my platforms. I exercise regularly and have been doing calisthenics over the past year, focused more on bodyweight workouts which means gym lockdown didn't affect me. Braving the cold winters and taking advantage of the outdoor equipment, all without paying for any gym membership. My belief is you can exercise anywhere with anything.
I take daily walks around my area or exploring further out, enjoy listening to music nearly all the time and try to be as productive, wherever I am. I also eat out very little – save for when I'm with friends. There's a mix of finding new environments to chill or create from, while I live quite self-sufficiently in the capital so spending most of my days on my own really hasn't been an issue at all, because like any city, it's a place that never stops moving.
cafe culture
Being from the UK and having lived and travelled around various countries in Asia, the cafe culture here is huge. I absolutely love it. Whatever your thoughts are on the quality of coffee can be saved for another blog digest, but the fact is cafes play a big part in everyday life in Korea. Seoul is known for having an incredible amount of cafes in a capital. It's not just the sheer volume of cafes, but the part they play in a lifestyle that's excellent for students, corporate catchups, remote workers, digital professionals and travellers. Cafes embrace the productivity aspect of why people come to visit, equipped with many open tables, power outlets, fast Wi-Fi and is very welcoming no matter what you decide to do.
There are spacious, cosy, interestingly-designed cafes and more specialised roastery cafes depending on your tastes. I find the ambience, atmosphere and general comfort a refreshing change of pace to work from than my place, especially when the weather is awesome. They also make a default meetup location when catching up with friends too. Prices are reasonable for the capital and for use of the space. But it's the openness to sit down, read a book, watch a movie, study, work or relax, that make cafes a big part of Seoul life.
the great outdoors
If you go to popular exercise locations like Hangang river which has a full cycle, running trail, basketball courts, tennis courts, and workout equipment, you'll find these are greatly used with several communities around each one of them. While these aren't exclusive to Seoul, it's always nice to find quality facilities and spaces dedicated to exercise and allow people an active outlet outside of their busy lifestyles. Hiking is one of the biggest activities enjoyed by Koreans and if you enjoy a good nature trail or hike, Seoul has many in, out and around the city. Bukhansan, Suraksan, Guryongsan, are just a few mountains to name, but there are many trails you can enjoy for a little change of scenery everywhere.
The many local parks dotted around the city are awesome too, usually a great walking or sitting spot or to exercise if you don't want to travel far. They're usually equipped with bars, exercise stations and nature spots that you can forego getting a gym membership, but it does help in the bitterly-cold winters. Buurrrrgh. I've always admired how the elderly use these parks daily, and how flexible some of them are too! Having accessible, comfortable spaces nearby encourages anyone to exercise and look after their health.
'tradmopolitan'
(traditional & cosmopolitan) I've generally seen myself as a person that loves nature, exploring and being away from the city, while at the same time enjoy the high-energy, populous and vibe a city brings. Hong Kong was a condensed version of that with really accessible nature trails, while Japan was a dispersed version of it, beautiful tradition and nature spaced apart. South Korea or more closely Seoul is a hybrid of the two: a modern city with sufficient outlets of nature in near proximity.
I've enjoyed living in all three of these countries, each different to other, and with Seoul, it's a little more close to home with how I like to live. The city is lively, modern and cosmopolitan, not too busy compared to other cities I've been to, with surrounding mountains, trails, parks and gardens in easy reach. Han River is a popular place to get in-tune with the nature-feeling, sitting right by the river that flows right through Seoul. If you enjoy the tradition and modern architecture, city skylines and the generally fast nature of city life, you'll find that in Seoul.
creative expression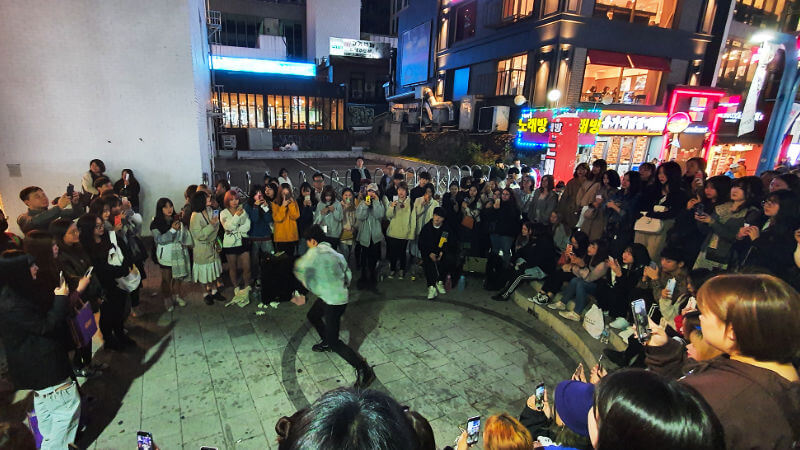 I find there is a lot more appreciation and acceptance of different expressions: art, media, fashion, and style here. As much as there is a common trend, there are also variations across different parts of Seoul. Whether that's the street wear fashion in Hongdae, the refined luxury in Gangnam, the contemporary of Dongdaemun, the traditional hotspot of Gwanghwamun or Bukchon Hanok village, I have an appreciation of these expressions and micro cultures of living.
Busking is a thriving part of Hongdae, with singers, rappers, dancers and musicians finding local followings within these communities. Esports and gaming are also rapidly seen as an accepted stream of professions, similar with YouTubers and creators as the media / entertainment industry are huge and popular in Seoul. Like for-real. Seeing creative's around, even within the backdrop of corporates, is still pretty empowering to see. I found I could express my own personality, fashion, routine, activities or passions much more here because there are less pushback, and resistance as an environment.
speaking the language
if you have any remote interest in learning the Korean language, it's very rewarding when you're out here. Even if you're not a polyglot or naturally gifted in languages, some commitment, studying and practice will give you the essentials to do what you need, whether that's reading signs, food menus, ordering, buying stuff, taking the subway or speaking to Koreans, I found living and speaking Korean is unexpectedly much more comfortable to do out here, since you know, it's the main language. I don't default to English and always try, which makes speaking very rewarding more than anything. So spend a little time and the more you know, the easier and more enjoyable living in Seoul is! I still have a very long way to go, and it's sometimes difficult to fit in studying time when I'm 1000% on growing my platforms, but spending time early on makes life far easier to get around or understand what's going on at least.
You can get by knowing how to speak and understand numbers for prices and telephone numbers, food cuisines to order or cook, asking questions and day to day verbs to get your question across. And if not, Google translate and phrasebooks are your friend 🙂
love korean food!
It certainly helps that I'm not picky and am adventurous when it comes to food. Food is a huge part of the culture here so having an open-mind and open-palette to different flavours, including spices helps increase the variety of options to eat and socialise with friends around. My go-to dishes are:
삼계탕 (chicken soup)
낚지유리 (Octopus)
된장찌개 (Soybean paste stew)
부대찌개 (spicy sausage stew)
소내장탕 (small intestine stew)
삼겹살 보쌈 (pork belly in lettuce wrappings)
칼국수 (wheat flour noodle)

And far, far, far more Korean foods to name. It certainly helps that I'm not particular about what I can or can't eat and I'm generally adventurous when it comes to food. Food is a huge part of the culture here so having an open-mind and open-palette to different flavours – including spices – helps increase the variety of options to eat and socialise with friends around.
open and sociable
I always see myself as 'in tune with the occasion' and that means I'm happy being around others just as much as I am happy when I'm on my own. I'm neutral to either side. Having said that, I've found there's an openness and sociable part to Seoul – everyone are always doing something, either for themselves, or with others in many capacities. I've found Seoul is a great hub for meeting new and different people, whether that's over café, dinner, drinks or activities, although a little challenging outside of studying, or working.
Study buddies, running groups, language exchange, discussion groups, there are communities you can get involved with, while it's much easier within a study setting like language schools or universities to befriend others. Even going to local eateries, I've generally found a welcoming, homely type of vibe where you feel at home. There's a little more sincerity I find going to local places which adds more warmth than the usual.
fast online delivery
Online deliveries are huge, with really fast delivery times when shopping online or ordering food. They are super fast with food orders, so it's not surprising to see an increasing amount of delivery motorbikes on the roads and same-day shipping or early morning groceries as soon as you wake up. Sometimes it's faster than what I'm satisfied with, so I think a little more patience should be exercised to reduce the strain on delivery drivers.
But in a '빨리 빨리' kind of culture where everything needs to come quick and fast, that's the default expectation which means a fast customer experience, and a little more flexibility in options when it comes to planning around your busy schedule or planned free time. International shipping from Amazon US is also fairly quick if there are stuff that aren't available in Korea, and a generous duty exempt threshold before needing to pay any customs duty.
wifi everywhere
You can get away with just using Wi-Fi in Seoul, because they're pretty much everywhere. And if you've heard of Wi-Fi hotspots with network providers, the Wi-Fi connections through local networks here are crazy good. Connect anywhere, speeds are solid and of course, 5G is well and truly kickin'. The mobile plans are not as good as back in the UK, but the higher plans are good with the allowance and 5G. With Wi-Fi connectivity in every café, shop, department store, buses and just out in public, you won't find yourself out of reach in Seoul.
I went without a mobile plan for like a year, and absolutely got by just using Wi-Fi around. I have a mobile plan now, just for the Wi-Fi gaps, when I need to be reachable or check maps etc. It's nice to have but for visitors travelling, Wi-Fi is very accessible and free here. That, combined with laptop and study friendly cafes make Seoul an excellent city for digital professional, remote workers or digital nomads looking to stopover.
24/7 convenience stores
The fact you'll find any of GS25, 7/Eleven, Emart 24, Minimart or CU around the next corner from where you live, and many of them 24 hours is pretty crazy, They're everywhere. Not that I use them frequently, but life's pretty convenient when you have these available well into the night if you fancied a quick bite, replen of milk, or drink with minimal effort. You can generally send packages domestically from here and find a good selection of items with frequent offers that isn't too far off from larger supermarkets sometimes.
2021 bonus addition
coronavirus safety measures
This one is a little more about recent times, but I do have to give a lot of credit in the way they've handled the coronavirus pandemic. Society follows the guidance give to reduce and limit the spread of coronaviruses – the use of face masks, readily available hand sanitisers in shops, cafe and public transport, temperature monitoring in entrances of large stores and where they have to, the ban of facilities, early closing times and cleansing of areas to keep Seoul functioning, open and with not much disruption to daily life.
There were many testing centres setup across Seoul, walk-in stations you can get swabbed and checked with a very fast turnaround. These were free for both locals and foreign residents, with the government covering any quarantine and hospital related expenses (provided the country has covered in their list).
Of course, it's not 100%, but it's been handled very well here for the most part. Importantly, society has been supportive and co-operative in respecting what needs to be done to ensure cases are low and the spread of infections limited. Again, in some areas it could be better but the reality is, we've been pretty good here thankfully.
Those were just some of the reasons why I've enjoyed living in Seoul all this time. Stay tuned for the next part where I share even more reasons to enjoy life in Seoul and keep an eye out for the other side of the coin, where I delve deeper into some of the more challenging, tough and downsides to Seoul too.
Please consider supporting my work by contributing any amount as low as $1. This helps to maintain my website costs, development, creation efforts and putting food on the table since I run everything myself. Your support is very much appreciated. Keep being awesome! Leave a Tip via PayPal